Yanukovych and Tymoshenko Courting Moscow Ahead of Election
Publication: Eurasia Daily Monitor Volume: 6 Issue: 164
By: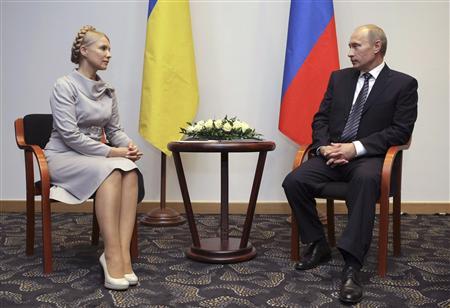 The Russian factor might well determine the outcome of the January 2010 presidential election in Ukraine. The two leaders in the presidential race, Prime Minister Yulia Tymoshenko and former Prime Minister Viktor Yanukovych, both seek Moscow's support. Yanukovych has played the Russian language card in order to win the hearts and minds of the Russophones in the east and south of Ukraine. Tymoshenko is more pragmatic, seeking rather economic favors and taking advantage of the good relationship that she has established with Russian Prime Minister Vladimir Putin.
Speaking recently in Odessa, where Russian culture and language dominate, Yanukovych pledged to do his utmost to make Russian the second official language along with Ukrainian. This, he pointed out, is one of his major policy differences with Tymoshenko, who is against granting Russian a higher status (UNIAN, September 2). Yanukovych also promised the same to his Russian-speaking electorate in the run-up to the 2004 presidential election, which he lost to Viktor Yushchenko who ran on a nationalist ticket. However, many local Russian speakers recall that Yanukovych did nothing to elevate the status of Russian in 2006-2007, when he was prime minister and his Party of Regions dominated parliament.
After visiting Odessa, Yanukovych traveled to Saur-Mogila, a World War II memorial in his native Donetsk Region, where he promised to erect a monument to the Soviet liberators at the geographical point where the borders of Russia, Ukraine and Belarus converge. He made it clear that this would be his response to the "heroization of the traitors of Ukraine and nationalists" by Yushchenko (Ukrainska Pravda, September 5). Yanukovych has never concealed that he shares the Russian official view on the common history of Ukraine and Russia. He had hailed Russian President Dmitry Medvedev's August 11 letter to Yushchenko in which he accused his counterpart of spoiling bilateral relations, in particular of "heroizing Nazi collaborators." Medvedev also blamed Yushchenko for pushing Russian from various spheres of life (www.kremlin.ru, August 11).
Yanukovych also called for restoring "the traditional strategic brotherhood with Russia." "I am sure that the centuries-long traditions of friendship between the Ukrainian and Russian nations will be continued," he said. Yanukovych reiterated that he would do his best to elevate the status of Russian so that the rights of Russian speakers will not be violated (Ukrainska Pravda, September 5). Such pronouncements, which were unexpected from Yushchenko and which Tymoshenko avoids, are consistent with the pan-Slavonic ideology that dominates in the Kremlin.
Tymoshenko, whose mostly nationally-minded electorate would not forgive her such statements, courts Russia differently and she has already secured favors. She persuaded Putin to allow Ukraine to buy less natural gas than stipulated in the January 2009 contracts between Naftohaz Ukrainy and Gazprom. After meeting with her in Poland on September 1, Putin agreed that Ukraine will pay in 2009 for as much gas as it consumes. The contracts contained a clause according to which Ukraine had to pay for at least 41 billion cubic meters (bcm) of gas in 2009, no matter whether it needed such quantities. Putin confirmed that Russia will proceed from the understanding that "the Ukrainian economy consumes as much energy today as it needs." It may need as little as 27 bcm, according to Tymoshenko (Interfax-Ukraine, September 1).
Yushchenko estimated that Russia could penalize Ukraine for as much as $5 billion for the difference. He warned that Ukraine might pay by losing economic and political independence (Inter TV, September 6). Many observers in both Russia and Ukraine wonder what was behind Putin's generosity. Kommersant-Ukraine daily reported on September 2 that Tymoshenko made several commercial offers to Putin in exchange for the Russian agreement not to penalize Ukraine. According to the daily, Tymoshenko offered Putin discounts on gas transit fees, support for Russian banks' expansion into the Ukrainian market and some preferences concerning the participation of Russian companies in Ukrainian privatization. Also Kommersant-Ukraine cited Tymoshenko's aide Oleksandr Hudyma as saying that Ukraine will probably prefer Russia's TVEL to the U.S. Westinghouse as partners in building a nuclear fuel plant.
Tymoshenko denied this, saying that Ukraine will on the contrary charge 65-75 percent more for Russian gas transit to Europe in 2010 (Kommersant-Ukraine, September 4). However, Medvedev apparently disagreed with this and other statements made by Putin and Tymoshenko in Poland. He instructed Gazprom head Aleksey Miller not to deviate from the January 2009 gas agreements, which provide for both transit fees lower than those promised by Tymoshenko and penalties for Ukraine's failure to buy less gas than agreed (RIA Novosti, September 7). Segodnya, a Ukrainian daily known to support Yanukovych, tried to explain the apparent disagreement between Putin and Medvedev by reference to their preferences in the upcoming election. According to one diplomatic source, Medvedev prefers Yanukovych, while Putin is inclined to support Tymoshenko (Segodnya, September 8).
Meanwhile, the Russian daily Vedomosti quoted sources in the Russian government as saying that Putin plans to allot a loan in the range of $1.5-2 billion to Ukraine in order to help Tymoshenko pay for Russian gas deliveries. The newspaper also quoted a Fitch Ratings analyst warning that the money could be used to support one of the candidates in the upcoming election (Vedomosti, September 8).