Yanukovych Faces Uphill Struggle for Control of Ukraine, Despite Victory in Presidential Election
Publication: Eurasia Daily Monitor Volume: 7 Issue: 27
By: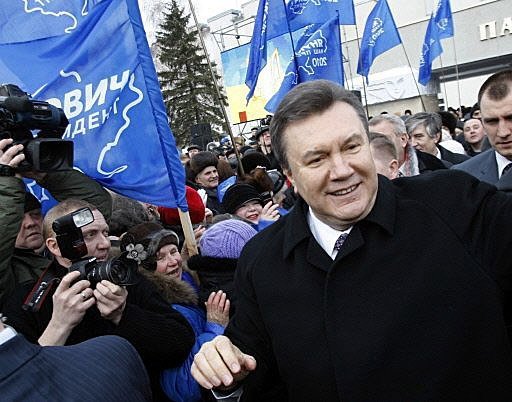 As expected, opposition leader Viktor Yanukovych has won the February 7 presidential election runoff. Unlike in 2004, when Yanukovych lost a controversial poll to Viktor Yushchenko and his supporters were accused of large-scale election fraud, this time international observers said the election was free and fair. However, Prime Minister Yulia Tymoshenko has not recognized her defeat. If Yanukovych fails to form a new coalition in parliament on the spur of the moment in order to oust Tymoshenko from the government, Ukraine will face several months of uncertainty and probably early parliamentary polls. This election showed once again that the country remains deeply divided: while 16 western and central regions voted for Tymoshenko, the 10 more densely populated eastern and southern regions were behind Yanukovych.
Yanukovych won the January 17 first round by a margin of over 10 percent and opinion polls predicted about the same result for the runoff. However, exit polls produced the average margin of 4.5 percent, and the official vote count by the Central Electoral Commission (TsVK) showed that Yanukovych scored 49 percent against Tymoshenko's 45.5 percent, so the margin is only 3.5 percent. The fact that Yanukovych won so unconvincingly gives Tymoshenko hope that if the election were invalidated in several constituencies where, as her team claims, irregularities were reported, it should be possible to dispute the general outcome, said Tymoshenko's allies (UNIAN, February 8). Tymoshenko told her team at a late-night meeting on February 8 that she would "never recognize Yanukovych's legitimacy after such an election," Ukrainska Pravda reported on February 9, citing its source in her party.
Tymoshenko likely is playing for time, seeking to remain prime minister as long as possible in order to keep her fragile coalition in parliament. She will hardly stand any chance in the courts. In 2004, Ukrainian courts ruled that the runoff was rigged as thousands of protesters against election fraud took to the street, and the international community did not recognize the runoff result. The situation is different now. However, court disputes will likely slow down the post-election transition.
Tymoshenko's right-hand man First Deputy Prime Minister Oleksandr Turchynov was not ready to say early on February 8 whether Tymoshenko's supporters would stage any protests (Ukrainska Pravda, February 8). European and CIS observers were unanimous in their verdict: despite some irregularities, the election was generally free and fair. Observers from the parliamentary assemblies of the Council of Europe and NATO called on Yanukovych and Tymoshenko to accept the outcome of the election. The European Union High Representative for Foreign Affairs Catherine Ashton and European Parliament President Jerzy Buzek praised the election as democratic (Interfax, UNIAN, February 8)
Speaking after the announcement of the exit poll results, Yanukovych said he expected Tymoshenko to resign (Inter TV, February 7). She does not have to, according to the constitution, but there are signs that a new pro-Yanukovych majority is in the making in parliament and consequently a vote of no confidence in Tymoshenko may be on the agenda of the parliament quite soon. Yanukovych said he has not yet decided who should become the next prime minister. Observers name four candidates: the former Finance Minister Mykola Azarov; the businessman from Donetsk and crony of steel tycoon Rinat Akhmetov, Borys Kolesnykov; the former Fuel and Energy Minister Yury Boyko (all from Yanukovych's party); and outgoing President Viktor Yushchenko's ally Yury Yekhanurov, who served as prime minister in 2005-2006.
Yekhanurov was named as a candidate by Taras Chornovil, a former aide to Yanukovych (Ukraina TV, February 8). He could be a compromise candidate if Yanukovych managed to form a new coalition with Yushchenko's Our Ukraine (NU). However, Kolesnykov, who played a key role in Yanukovych's campaign as a deputy head of his headquarters, dismissed this as a rumor. One business daily reported that Azarov would most probably be nominated to replace Tymoshenko (Delo, February 9). Azarov had said more than a week before the election that he would be a candidate for the post of prime minister (UNIAN, January 27).
If Tymoshenko does not resign voluntarily, uprooting her may become a difficult task for Yanukovych. Unlike before the constitutional amendments, which came into force in 2006, it is now up to parliament and not the president to choose the prime minister. But Yanukovych's Party of Regions (PRU) was in a minority before the election. In theory, it could form a new majority together with the communists, the centrist bloc of Speaker Volodymyr Lytvyn and NU. However it would be hard to reconcile the communists with nationalists from the NU. Oleksandr Holub, one of the leaders of the communists, ruled out a coalition with nationalists for his party (UNIAN, February 9). NU deputies made it clear that they would not hurry to join the PRU either (Ukrainska Pravda, UNIAN, February 9).
Early parliamentary elections could be an option for Yanukovych, but in order to call them he would need to prove that there is no coalition in parliament. This may be hard for him to do. While Tymoshenko de facto has not controlled a majority in parliament since 2008, de jure her majority coalition exists. Moreover, if Yanukovych decides to call for early elections, a victory for his party and its allies would be far from certain, given his unconvincing victory on February 7. Even if the courts throw out Tymoshenko's appeals, Yanukovych will still have to brace himself for weeks if not months of difficult talks with potential allies.