Yanukovych Recognized as Legitimate President in Exile in Russia
Publication: Eurasia Daily Monitor Volume: 11 Issue: 38
By: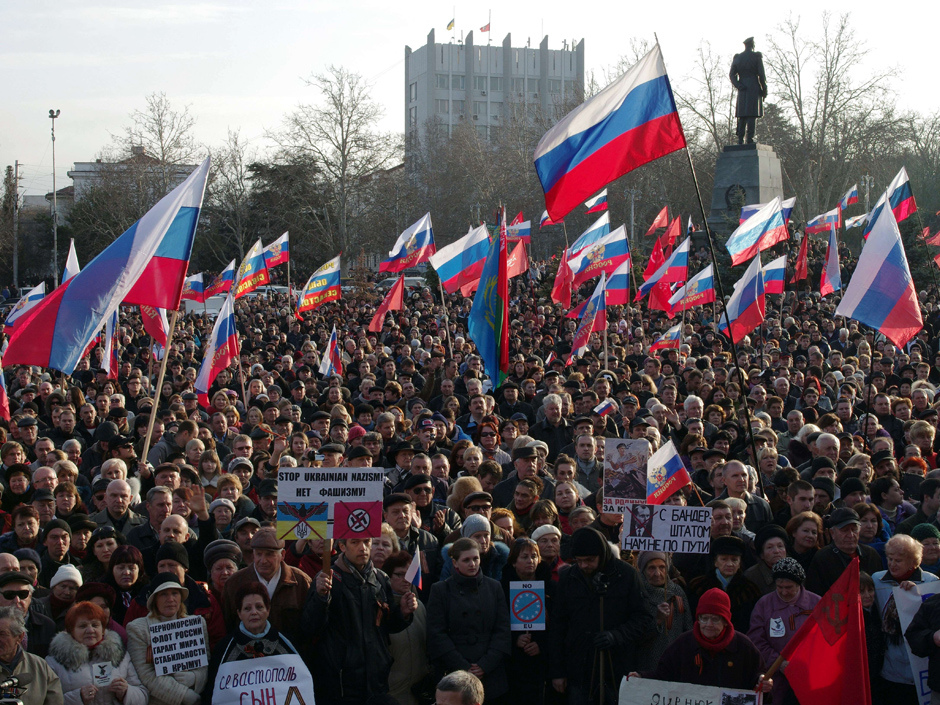 The sudden meltdown of President Viktor Yanukovych's regime in Kyiv last week has surprised the Kremlin. On Wednesday February 19, during the height of the bloodbath in Kyiv, when dozens of people were shot dead and hundreds wounded, the Kremlin-financed news website Vzglad was calling on the Ukrainian authorities to finish off the protest, to "storm the Maidan" demonstrations, and arrest the political leaders of the opposition, including Arseniy Yatsenyuk (https://www.vz.ru/opinions/2014/2/19/673244.html). The Kremlin has previously urged Yanukovych to use brute force: On February 6, President Vladimir Putin's advisor Sergei Glazyev, who has been actively involved in formulating Moscow's Ukrainian policy, declared that it would be a serious mistake not to use force to squash the Maidan "terrorists," who, he claimed, were being organized and financed by the United States. Glazyev also demanded that Ukraine be disbanded into a loose federation, so Russia could integrate its eastern and southern parts (https://www.kommersant.ua/doc/2400532).
On February 21, after signing an agreement with the opposition in Kyiv to stop the violence, Yanukovych fled first to Kharkiv and then, allegedly, to Crimea as his regime and ruling party disintegrated. Eventually Yanukovych asked for Russian help and reemerged this week in Moscow, were he was given "protection." From Moscow, Yanukovych issued a statement, denouncing his overthrow and declaring himself the legitimate head of state. Yanukovych proclaimed all acts of the Rada (Ukrainian parliament) taken after his departure invalid and the new government in Kyiv to be illegitimate. Furthermore, Yanukovych called on the military and "security forces" to ignore the new government "as criminal" (https://www.interfax.ru/print.asp?sec=1446&id=361529).
Anna German, a former advisor to Yanukovych and a Rada deputy from his former ruling party, now in Kyiv, told reporters the statement may be a fake, but acknowledged she did not know for sure. Nevertheless, she hoped that her former boss would not attempt to rule Ukraine from Moscow or seek Russian help (https://www.segodnya.ua/politics/pnews/zayavlenie-yanukovicha-skoree-vsego-feyk-german-499258.html). The Russian main state TV 1 channel, however, reports the Yanukovych statement to be genuine (https://www.1tv.ru/news/world/253104).
On February 25, the Russian Security Council discussed Ukraine. No official statement was given after, but on February 26 the speaker of the Federation Council (Russia's upper house of parliament), Valentina Matviyenko (a Security Council member), told reporters that Yanukovych continues to be the legal president of Ukraine (https://ria.ru/world/20140226/997096498.html#ixzz2uWO0117c). Russia's present official position is that all changes taking place in Kyiv are illegitimate, the Rada-appointed interim president Olexander Turchinov is an imposter, and the new regime in Ukraine is controlled by "fascists and terrorists." On February 27, the Ukrainian Rada voted in a new government led by Yatsenyuk as prime minister, but the Russian position did not change: Speaker of the Duma Sergei Naryshkin declared the authorities in Kyiv to be "unconstitutional" and ushered into power by "baseball bats, stones, and Molotov cocktails" (https://www.interfax.ru/russia/news/361639).
Moscow's continued recognition of the weak, corrupt and vastly unpopular Yanukovych—who is hiding out in exile and has been accused of mass murder—"as [the] fully legitimate president of Ukraine," all while steadfastly refusing any communication with the new government in Kyiv, clearly indicates Russia's desire to instigate reactionary regime change in Ukraine. On February 24, the Kremlin-connected flamboyant nationalistic demagogue Vladimir Zhirinovsky, who often publicly declares what Putin says behind closed doors, announced: "Yanukovych must ask for Russian protection, declare himself the legitimate president and invite Russia to send troops into Crimea to guard our Black Sea fleet." According to Zhirinovsky, Yanukovych will not be able to reclaim "all of Ukraine," but could sign a defense treaty with Moscow and "this would be legal, since he is president" (https://rian.com.ua/CIS_news/20140224/340301024.html).
On February 26, the Russian military began massive snap military maneuvers in the Western and Central military districts. Some 150,000 solders, more than 2,000 tanks and armored vehicles, as well as over 200 jets and helicopters are involved. The troops are moving into combat positions and awaiting further orders. Tanks and motorized units are traveling by railroad (some up to a 1,000 kilometers). The Airborne troops (VDV) are being moved by air. Combat jets have been deployed to forward airstrips from their permanent bases. Officially, the defense ministry in Moscow announced that these massive troop deployments are not connected with events in Ukraine, though some are happening on its doorstep (https://www.interfax.ru/russia/txt/361371).
Unlike the August 2008 invasion of neighboring Georgia, when attack forces were standing ready to go for the preplanned attack, at present Russia does not seem to have any ready troops to go into Ukraine or rapidly reinforce the marine forces already deployed in Crimea. The current massive troop deployment could be a cover for the movement of elite VDV units into position to go into Crimea or a test of overall capabilities, if a general confrontation with Kyiv happens. In Crimea, on February 27, up to 120 heavily armed unknown gunmen, reportedly from Sevastopol, occupied the regional legislature and government buildings in Simferopol. Under the control of these gunmen, who hoisted Russian flags over the buildings, with no reporters or clerks present, some 60 Crimean legislators reportedly dismissed the government of Crimea and ordered a local referendum on May 25 on the "sovereignty of Crimea." The Moscow press has been clamoring for Russia to claim the Crimean peninsula, where the majority of the population is Russian. On February 26, a mob of local Russian separatists had been demonstrating in Simferopol demanding a referendum on sovereignty, but were outnumbered by Crimean Tatars, who want to stay in Ukraine. Because of the gunmen, on February 27, the Tatar leaders told their local parliamentary representatives to stay home, so the vote on the referendum went ahead, though no one reported on how many legislators actually voted (https://www.interfax.ru/world/txt/361626).
According to a recent poll, 56 percent of Russians consider Crimea to be Russian territory, while only 39 percent and 41 percent believe Chechnya or Dagestan, respectively, to be Russian (https://izvestia.ru/news/566276#ixzz2uWLiqEmj). The Ukrainian revolution that overthrew Yanukovych has been aggressively (and successfully) harassed by Russia's propaganda machine as a "fascist coup," staged by Russophobes, led by the US. According to another recent poll, some 63 percent of Russians "fear," "hate" or "loathe" the actions of the Maidan protesters, while only some 4 percent support them (https://www.kommersant.ru/doc/2417372). A move by Putin to "liberate" Crimea and possibly other Russian-speaking Ukrainian provinces from the presumed "Ukrainian fascists" would be popular, whereas standing back and doing nothing could be seen as a betrayal. Thus, the temptation for the Kremlin to act while the new government in Kyiv is new and weak may be overwhelming.