Yerevan In Fresh Threat to Annul Turkish-Armenian Accords
Publication: Eurasia Daily Monitor Volume: 8 Issue: 169
By: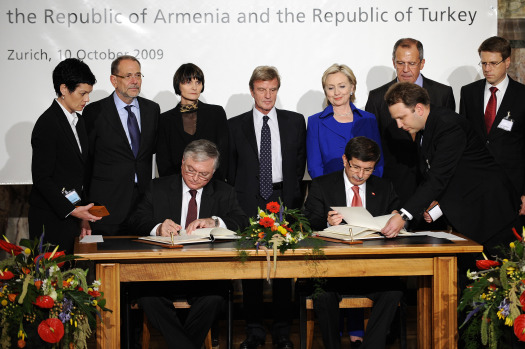 Armenia appears to be edging closer to formally annulling its Western-backed normalization agreements with Turkey because of Ankara's refusal to ratify them before a resolution of the Karabakh conflict. Armenian President Serzh Sargsyan indicated on August 30 that the Turkish government has just a few more months to unconditionally implement the two protocols or face their irreversible demise.
"The Turkish side has to understand that these protocols are not an open-ended opportunity," Sargsyan said in a speech during an annual meeting in Yerevan of Armenian ambassadors and other senior diplomats. "Many of our [foreign] friends advised us to wait until the [June] parliamentary elections in Turkey," he said, adding "So in the next several months we will see whether there has been a change of approach in Turkey after these elections. But frankly speaking, the past two months have not given us grounds for optimism." Sargsyan warned "On the basis of these observations, we will also decide our further steps regarding the protocols" (www.president.am, August 30).
The Armenian leader already publicly threatened to withdraw Yerevan's signature from the protocols in January 2011, saying that Turkey had "destroyed" the unprecedented rapprochement between the two neighboring nations that began shortly after he took office in April 2008. The protocols signed by the Armenian and Turkish foreign ministers in Zurich in October 2009 were the culmination of that process. They committed Ankara and Yerevan to establishing diplomatic relations and re-opening the Turkish-Armenian border, which the Turkish side closed in 1993 out of solidarity with Azerbaijan. The presence of US Secretary of State Hillary Clinton and senior diplomats from the European Union (and Russia) at the signing ceremony underscored the strong western support for the process. The normalization of Turkish-Armenian relations has long been a major US foreign policy goal in the region.
Facing an angry backlash from Azerbaijan, the government of Prime Minister Recep Tayyip Erdogan made clear later in 2009 that Turkey's parliament, in which it has a comfortable majority, would not ratify the protocols without decisive progress in Armenian-Azerbaijani peace talks towards a Karabakh settlement acceptable to Baku. Armenian leaders rejected this precondition, saying that neither document makes any reference to the Armenian-Azerbaijani dispute. They also said the Turkish side did not raise the Karabakh issue during their fence-mending talks with Yerevan.
Citing Ankara's renewed Karabakh linkage; Sargsyan suspended the process of Armenian parliamentary ratification of the protocols, but stopped short of abrogating them in April 2010. In a televised address to the nation, Sargsyan said he decided not to formally scrap the deal for now at the request of the US and other foreign powers. Clinton praised this stance as "very statesmanlike" and said "the ball is in the other court" when she visited Yerevan in July 2010 (Trend, July 5, 2010).
Clinton reportedly pressed Erdogan as well as Turkish President Abdullah Gul and Foreign Minister Ahmet Davutoglu to drop the Karabakh linkage during a July 2011 trip to Istanbul. A senior US State Department official also quoted her as urging them "more generally to reach out to Armenia with confidence-building measures" (www.armenialiberty.org, July 18).
Subsequent reports in the Turkish media indicated that Ankara plans to initiate Turkish-Armenian civil society contacts and encourage Turkish Airlines to open an office in Yerevan and carry out regular flights between the two countries. However, as confirmed by Sargsyan's latest threat, such gestures will not mollify official Yerevan. Armenian leaders believe the Turkish government simply wants to mislead the international community into thinking that the Turkish-Armenian dialogue is continuing while avoiding meaningful steps towards the normalization of bilateral ties. Tensions between the two governments rose further in late July after Ankara accused Sargsyan of expressing Armenian territorial claims on Turkey at a meeting with school students in the Armenian resort town of Tsaghkadzor. Visiting Baku, Erdogan publicly demanded that the Armenian president apologize for the "provocation" (www.armenialiberty.org, July 27). Officials in Yerevan rejected the accusations.
Sargsyan came under renewed domestic pressure to scrap the protocols after Turkish and Azerbaijani media reported in late August that the protocols in question were officially removed from the agenda of Turkey's new parliament. Sargsyan's remarks on August 30 may well have been a response to such calls not only by opposition politicians but also some pro-establishment pundits. His most bitter critics claim that Yerevan was duped into making significant concessions to Ankara and gaining nothing tangible in return (www.armenialiberty.org, July 30).
Sargsyan insisted on August 30 that the ill-fated normalization process was worthwhile because it "improved Armenia's international standing and dispelled our partners' illusions about a new and contemporary Turkey." Just how important that improvement has proved to be in practical terms is a matter of contention. More obvious is the fact that the Turkish-Armenian rapprochement has given a massive boost to Sargsyan's personal reputation in the West, offsetting a lack of domestic legitimacy resulting from his dubious victory in the February 2008 presidential election and thus helping him to consolidate his grip on power (www.armenialiberty.org, July 30).
Sargsyan will be anxious to retain western support by continuing to tread carefully on the Turkish-Armenian rapprochement issue. But with the protocols increasingly looking like a thing of the past, he will be tempted to kill them off altogether and score points with the nationalist electorate ahead of parliamentary elections due in May 2012. The abrogation of the protocols would also help to repair Sargsyan's bruised relationship with the worldwide Armenian Diaspora, where opposition to his conciliatory Turkish policy has been particularly strong.