Yevkurov Tries to Paper Over Ingushetia's Sufi-Salafist Rift
Publication: Eurasia Daily Monitor Volume: 13 Issue: 118
By: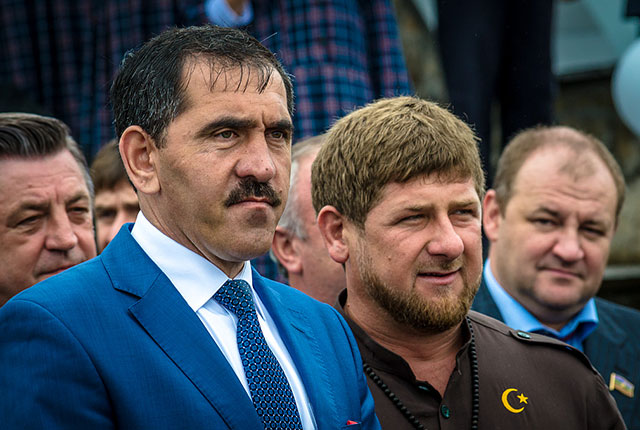 Tensions between two Russian regions, Chechnya and Ingushetia, tend to oscillate, with top officials of the two territories periodically quarreling with each other. Chechnya and Ingushetia are not simply neighbors, but ethnic cousins that speak practically the same language and share the same cultural heritage. The Chechens are about four times as numerous as the Ingush, which makes the latter see the former as a potential threat to their autonomy. Given that Ramzan Kadyrov is close to the Kremlin, the Ingush fear that he can achieve many of his goals in Ingushetia. The first serious clash between the Chechen and the Ingush authorities took place in 2012, when Chechen officials claimed ownership of several square kilometers of territory that is disputed between Ingushetia and Chechnya. The conflict started with the governor of Ingushetia, Yunus-Bek Yevkurov, refusing to let Chechen forces carry out special operations on Ingush territory (Iarex.ru, August 29, 2012).
In 2014, the political conflict acquired strong religious overtones. Chechen authorities launched a campaign against two popular Salafist preachers in Ingushetia, Khamzat Chumakov and Isa Tsechoev. The conflicting sides managed to restrain themselves, and Chumakov even visited Kadyrov in Grozny and made some statements that troubled his supporters back home in Ingushetia (Kavpolit.com, August 17, 2014). Moreover, Chumakov arrived in Chechnya again during the million-person rally in Grozny in January 2015, and tried to pacify the Chechen authorities (YouTube, January 19, 2015).
In Ingushetia, Chumakov had to justify himself for his trips to Grozny and expand his anti-Sufi propaganda in order to reassure his Salafist followers. Chechen officials responded with another wave of accusations against the Salafists in Ingushetia that involved personal threats. Chechnya's mufti, Salakh Mezhiev, for example, spoke about the Ingush Salafist leader on Chechen TV, saying that Chumakov "lately started to adhere to radical ideas" (Grozny.tv, February 19, 2016). It is hardly justified to say that Chumakov started spreading Salafism "lately": he has been known for his adherence to Salafism for the past two decades. It appears that Chechnya's official Muslim leadership regarded Chumakov's visits to Grozny as an act of repentance and was subsequently surprised to learn that nothing had changed.
It should be noted that Chumakov was partly responsible for the backlash against him because, in his sermons at the Nasyr-Kort mosque in Nazran, he reacts to all statements made in Chechnya. Chumakov's sermons are emotionally charged, and young Ingush regard him as an iconic figure in the republic who can afford to criticize not only Ingushetia's leadership, but also that in neighboring Chechnya. The Nasyr-Kort mosque became the political center of the Ingush Salafists, who are in opposition to the republic's official Muslim leadership. The official Muslim authorities attempted to take over the mosque and remove Chumakov from power; but they failed to do so and were expelled from the mosque by the Salafists (Kavkazsky Uzel, June 7, 2015). Later, an attempt was made on Chumakov's life (Onkavkaz.com, March 12).
The failure of Ingushetia's mufti, Isa Khamkhoev, to remove Chumakov from his position resulted in Yevkurov's conflict with the mufti, with the Ingush governor demanding that the republican mufti resign (Regnum.ru, February 1). Khamkhoev then unexpectedly found an ally in neighboring Chechnya, which has not only language ties to Ingushetia but also Sufi brotherhood ties (galgayche.org, February 2). Ingush society condemned Khamkhoev's move, yet neither Yevkurov nor anyone else has been able to unseat him. Khamkhoev belongs to one of the largest clans (teips) of Ingushetia, whose members are prepared to defend him, regardless of whether or not he is right.
After two years of strenuous and fruitless efforts to unseat Ingushetia's mufti and restrain the Salafist preacher, Yevkurov proposed a new solution involving Ingushetia's other popular Salafist preacher: "I have told Isa Tsechoev that in the near future we will gather representatives of all [Islamic] teachings to discuss these issues. At the meeting we have to reach a concrete agreement on the establishment of a dialogue between the believers and, first of all, the clerics" (Kavpolit.com, June 24).
Such a meeting might ameliorate the conflict, but it will not resolve it. The ongoing strife between the Salafists and Sufis in Ingushetia is not an Ingush problem: it has been going on for hundreds of years. At best, the governor of Ingushetia may expect to achieve a truce in relations between the conflicting sides in the republic, which Russian experts will hail as an important step. However, such temporary solutions have been found several times before in Dagestan, where the Salafists of the Ahlu Sunna association signed various agreements with the republican mufti (Kavkazsky Uzel, September 12, 2012). All agreements between the Salafists and Sufis are involuntary, and the two sides feel free to renounce them on nearly any pretext. Islam in the North Caucasus—like in the rest of Russia—is under the tight control of the authorities. The agreements between the competing Islamic teachings are often forced by the government rather than happening naturally, and thus easily break down.