Yevtushenkov's Arrest: A Stern Warning to All the Wealthy and Powerful
Publication: Eurasia Daily Monitor Volume: 11 Issue: 164
By: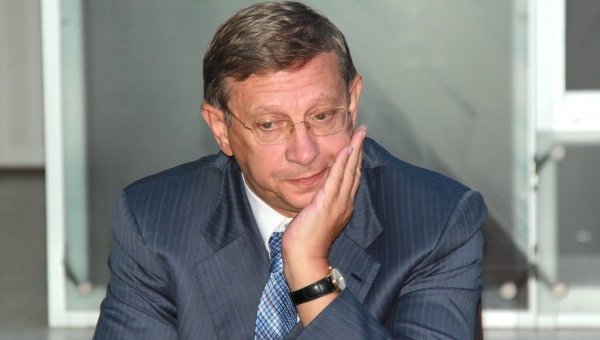 The Russian business community was shocked by the arrest this week (September 16) of one of Russia's richest industrialists—billionaire-tycoon Vladimir Yevtushenkov (65), accused of money laundering. In 2009, Yevtushenkov acquired Bashneft, a major oil and petrochemical company. Prosecutors allege Bashneft was illegally privatized by Ural Rakhimov (52)—the son of longtime (from 1993 to 2010) Bashkortostani president Murtaza Rakhimov (80). Prosecutors further contend that Yevtushenkov purchased illegally privatized state property, which involved money laundering and bribery. Ural Rakhimov and a number of AFK Sistema top managers have fled Russia, while Yevtushenkov stayed, apparently attempting to settle the issue with the Kremlin. Yevtushenkov was placed under the most severe terms of house arrest: He cannot leave his house, use any phone, computer or Internet-connected device, and he is barred from speaking to anyone, except for prosecutors, his lawyers and closest family members (Interfax, September 16).
AFK Sistema owns Bashneft and a number of IT and media assets in Russia and abroad, including MTS—Russia's largest mobile phone operator. The arrest of Yevtushenkov sent AFK Sistema stocks in Russia and abroad (on the LSE) into a freefall, erasing more than a third of their value. In one day, Yevtushenkov lost some $2.45 billion of his pre-arrest personal wealth, estimated at $7 billion (top.rbc, September 17). A number of Russian business leaders—including former government ministers Alexander Shokhin, German Gref and Anatoly Chubays—have expressed dismay over Yevtushenkov's arrest. They have called on President Vladimir Putin to intervene and argued the arrest will significantly worsen the investment and business climate at a time when the country is already sliding into recession because of the Ukrainian crisis and punitive Western sanctions. According to Gref—presently, the CEO of Russia's biggest state-owned retail bank, Sberbank—the arrest of Yevtushenkov brings into question all private property rights in Russia (polit.ru, September 17).
Former Yukos CEO Mikhail Khodorkovsky and Shokhin—the head of Russia's main business lobbying group, The Russian Union of Industrialists and Entrepreneurs—have publicly compared the arrest of Yevtushenkov with "the case of Yukos." Once Russia's biggest oil company, Yukos was bankrupted and sold by the state after the arrest of Khodorkovsky in 2003. Khodorkovsky, who spent time in prison from 2003 to 2013, accuses the CEO of Rosneft, Putin's close associate and Kremlin insider Igor Sechin, of being the force behind the Yukos case and now—the arrest of Yevtushenkov. State-controlled Rosneft acquired most of the oil assets of Yukos, becoming Russia's biggest oil company. According to Khodorkovsky, Sechin wants to add Bashneft to his empire, but Yevtushenkov had refused to concede and was thus placed behind bars for his stubbornness (Vedomosti, September 16). Putin's press service reacted angrily: Shokhin is wrong and Yevtushenkov's arrest is not political; "justice must take its course" and "though there may be some minor, temporary emotional stock market response, the prosecutors must do their job" (Interfax, September 16).
It is clear the Kremlin approved the arrest of Yevtushenkov, and calls for his release will almost certainly not be heeded. Unlike Khodorkovsky, Yevtushenkov is not known to have ever dabbled much in politics. But in today's Russia, that may not be enough to remain safe. On September 15, the chief of the presidential administration and longtime Putin confidant Sergei Ivanov was quoted telling a top official of Gazprombank, who had complained about Western sanctions imposed on the bank: "While sanctions are imposed on your company and not on you personally, you cannot consider yourself part of the Russian elite" (Kommersant, September 15). Yevtushenkov is a billionaire-tycoon, but not a Putin associate or old-time friend. He is in control of strategically important assets, but is not under sanctions; and AFK Sistema is a private company, listed on the LSE, which may be enough to be considered a potential threat. Today, more billionaires reside in Moscow than in London or Hong Kong—only New York City has more such super rich living there (Interfax, September 17). This concentration of very powerful and wealthy Russians with strong business and social connections to the West poses a potential threat should they decide to use their influence and money to sabotage Putin's present confrontation with the West. Yevtushenkov might have been chosen as an example to others that total obedience and loyalty are the only guarantee of survival: When Kremlin insiders demand an asset surrender, it must be given up without questions. In the present battle of life or death with the West triggered by the Ukrainian crisis, all Russian strategic assets must be under one command, which Yevtushenkov apparently failed to understand (Ura.ru, September 18).
The attack on AFK Sistema is seemingly not an isolated incident. In the Duma, a group of deputies from different factions put forward legislation to curtail foreign-connected ownership of any media outlets in Russia to prevent the distribution of "wrong" information in the printed press or anywhere else. The initiative was immediately supported by the Kremlin-appointed Duma speaker Sergei Naryshkin as a measure to defend national sovereignty and is almost certain to become law soon (ITAR-TASS, September 18). Present legislation does not permit foreigners to own more than 50 percent of Russian TV channels and radio stations. The new legislation is intended to reduce allowed ownership to 20 percent, extend the limit to the printed press and Internet media outlets, while closing legal loopholes that allow foreign investors to cover up their ownership using Russian-registered shell companies. The definition of "foreign media owner" will include beneficiaries with double citizenship or stateless individuals. This legislation may create major disruptions on the Russia media market, hitting commercial TV owners and publishing houses that invested in Russia like Disney, Discovery, Viasat, Modern Times Group, Burda, Hearst, the Sanoma Independent Media, which that publishes The Moscow Times and Vedomosti, as well as Axel Springer, Bauer Media, Bonnier Publications and others (top.rbc.ru, September 18).
Like Yevtushenkov, foreign media publishers stayed mostly clear of any politics, making money on family entertainment TV and Russian-language adaptations of glossy publications like Playboy, Vogue, GQ, Glamour, Tatler, Cosmopolitan, Harper's Bazaar, Men's Health, National Geographic, Elle, Maxim, Marie Claire and so on, with an overall Russian readership of some 60 million (top.rbc.ru, September 18). Everyone seemed to have heeded the 2003 Khodorkovsky lesson: Keep clear of politics and make money. But in today's paranoid anti-Western Russia, the rules have once again changed—now Vogue and Cosmopolitan are seen as potentially insurrectionary.