YUSHCHENKO CHOOSING BETWEEN TYMOSHENKO AND YANUKOVYCH?
Publication: Eurasia Daily Monitor Volume: 3 Issue: 56
By: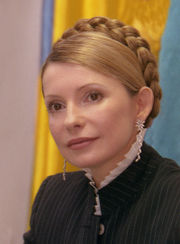 Ukraine will abstain from assessing the Belarusian presidential election until after the OSCE delivers its verdict, Ukrainian President Viktor Yushchenko said on March 20, one day after Belarusian President Alexander Lukashenka won the highly controversial poll. Yushchenko was equally noncommittal when asked by journalists a week earlier whether a ruling coalition is possible between his Our Ukraine (NU) and the Party of Regions (PRU) of Viktor Yanukovych, who Yushchenko defeated in the Ukrainian presidential poll in 2004. Yushchenko said he would answer this question only after the March 26 parliamentary election.
Yushchenko probably has to be cautious in order not to rock the boat of Ukrainian politics ahead of the crucial poll. Under the constitutional amendments that came into effect this year, the formation of the next cabinet will be possible only with a more or less stable majority in parliament. To all appearances, building such a coalition will require enormous efforts, as neither of the three favorites in the race — the NU, the PRU, or the Yulia Tymoshenko Bloc — will be able to form a majority on its own, according to recent public opinion polls.
A majority will be possible only if at least two of the three big parties manage to set aside their differences and form a coalition. A "grand coalition" including all three forces would hardly be viable, given the enormous differences and bitter rivalries among the three. Tymoshenko has flatly denied the possibility of setting up such a coalition. Speaking on television on March 13, she said she would prefer going into opposition to a coalition like that.
A union between Tymoshenko and the PRU looks the least plausible of all. Such a possibility has not been seriously discussed in the Ukrainian media recently. Tymoshenko's fans are probably the most radical and romantic among the Orange Revolution supporters. This electorate would not understand and would not forgive Tymoshenko for entering a political union with the party that has been the most outspoken enemy of the revolution.
The possibility of a union between the NU and the PRU seems more plausible. Pro-Tymoshenko media have been rife with speculation about this union, branding it a "betrayal of the Orange Revolution ideals," especially after Yushchenko's recent noncommittal statements. Roman Zvarych, the deputy head of Our Ukraine's campaign headquarters, told a press conference on March 20 that any rumors about a coalition with the PRU should be viewed as campaign tricks by Our Ukraine's rivals. Zvarych ruled out the possibility of an alliance with the PRU.
The PRU, however, has been much less categorical. Yanukovych, speaking on a campaign trip in southern Kherson on March 15, said he would not rule out the possibility of a coalition with "certain people" from Our Ukraine. Speaking in Zaporizhya on the following day, Yanukovych noted that the PRU would not be able to form a majority on its own, so it would have to build an alliance of some kind. And parliamentarian Stepan Havrysh of the "Ne Tak" bloc — allies of the PRU — spoke of a PRU-NU coalition as a done deal on March 20, saying that Mykola Azarov, who was first deputy prime minister in Yanukovych's cabinet in 2002-2004, should be the coalition's candidate for prime minister. What's more, Havrysh alleged that the PRU-NU coalition was "a U.S. idea."
The supporters of both Our Ukraine and Tymoshenko, however, would prefer a parliamentary majority formed by these two forces as a reincarnation of the Orange Revolution alliance. Tymoshenko's media have been scathingly critical of personalities from Yushchenko's team, but she has all this time continued to pledge loyalty to Yushchenko, abstaining from criticizing him personally. Tymoshenko, however, repeats her thesis that the forthcoming election will be more than a parliamentary poll, but an election of the next prime minister, saying that the choice would be between herself and Yanukovych.
Tymoshenko's personal ambitions may eventually turn out to be the main stumbling block. Yushchenko has made it clear on numerous occasions that he would prefer Yuriy Yekhanurov — "a rational prime minister" — to stay on after the election, rather than giving that post back to Tymoshenko, whom he holds responsible for the economic slowdown last year, when she was prime minister. Yekhanurov, meanwhile, has indicated in an interview with NTN that he would not work in a cabinet together with Tymoshenko and accused her of opportunism. "I am a professional economist, and it is not easy for me to work with people who have no principles," he said.
Another outspoken critic of Tymoshenko, NU campaign manager Roman Bezsmertny, however, has been quite optimistic about a coalition with her. Interviewed by Tonis, he ruled out an alliance with the PRU, but said that an Orange Revolution coalition may be revived as soon as March 26, immediately after polls close. He said talks on such a coalition have been underway for some time and would continue on election day.
(1 + 1 TV, March 13; Channel 5, March 14; Inter TV, March 16; Tonis TV, March 18; NTN TV, March 19; Ukrainski Novyny, UNIAN, March 20)