Zhou Yongkang and the Tarnished Reputation of China's Police
Publication: China Brief Volume: 12 Issue: 7
By: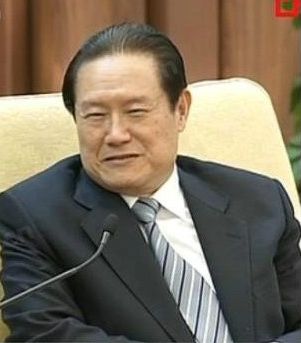 The fallout over Politburo member Bo Xilai's removal as Chongqing Party Secretary on March 15 only increased the wave of rumor and speculation sweeping across China after Bo's right-hand man, Wang Lijun, attempted to get political asylum last month at the U.S. Consulate in Chengdu (Xinhua, March 15; "Hu Jintao Draws Blood with the Wang Lijun Scandal," China Brief, March 2). As rumors spread about gunshots near Zhongnanhai, speculation began that Zhou Yongkang—the Politburo Standing Committee member with the internal security portfolio—had partnered with Bo in a coup d'état. Zhou appeared to be out of the public eye and reportedly ordered to stay quiet—possibly even under house arrest. He did not disappear from public, however, and there is little reason to link him so strongly to Bo. Even so, this does not mean Zhou's conduct is beyond reproach. The well-chronicled abuses of Bo's anti-organized crime (dahei) campaigns, the police incident at the U.S. Consulate in Chengdu and the general expansion of an unaccountable security apparatus suggest Zhou's reported troubles may be the result of his failure to control his policy system to some unspoken standard. From Beijing's perspective or at least that of Zhou's factional opponents, this failure to control the internal security apparatus may have damaged China's international reputation, setting back Beijing's plan to present a softer, more sophisticated face to the world.
With Wang safely hidden away in Beijing, Bo removed from his post and order seemingly up in the air, observers turned to Zhou for signs of stability. Zhou's ostensible absence from the public spotlight at a legal propaganda conference only added fuel to the rumors (Central News Agency [Taiwan], March 23; Want China Times, March 22; BBC, March 22). The problem with this storyline is that Zhou is so infrequently in the public spotlight. He is so rarely looked for by outside observers, however, that Zhou's absence was only noticed in a time of crisis—and this in a month where he was more publicly active than the preceding three months (December 2011–February 2012) combined based on Xinhua and other official media reports tracking his activities, speeches and appearances. Public appearances already are an inadequate measure of Chinese leaders' political fortunes, but Zhou's troubles seem substantially overstated.
The rumors of such trouble, however, suggest there may be a few sparks smoldering beneath the political haze. As chairman of the Central Politics and Law Committee and key leading groups with internal security responsibility, Zhou is the leading figure in charge of the police, paramilitary and domestic intelligence elements. This apparatus however has not contributed to a positive image of China lately.
The dahei campaign in Chongqing has long attracted criticism for its political nature, targeting Bo's political opponents in the city or for raising critical questions about official collaboration with criminal elements ("Chongqing's Mafias Expose Grave Woes in China's Legal Apparatus," China Brief, November 4, 2009). While Chinese intellectuals recognize the government's natural responsibility, if not duty, to crack down on organized crime, the problem with Bo's anti-crime campaign was that the targets had more to do with popular or political sentiment than actual crime (Chinaelections.org, March 15; July 12, 2011; Sydney Morning Herald, March 26, 2011; Economic Observer, January, 12, 2011). The political tenor of the dahei campaign violated the norm of keeping the state's police apparatus out of policymaking and politics set after the "Gang of Four" trial and the Cultural Revolution (People's Daily, April 5, 1979; Xinhua, June 30, 1979). This is not to say that such abuses have not happened since, but the rumors usually are related to exceptional circumstances, such as Chen Xitong's ouster in 1995 (Ming Pao, April 28, 1995).
The police convergence on the U.S. Consulate in Chengdu last month while Wang Lijun was inside drew unwanted foreign attention to what should have been a domestic problem—if not entirely internal to the party itself. Wang reportedly now has been branded a traitor for exposing party secrets, even if what he said to U.S. officials is unknown (South China Morning Post, March 7). While Sichuan and Chongqing officials have denied public security elements crossed jurisdictional boundaries—certainly not the reported 70 Chongqing police vehicles—a Chongqing municipality spokesman acknowledge the situation required Mayor Huang Qifan to go to Chengdu (Chongqing News Net, March 5). Sorting out the problem required Beijing, possibly Zhou himself, to dispatch Vice Minister of State Security Qiu Jin to escort Wang to Beijing and sort out what was happening (Apple Daily [Hong Kong], February 11; Bloomberg, February 10). Finally, the investigation of Wang exposed a long trail of police corruption from Chongqing to Liaoning (Ming Pao, February 11).
Apart from Bo's troublesome activities in Chongqing, well-publicized incidents of China's expanding internal security apparatus—such as actor Christian Bale's run-in with plainclothes police while trying to visit someone under house arrest—have drawn unwelcome attention to the activities ostensibly under Zhou's purview. Domestically, the police are trying to restore public credibility with the "three inquiries, three assessments" campaign and the new leadership of Chongqing's police force has been particularly active since the Wang incident in Chengdu (China Police Daily, March 28; "Security Chief's Efforts to Seal Up the Political-Legal Chairmanship," China Brief, February 21). Internationally, however, Beijing will have more difficulty trying to rectify the image of a police force unrestricted by law.
Disciplining Zhou may provide a political answer for how to appear to be reining in the police; however, it is unclear how Beijing actually can control the police while executing its favored strategy for preserving stability. Choosing one may involve tradeoffs in the other. China's potential responses to reassert control could undermine its basic strategy for isolating local crises. Pressure to recentralize control over the non-military security forces, including the Ministry of Public Security (MPS) and the People's Armed Police (PAP), may weaken Beijing's ability to execute its successful "think national, blame local" strategy to preserve stability ("Wukan Uprising Highlights Dilemmas of Preserving Stability," China Brief, December 20, 2011). Part of what makes this strategy work is how Beijing delegated violence by MPS and PAP forces to local levels, removing the center from direct responsibility in the decision of whether to suppress protestors ("Politics and the PLA: Securing Social Stability," China Brief, March 30). While Beijing may want to reestablish a greater degree of control and some may want to blame Zhou for police abuses, correcting this systemic problem could have unforeseen effects and implications for China's broader strategy for preserving stability.