Small, Agile Boats to Form Backbone of Ukrainian Navy
By: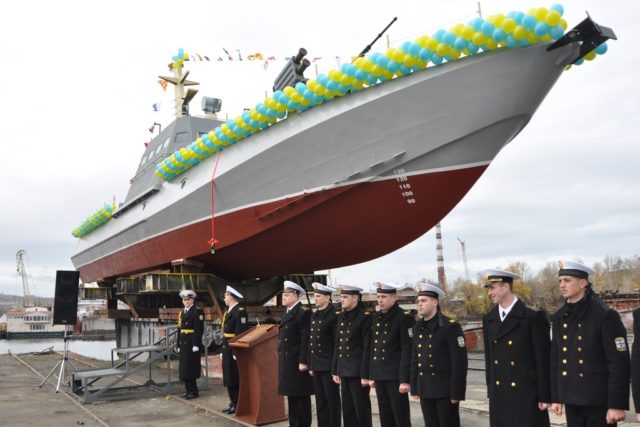 In an interview with the news agency Reuters, on October 27, Vice Admiral Ihor Voronchenko, the head of the Ukrainian Navy, announced the commencement of the refurbishment of the navy's flagship, the U130 frigate Hetman Sahaidachny, among other steps to enhance the capabilities of the Ukrainian military. These efforts will be supported by $30 million dollars in military aid provided to the Navy by the United States (Ukropnews24.com, November 3). For 2017, the US National Defense Authorization Act permits up to $500 million in security assistance to Ukraine, including lethal weapons (UNIAN, June 15).
The Ukrainian navy's efforts are likely a response to the buildup in number of Russian vessels and fortification of coastal infrastructure in Crimea. As of May, the peninsula hosts 277 ships, support vessels and submarines, staffed by 25,000 troops (Rossiyskaya Gazeta, May 13). Since August, these assets are guarded by S-400 "Triumph" anti-air systems (Tagesschau.de, August 12).
Before the illegal annexation of Crimea by Russia in 2014, Ukrainian naval assets were in poor condition. The aging ships had been neglected for years, and the exact number of functional ones was unknown. Estimations range from 12 to 22 war ships and boats, not including auxiliary vessels (Apostrophe.ua, January 29, 2016; Usni.org, April 11, 2014).
As a result of the consequential events unfolding on and around the Crimean peninsula in spring 2014, the majority of Ukraine's naval personnel either resigned or defected to swear allegiance to Russia, all the way up to the commander of the Ukrainian Navy, Denis Berezovsky, who now serves as the deputy commander of the Russian Black Sea Fleet (BSF). Apart from mobile assets, some Ukrainian naval training and education facilities were based in Sevastopol, while others are based in territory controlled by Kyiv: the Naval Lyceum in Odesa, the Training Center of the Naval Forces of Ukraine, and the National University "Odesa Maritime Academy." The latter's Faculty of Naval Forces will be reorganized to form the Institute of Naval Forces of Ukraine. Along with educational and training facilities, the Ukrainian Naval Headquarters were relocated to Odesa.
When Moscow seized Crimea, several Ukrainian ships also fell under the control of Russian forces, thereby further decimating the number of Kyiv's available naval assets. Reports regarding the residual fleet vary. Some sources maintain that it presently consists of five warships and boats—including the missile boat Pryluki, the corvette Vinnytsia, and the medium landing craft Kirovohrad (Ukrainian Defense Review, Issue 1, 2016)—in addition to 16 auxiliary vessels and 24 assorted cutters (RIA Novosti, July 3). Meanwhile, the Ukrainian Ministry of Defense lists the U130 frigate Hetman Sahaidachny, two brigades of surface ships, two battalions of support ships, and one division of search-and-rescue vessels, without specifying the exact numbers or types of ship models (Mil.gov.ua, accessed on November 11). Land-based and ship-based armed aircraft are also identified; though here, too, it is unclear how many of which type are actually available. The remainders of the two Marine corps battalions stationed in Feodosia and Kerch were merged to form one Marine brigade, stationed on mainland Ukraine. It was placed under the Navy's command and became fully operational in June 2015 (Ukrainian Defense Review, Issue 1, 2016).
On June 28, Ukrainian Secretary of Defense Stepan Poltorak announced a plan for modernizing the naval fleet, including the aforementioned overhaul of its flagship, the frigate Hetman Sahaidachny (Ukropnews24.com, November 3). On May 24, Oksana Gavrilyuk, the head of the defense ministry's Communication and Press Office, elaborated that by 2020, around 30 warships and boats would enter service in the Ukrainian Navy. She specified neither how many of which model would be commissioned, nor whether these would be newly constructed or if the plan was to overhaul currently idle vessels. In any case, this seems an optimistic goal, given the fact that it took two years to complete the production of two Giurza-M armored artillery boats, which are currently still undergoing testing (RIA Novosti, July 3). She pointed out that, if realized, this scheme would grow the fleet to 66 ships; however, funding remains a formidable obstacle.
Ihor Voronchenko, the head of the Ukrainian Navy, noted that he was confident four more of the same Giurza-M boats currently under construction would be completed by July 2017 (Ukropnews24.com, November 3). According to the Ukrainian Defense Review, "The Ukrainian Navy is set to take delivery of 18 […] Giurza-class gunboats by 2020" (Ukrainian Defense Review, Issue 1, 2016). These will be equipped with two remotely operated BM-5M.01 "Katran-M" turrets and man-portable air defense (MANPAD) systems carrying eight missiles. The boats are 23 meters long, 4.8 meters wide, and weigh just 50.7 tons. Their small size makes them harder to detect via radar, and their low weight enables cruising speeds of up to 28 knots. These boats are capable of policing rivers and littoral areas up to 20 nautical miles off shore.
Around a dozen Centaur-class armored assault and landing craft are also set to enter service in support of the Special Forces by 2020 (Ukrainian Defense Review, Issue 1, 2016). They are a derivative of the Giurza class, featuring the same dimensions and two water-jet propeller engines, enabling a maximum cruising speed of 45 knots. This model, too, is designed for operations in coastal sea areas, including amphibious assault, littoral defense, sea patrolling, and fire-support. Depending on the specific armament configuration, it can be equipped with Grad multiple-launch rocket systems. Thus, if the reports hold true, the backbone of the Ukrainian navy will—at least temporarily—be formed by small, fast, agile boats, capable of outmaneuvering bigger ships.
The domestic construction of the Ukrainian Corvette Volodymyr Velykyi (Project 58250) was launched in 2010; but since fall 2014, it has been on ice due to a perpetual lack of funding. Development of the new Antonov An-148-300MP patrol aircraft will be continued (Reporter-ua.ru, May 24). Its intended uses include maritime patrol, surface warfare, electronic surveillance and reconnaissance, electronic warfare, and search-and-rescue operations (Ukrainian Defense Review, Issue 1, 2016). The Antonov will be equipped with anti-ship missiles.
Meanwhile, the Ukrainian Navy is seeking further integration with the armed forces of other countries. Ukrainian forces already participate in maneuvers with the North Atlantic Treaty Organization (NATO) and several other Partnership for Peace (PfP) countries—notably, in the annual "Sea Breeze" exercises. Part of Ukrainian staff training is conducted in NATO countries, such as Italy, France and the United Kingdom. On November 23, Voronchenko will meet the chief of the Romanian Navy to discuss the possibility of contingency planning for a joint reaction to Russian naval aggression (Reuters, November 2). Even if completed according to plan, it seems unlikely that the growing Ukrainian fleet will have enough clout to mount an assault on Crimea, although the sheer number of highly maneuverable ships will be helpful to deter further encroachment on Ukrainian territory by the Russian BSF.