Armenia's Hands Are Tied Regarding Russian Arms Sales to Azerbaijan
By: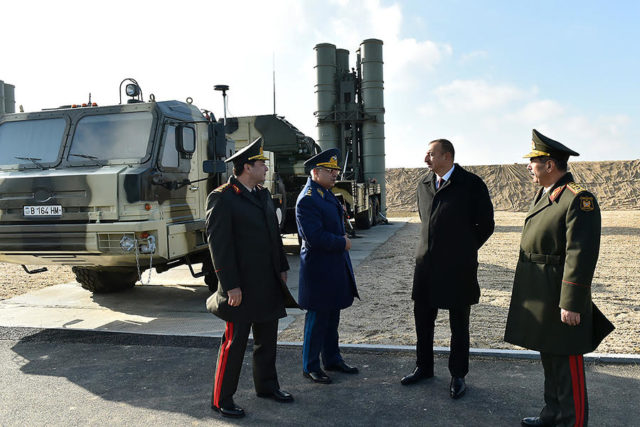 The Azerbaijani Ministry of Defense reported, on July 10, on a new batch of military equipment and ammunition purchased from Russia (Mod.gov.az, July 10). The projectiles, rockets and other military equipment are being shipped to Azerbaijan under the bilateral agreement on military-technical cooperation.
Initially, Russia transferred the S-300 PMU2 Favorit air defense system to Azerbaijan, which had been intended for Iran. After that, according to the United Nations Register of Conventional Arms, Moscow supplied not less than 110 units of BTR-82A and BMP-3 infantry fighting vehicles, 100 units of T-90S battle tanks, 12 units of 9K123-1 Khrizantema-S anti-tank missile systems, BM-30 Smerch multiple-launch rocket systems and 6 units of TOC-1A Solntsepek heavy flame thrower systems to Baku (Unroca.org, accessed July 24). Officially, the detailed information on this arms contract has not been disclosed by either the Russian Federation or Azerbaijan.
Yerevan, Moscow's closest ally in the region, had repeatedly expressed dissatisfaction with Russian arms sales to Baku, especially after the outbreak of fighting along the Line of Contact in Karabakh, in April 2016 (see EDM, May 18, 2016). Thus, Minister of Defense Vigen Sargsyan responded negatively to the latest reported arms shipment (Radio Azatutyun, June 26). Subsequently, Armenian President Serzh Sargsyan noted that the Russian arms sales to Baku are the most problematic issue of the Armenian-Russian relationship (Armeniasputnik.am, July 17).
Armenia is a member of the Russian-led Collective Security Treaty Organization (CSTO) and, according to Moscow's assurances, remains Russia's strategic partner (Armeniasputnik.am, March 3). Therefore, it is unclear why Yerevan, aware of actively developing military cooperation between Moscow and Baku, has not retaliated in any meaningful way. After all, Russia's assurances that the weapons sold to Azerbaijan would not be used against Armenia and the Armenian people have not been fulfilled. Every new batch of weapons to Baku increases the risk of military escalation along the Line of Contact (for example, in April 2016 and July 2017). Some Russian experts and officials, including Alexander Timofeev and Prime Minister Dmitry Medvedev (Sluzhuotechestvu.info, July 1, 2013;  Vesti.ru, April 9, 2016), believe that arms sales are an element of political leverage over Baku. Russian Deputy Prime Minister Dmitry Rogozin has even suggested Moscow's arms sales are necessary to maintain the military balance in the region (RIA Novosti, April 4, 2016). Other analysts, including Grant Mikaelyan, Konstantin Makienko and Ali Gadzhizade, focus on the revenue it brings to the Russian federal budget (Moscow-baku.ru, July 5, 2017; Iarex.ru, June 20, 2013)
Nevertheless, Yerevan continues to adhere to its "proven" approach. President Sargsyan has stated that Armenia should consider such measures carried out by Russia as part of Moscow's long-term political activity to stabilize the situation in the region (Panorama.am, July 17). This passive position may be explained by several factors:
First, 60–80 percent of Armenia's energy sector (power distribution, power generation and gas distribution) is concentrated in the hands of Russian public corporations, according to various estimates (see EDM, June 27).
Second, the active expansion of Russian banks into the Armenian financial sector has significantly increased (they now make up around a 60 percent share of the foreign capital).
Third, Yerevan still largely depends on Moscow militarily. In terms of the country's defense posture, Armenian is closely connected to Russia's 102nd military base, near Gyumri. Under the bilateral treaty covering the base, any external threat to Armenia will be treated in Moscow as a threat to Russia. Moreover, Moscow and Yerevan ratified a treaty on the operation of a joint Russian-Armenian air defense system, in June 2016. Additionally, Russia still remains the key supplier of armaments and ammunition to Armenia (see EDM, November 30, 2016; September 26, 2016).
Thus, despite its growing dissatisfaction with Russian arms sales to Baku, Yerevan has no other choice but to act with an eye toward Moscow. In other words, under the current circumstances, Armenian security issues trump all other economic, social or political considerations.