Pakistan's Troubled Frontier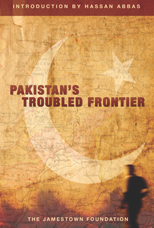 First demarcated in 1893 by British diplomat Sir Mortimer Durand, the northwest frontier was created when the "Durand Line" imposed an artificial border between the tribal Pashtun communities of modern Afghanistan and Pakistan. Today, the frontier has become a breeding ground for a growing Islamic militancy in Pakistan's tribal areas that threatens the very stability of Pakistan – a vital U.S. ally in the global struggle against terrorism. Instability in Pakistan's Federally Administered Tribal Areas and North-West Frontier Province threatens NATO's strategic Khyber Pass lifeline to Afghanistan, where 37,000 U.S. troops are seeking to contain an expanding Taliban insurgency.
Pakistan's Troubled Frontier is a gripping snapshot of the militants and movements threatening a region plunging into turmoil. This work represents an effort to examine the array of security issues threatening Pakistan's volatile northwest frontier and should become an important reference for policy makers seeking greater insight into the region. Packed with informative analysis written by leading experts, Pakistan's Troubled Frontier offers the kind of expertise not typically available to the public and Western media. Arriving at a time when the United States is dramatically increasing its presence in Afghanistan and conducting a careful review of its policies and goals in the border region, Pakistan's Troubled Frontier is a substantial contribution to understanding the long-term future of U.S. security interests in South and Central Asia.