A Post-Mortem Analysis of Vakha: The Notorious Buryat Wagner Group Mercenary Killed in Ukraine
Publication: Militant Leadership Monitor Volume: 13 Issue: 6
By: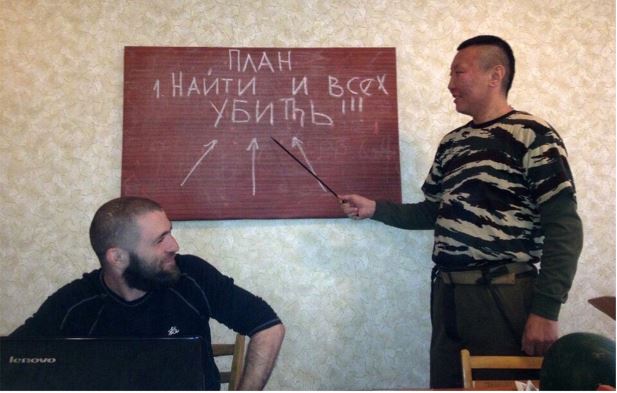 On June 4, 44-year old Vladimir Andonov Batobolotovich, also known as "Vakha," was reportedly killed by a sniper during a battle near Kharkiv, Ukraine, while he was fighting on behalf of Russia's Wagner Group mercenaries (javanews.al, June 7). The well-built ethnic Buryat fighter, whose exploits brought him from Ukraine to Syria and Libya and back to Ukraine, was particularly notable because of the alleged abuses he committed, many of which were captured on video. Indeed, for Ukrainians who remembered him from the first Russian invasion in 2014, Vakha's demise was most likely seen as a sign of relief, even though the Russian war in Ukraine will persist for months, if not years, longer without Vakha.
Vakha first gained notoriety when a picture of him with military fatigues and a mohawk hair style emerged from a Wagner Group base in Qasr bin Gashir, Libya, where shortly beforehand three members of a family had been executed by "Russian speakers" (bbc.co.uk, August 11, 2021). A number of social media posts, including on Telegram, substantiated that Wagner Group had a presence in and around the Qasr bin Gashir base and at an adjacent detention center (citeam.org, September 27, 2019). Although Vakha denied it was him in the picture from Libya, he was previously seen in a picture on his "Vakha Donbas" social media account with the exact same mohawk haircut in Ukraine pointing to a chalkboard. It had writing on it stating a "plan" to "find and kill them all," presumably referring to Ukrainian soldiers (bbc.co.uk, August 11, 2021).
Compared to his stints in Libya and Ukraine, less is known about Vakha's activities in Syria, although he was reportedly in Deir es-Zur in 2017 (ulan.mk.ru, June 4). This was the location where, on February 7, 2018, U.S. forces killed several dozen Wagner Group members, including several Buryats (osw.waw.pl, February 21, 2018). Vakha, however, seems to have departed from Syria before these airstrikes in order to return to Buryatia and live a "peaceful life." Upon his return home, he was also awarded two military medals, but he missed the battlefield life, which compelled him to travel to Libya in 2019 (ulan.mk.ru, June 4).
Vakha was unable to leave the combat life because it was all he had known for the 25 years before his death. In 1997, he joined the Russian army, with only a stint away from combat and training in 2005 when he returned to Buryatia to study at Aginsky Pedagogical Trade. He failed to complete his education there and ended up fighting in the Donbas in Ukraine in 2014. This was the start of his subsequent travels in Syria, Libya, and Ukraine again (ulan.mk.ru, June 4).
If Vakha had not initially been inclined to engage in abuses of civilians, things may have begun to change when he was serving under the command of "Olkhon" in the Donbas in 2014 (focus.ua, June 5). Olkhon, whose real name is Maksim Tkhorzhevsky, was a Russian spetsnaz member with prior experience fighting in Chechnya in the 1990s before he came to serve in the Wagner Group in the Donbas in 2014 (informapalm.org, December 4, 2017). While in the Donbas, Olkhon was caught on video whipping a Ukrainian to death (khpg.org, February 17, 2016).
Vakha's death in Ukraine and career before then proved to be representative of the Russian military's ambitious overseas exploits beyond its borderlands. While Vakha survived in Libya and Syria, the intensity of the battles in Ukraine in 2022 have been exceptional and a sniper caught Vakha in one such battle. He is now among the well over 30,000 Russians killed in Ukraine since the invasion commenced in February, and he is also among a growing number of Buryats killed in Ukraine as well (meduza.io, May 11).