Belarusian Dissident Turned Commander Dies in Ukraine War
Publication: Militant Leadership Monitor Volume: 13 Issue: 7
By: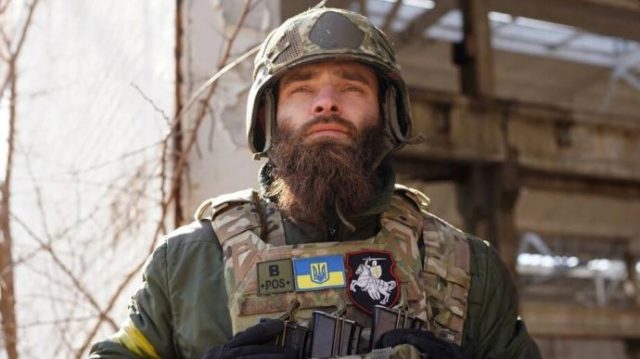 Throughout late June and into July, Belarusian Telegram channels had been reporting on pro-Ukrainian Belarusian fighters' battles in Lysychansk (Telegram/Belwarriors, July 5). Ultimately, the town fell to Russian forces on July 4 (moscowtimes.com, July 4). For Belarusian fighters, however, the battle had extra significance because Volat Battalion of the Belarusian-manned Kastuś Kalinoŭski Regiment participated in the battles in that town and one of the battalion's leaders, Ivan Marchuk, was killed.
Marchuk, who was known as "Brest," which refers to the city he is from in Belarus, and his co-fighters in the regiment repelled Russian armor advancing on Lysychansk. However, the Russians then launched a second armored assault on the town, which forced the Belarusian defenders into a disorganized retreat which led to a loss of contact with other members of the regiment. It was in this second confrontation that some of the regiment's fighters were captured and Marchuk himself lost his life (hromadske.ua, July 6).
Little is known about Marchuk's background before joining the pro-Ukrainian battalion in the Donbas, but his eulogy described him as "a manly warrior, a real hero and a strong leader" and noted that his death was an "honor" because "heroes do not die, and your exploits will always live in the history of the struggle for the independence of our [Ukrainian] people (amplifyukraine.eu, July 7)." Videos eulogizing Marchuk have also shown clips of him giving orders to fighters in a forested area followed by an image juxtaposing Marchuk's face with Kastuś Kalinoŭski (YouTube/DefenceIntelligenceofUkraine, July 7). Kalinoŭski was born in present-day Poland in 1838 and is considered a legendary nationalist figure for Poles, Belarusians, and Ukrainians for his resistance to czarist Russian rule until he was captured and executed by the Russians in Lithuania in 1863. Thus, Marchuk was depicted as a sort of reincarnation of Kalinoŭski.
Based on the Kastuś Kalinoŭski Regiment's stated purpose, Marchuk's political ideology is also clear. The regiment was founded on the principle that only when Ukraine was liberated could Belarus itself be liberated (YouTube/Український Повстанець, June 17). The government of Belarus has imprisoned many of its citizens who seek to join the regiment. One such 20-year-old Belarusian citizen, for example, was sentenced to six years in prison for this "crime" in early July (Twitter/nextaTV, July 6).
Marchuk's influence has made his heroic death something of a cause célèbre for Russian army supporters, who have noted that Marchuk had originally gained his fighting skills in the French Foreign Legion before fighting for Ukrainian forces following the first Russian invasion of Crimea and Donbas in 2014 (Twitter/PolarNews, July 6). His regiment has also received sufficient attention from the Belarusian government, which believes that the regiment and at least 50 other anti-Russian nations that support Ukraine will eventually target Belarus one day (zerkalo.io, June 3). Also of inevitable concern to the Belarusian government is the fact that the Kastuś Kalinoŭski Regiment is inspiring other offshoots, including the new Pahonya Regiment, which is another volunteer Belarusian military unit fighting in Ukraine. On June 27, it pledged its oath to join the Armed Forces of Ukraine (AFU) (Telegram/Belaruski_gajun, June 27).
As the conflict in Ukraine continues into the seemingly indefinite future, it will attract Belarusian dissidents to join the Ukrainian side. Ivan Marchuk was one such commander, whose death will only inspire others to follow in the footsteps. Whatever the outcome of this iteration of the Belarus-supported Russian invasion of Ukraine, there will likely be a new generation of "Ivan Marchuks" with the capability and desire to liberate Belarus from the rule of Aleksandr Lukashenko or whomever his successors may be.