Are Illiasou Djibo and Moussa Moumoni Emerging as Islamic State in Greater Sahara's New Leadership Duo?
Publication: Militant Leadership Monitor Volume: 12 Issue: 11
By: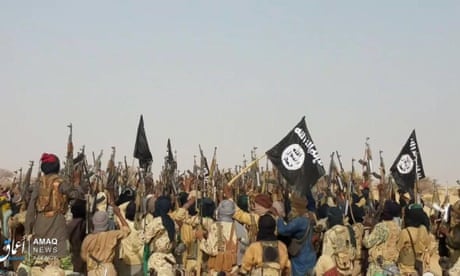 Islamic State in Greater Sahara (ISGS) has suffered a number of setbacks since it surged in late 2019 with a series of massive attacks in Mali, Niger, and Burkina Faso. By January 2020, ISGS was on the verge of superseding its rival, al-Qaeda-loyal Group for Supporting Muslims and Islam (JNIM). However, after French president Emmanuel Macron held a meeting in Pau, France with Sahelian heads of state and designated ISGS as the Sahel's number one security threat, ISGS began facing more intense military pressure (France24.com, January 15). Within months, ISGS had been weakened and JNIM gained the upper hand on ISGS in the Sahelian militant landscape.
ISGS has also begun losing leaders in French-led military operations. In July, France announced that ISGS' deputy leader, Abdelhakim al-Sahrawi, had died two months earlier, reportedly due to a sickness that befell him while he was on the run. France also asserted that several other ISGS commanders had been arrested and killed (lefigaro.fr, July 2). More recently, in September, Macron announced that French counter-terrorism forces had also killed ISGS leader, Adnan Abu Walid al-Sahrawi, weeks earlier (France24.com, September 16). His death was acknowledged in an Islamic State (IS) al-Naba newsletter editorial in October (dakaractu.com, November 1).
Where these two al-Sahrawis were the main figureheads of ISGS, there had been no clear "number three." One possible militant to assume the leadership role after their deaths, however, is Illiasou Djibo (alias Petit Chafori), who was designated as a terrorist by the U.S. on June 28 (state.gov, June 28). As a commander in Nampala, central Mali in 2017, Djibo operated among Adnan Abu Walid al-Sahrawi, who deputized Djibo as a commander for his fellow Fulanis (maliactu.com, January 6, 2017). Before then, Djibo had been captured, but released secretly in 2016 in exchange for 85-year old Australian, Jocelyn Elliot, who was kidnapped along with her husband, who was a doctor in Djibo town (jeuneafrique.com, December 14, 2016).
However, on October 13, ISGS published an unofficial video that was not released through IS' centralized media apparatus perhaps because of disruptions in communicating with IS after the deaths of the two al-Sahrawis. In this video, the commander of the ISGS brigade appeared to be Moussa Moumoni (Twitter.com/@menastream, October 13). Moumoni, who is from Niger, participated in ISGS's attack in Koutougou, Burkina Faso in August 2019 that killed 24 soldiers and preceded the series of other ISGS attacks that resulted in France labeling ISGS as the region's number one security threat (jeuneafrique.com, September 30, 2019). Although Moumoni was subsequently reported killed in 2020, his apparent emergence in this video shows he is still alive and in a leadership role (nordsudjournal.com, March 17, 2020).
It is not uncommon for jihadist leaders, including from ISGS, to be reported as deceased, only to reemerge. This had occurred with Abdelhakim al-Sahrawi in 2020 until such reports were disproven and he was killed one year later (Sahelnews.info, August 21, 2020). With Moumoni likely alive and Djibo released from prison, this duo is likely to take up the mantle of ISGS leadership and succeed the two al-Sahrawis. Moreover, their being nationals of Mali and Niger, as opposed to Western Sahara like the two al-Sahrawis, will further embed ISGS in the Sahelian militant landscape. After more than a year of ISGS seeing its influence wane relative to JNIM, this new ISGS leadership could help the group  regain its strength and reassert IS' presence in the Sahel.