Aymen al-Zawahiri Confirms Death of Sahelian Jihadist Mastermind Mokhtar Belmokhtar
Publication: Militant Leadership Monitor Volume: 12 Issue: 10
By: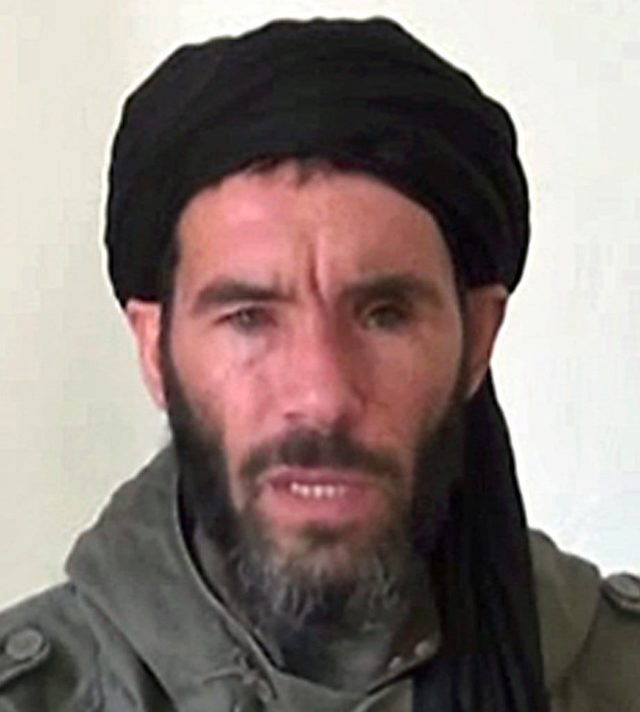 Mokhtar Belmokhtar became a "legend" in jihadism in the Sahel for masterminding numerous terrorist attacks, including the hostage-taking operation at In Amenas gas plant in Algeria in 2013. However, it had been unknown whether or not Belmokhtar was active since 2015. In September 2021, Aymen al-Zawahiri finally confirmed that Belmokhtar has, in fact, become a "martyr" (ndtv.com, September 12).
An Algerian Afghan jihad veteran, Belmokhtar had been facing charges in the U.S. in absentia for his role in the In Amenas attack and his broader "reign of terror" that was in furtherance of his self-proclaimed goal of waging bloody jihad against the West" (fbi.gov, July 19, 2013). Belmokhtar also mastermind the bombings at French-run mining facilities in Arlit and Agadez, Niger (France24, May 24, 2013). His broader contribution to jihadism in his career was extending al-Qaeda in the Islamic Maghreb (AQIM) influence in the Sahel and even as far as Nigeria, where he was sent messages from Boko Haram when the group sought, and subsequently received, AQIM support to launch its jihad in 2010 (al-Andalus, January 2017).
Belmokhtar remained steadfastly loyal to al-Qaeda throughout his career and even looked down on AQIM's own leadership, which lacked the Afghan jihad experience that Belmokhtar himself had acquired in the late 1980s (Associated Press [Al-Qaeda Papers], February 14, 2013). This attitude and Belmokhtar's unwillingness to follow AQIM orders resulted in Belmokhtar's forming various Sahelian jihadist groups aligned with, but separate from, AQIM, including Katibat al-Mulathamin, Katibat Muwaqiun Bidima, and al-Murabitun. All remained loyal to al-Qaeda, despite not being recognized as affiliates to the same extent as AQIM.
In May 2015, Belmokhtar was involved in factional turmoil when al-Murabitun split. Belmokhtar allegedly announced a new "al-Qaeda in West Africa" group that turned out to be based on a phony statement not actually from him, while his former al-Murabitun co-leader, Adnan Abu Walid al-Sahrawi, formed Islamic State in Greater Sahara (ISGS) (Twitter.com/@TRACterrorism, August 13, 2015). Belmokhtar was not seen or heard of, thereafter, and was reportedly killed in a U.S. drone strike in Ajdabiya, Libya in June 2015 (france24.com, June 15, 2015). However, such reports were unconfirmed, no corpse was displayed, and no statement on Belmokhtar's death was released by his co-fighters. The mystery of Belmokhtar's whereabouts persisted.
In October 2015, an al-Qaeda spokesman, Hussam Abdul Raouf, mentioned Belmokhtar among the names of other al-Qaeda leaders who had been "martyred" (Twitter.com/@menastream, October 6, 2015). This statement, however, did not have a particularly widespread audience nor did it come from the highest levels of al-Qaeda or AQIM leadership. As a result, the mystery of Belmokhtar's status persisted further. The next, and certainly more authoritative, acknowledgement of Belmokhtar's death has arrived with Aymen al-Zawahiri's mention of Belmokhtar among al-Qaeda "martyrs" in September 2021, including three s from AQIM: Abu al-Hassan al-Bulaydi, Abu Iyad al-Tunisi, and Abu Musab Abdul Wadud (Abu Malek Droukdel) (ndtv.com, September 12).
In neither Hussam Abdul Raouf's nor al-Zawahiri's cases were Belmokhtar's death explained or prominently highlighted. However, now that both of them have indicated that Belmokhtar is dead, and because Belmokhtar still has not surfaced since 2015, it is safe to confirm his death for the first time. The lack of any other specific praise for Belmokhtar's contributions to jihadism from jihadists, despite the various attacks that he orchestrated, likely stems from Belmokhtar's controversial career. Al-Zawahiri, after all, blessed AQIM's becoming an affiliate in 2007 while al-Zawahiri was still Usama bin Laden's deputy, but al-Qaeda never selected Belmokhtar for a leadership position in AQIM (paldf.net, September 14, 2006). Al-Qaeda instead seemed to prefer the more obedient and cerebral Droukdel.
Belmokhtar's legacy will also be mixed because his AQIM and other al-Qaeda-aligned Sahelian jihadist successors have in the years since his death moved away from targeting Westerners in spectacular attacks. Rather, they have focused mostly on targeting the Malian and neighboring countries' militaries or UN-backed military forces in the region. Thus, there have been increasingly few jihadist attacks that remind observers of the attacks that Belmokhtar perpetrated against Westerners.
While confirmation of Belmokhtar's death may be a relief for Western countries, Western corporations, and Sahelian militaries, details about how Belmokhtar died have still not been disclosed. Unless any government reveals additional information, details about Belmokhtar's death will seemingly have to emerge from jihadist memoirs. No such memoirs may eventually be published and, therefore, a mystery will continue to hover over Belmokhtar's record into the future.