BRIEFS
Publication: Terrorism Monitor Volume: 13 Issue: 22
By: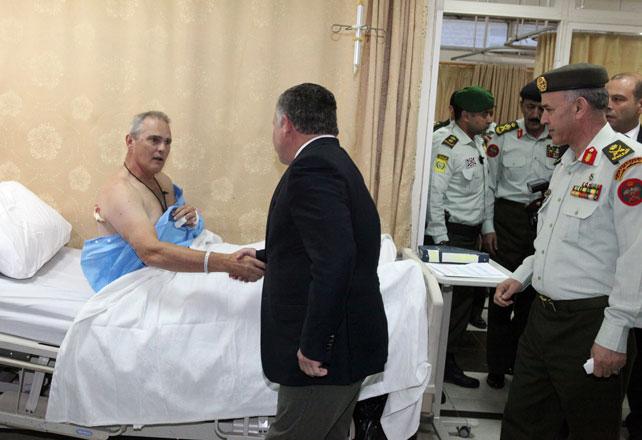 JORDAN 'GREEN ON BLUE' ATTACK LIKELY SHOWS ISLAMIC STATE REACH
James Brandon
A Jordanian police officer, Captain Anwar Abu Zaid, shot dead two U.S. nationals, two Jordanians and one South African in an apparent "green-on-blue" attack at a police training facility to the east of the capital Amman on November 9. Several others were also injured before the shooter could be shot and killed. A relative was reported as saying that Abu Zaid, a 28-year old from a village in the northern governorate of Jerash, was "religious but moderate" (Jordan Times, November 10). Although no group has so far claimed responsibility for the attack, it was likely to have been either carried on the instructions of the Islamic State group or to have been inspired by the group's ideology.
Significantly, the attack took place on the tenth anniversary of al-Qaeda in Iraq's coordinated bomb attacks on three hotels in Amman on November 9, 2005 (Jordan Times, November 9). Those attacks killed 60 people, most of them when suicide bombers attacked a wedding, and were a seismic event in Jordan's modern political history, provoking a wave of revulsion in that country against al-Qaeda and against the use of suicide bombing tactics in general (BBC, November 10, 2005). That the latest attack fell on the anniversary of these bombings seems likely to have been intended to send a message to the Jordanian government and people. In particular, the 2005 attack was carried out by al-Qaeda in Iraq, which is effectively the predecessor of the current Islamic State group, which likely conducted the latest attack. Significantly too, one of the 2005 attackers, an Iraqi woman called Sajida Mubarak Atrous al-Rishawi, was captured when her suicide bomb belt failed to detonate. She was executed following the Islamic State's killing of captured Jordanian pilot Muath al-Kasasbeh in January 2015, after that latter was shot down while conducting military operations against the group in Syria (al-Monitor, January 7). This latest attack can therefore likely be seen both as a reminder by the Islamic State of the continuing reach of the group into Jordan and as a belated response to Jordan's execution of al-Rishawi. At the same time, however, the shooters' decision to primarily attack a military target associated with the United States, is also telling and suggests that the Islamic State, if indeed they directed the attack, may not willing to risk provoking a backlash among Jordanian society as was caused by the 2005 attacks on hotels.
The recent attack is also a reminder that Jordan has been relatively quiet in recent years, despite its proximity to ongoing highly-active conflicts in neighboring Syria and Iraq and in nearby northern Sinai in Egypt. There are, however, a number of factors that could lead to further attacks, in both the short and longer term. For instance, despite growing at three percent this year, the Jordanian economy remains under enormous pressure due to the country's lack of natural resources and high levels of population growth; the unemployment rate reached an estimated ten percent and was over 20 percent in areas with high levels of refugees (al-Arabiya, May 17). Jordan's refugee population is estimated to include at least 600,000 Syrians as well as a large number of Iraqis, putting substantial strain on Jordan's infrastructure (UNHCR, 2015) Meanwhile, the country's political opposition is weak, and legal outlets for venting frustrations at economic problems remain sparse. The country also has a highly active Salafist movement, including prominent hardliners such as Abu Muhammad al-Maqdisi and Abu Qatada al-Filistini, who have previously expressed support for a range of jihadist groups (including al-Qaeda), and there is the clear potential for such anti-Western preachers to either—deliberately or inadvertently—inspire disenfranchised individuals to conduct attacks within Jordan. In addition, Jordan has seen apparent attempts by Syrian-based militants to cross its borders, although most seem to have been prevented by the country's strict border controls, backed by the army's "shoot to kill" policy towards suspected infiltrators (Daily Star [Beirut], August 17). In this context, despite the Jordanian security forces' undoubted counter-terrorism competence, further attacks appear likely.
EVIDENCE MOUNTS OF ISLAMIC STATE INFLUENCE IN INDONESIA
James Brandon
A series of incidents and official statements in recent weeks underline the growing allure of the Islamic State group in Indonesia, the world's most populous Muslim-majority country. In late October, for instance, the country's National Counter-terrorism Agency (Badan Nasional Penanggulangan Terorisme—BNPT) said that over 500 Indonesians were believed to have joined the group, although the police had only identified 200 of them (Channel News Asia, October 27). A BNPT spokesman said that a significant problem facing the police is that Indonesians often travel to Syria via complex routes, often under the pretext of undertaking pilgrimage in the wider Middle East, and that the authorities often only discover that a person had joined the Islamic State when the group announces their death.
In addition, the country's foreign ministry said this month that 119 Indonesians had been deported from Turkey on suspicion of seeking to cross into Syria (ABC [Sydney], November 10). Other countries have also intercepted would be jihadists, with Singapore deporting two Indonesian individuals suspected of intending to travel to Syria back to Indonesia in November (Straits Times [Singapore], November 11). In addition, the deaths of Indonesian Islamic State volunteers continue to be reported from Syria. One of the most prominent recent fatalities was Umar Jundul Haq (nicknamed "Uncu"), who was the son of Imam Samudra, who carried out the 2002 Bali bombings (The Australian, October 19).
Evidence suggests that the profile of Indonesian recruits remain diverse, as do their motives. For instance, Ahmad Junaedi, a meatball seller from Java who was arrested after his return from the Islamic State's territories in Syria, recently told a court in October that he had been partly motivated by promises of a high salary for joining the group (Channel News Asia, October 23). He said he left the group in part because he had been given menial tasks, such as making kebabs for Arab fighters, and was paid only $50 a month. His account is in keeping with other Southeast Asian volunteers' accounts of the Arab-dominated group's dismissive attitude towards them. On the other hand, another recent recruit is believed to be senior civil servant Dwi Djoko Wiwoho, the director of the Indonesia Investment Coordinating Board's licensing office in the Riau Islands, who is believed to have travelled to Syria via Turkey while on holiday from work in August (Straits Times [Singapore], November 11). His current whereabouts are not known. Other recent studies, for instance by the Jakarta-based Institute for Policy Analysis of Conflict (IPAC), have drawn attention to the migration of whole families to Islamic State-controlled parts of Syria, with such moves sometimes driven not by husbands, but by female family members and teenage children (Jakarta Post, November 9).
So far, there have been no attacks in Indonesia directly linked to the Islamic State, illustrating that the group's Malay-language propaganda has so far focused primarily on encouraging radicals to come to their "caliphate," rather than conducting attacks in their home countries. Indonesia is, however, well aware of the potential threat and has recently announced plans to work to jointly with Australia to rehabilitate returning Islamic State fighters (Sydney Morning Herald, September 28).