BRIEFS
Publication: Terrorism Monitor Volume: 13 Issue: 12
By: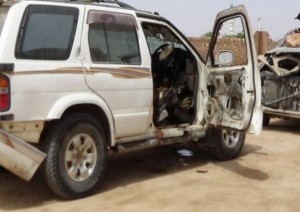 AL-SHABAAB VIOLENCE IN SOMALIA AND KENYA UNDERSCORES GROUP'S RESILIENCE
James Brandon
A series of fresh low-level attacks by the al-Shabaab militant group in parts of southern Somalia and northern Kenya underline that the group, while under pressure from a range of counter-insurgency measures by local and international forces, remains active and resilient in both countries. For instance, on May 25, 13 Kenyan police officers were reported missing and presumed dead after being caught in a complex al-Shabaab ambush, which involved the use of landmines and a subsequent gun attack, in the north of the country, near Yumbis in Garissa County (Standard Digital [Nairobi], May 26). Earlier, on May 12, a Kenyan soldier had been killed in a gun attack by suspected al-Shabaab members, in a town some 30 kilometers south of the Somali border (Shabelle Media Network, May 13). Separately, in an attack in Somalia on May 22-23, at least 24 people were killed after al-Shabaab fighters attacked government troops in Awdigle district and Mubarak village in the Lower Shabelle region, located to the south of Mogadishu (Standard Digital [Nairobi], May 26), In the capital, meanwhile, sporadic low-level attacks have also continued. For instance, gunmen killed a transport official in a drive-by shooting in Mogadishu on May 23 (Midnimo, May 23).
The developments, which illustrate the group's continuing but relatively reduced tempo of attacks in Somalia and a relative uptick of attacks in northern Kenya, show how al-Shabaab is being squeezed in its homeland and is accordingly shifting instead toward conducting attacks in Kenya, while retaining some operational capability in Somalia. The above attacks, like others in recent months, also suggest a relative decline in the group's capabilities, with previous tactics such as the frequent use of suicide bombers being replaced by less sophisticated, opportunistic gun-attacks. The group, nevertheless, also retains the ability to conduct large-scale attacks such as its April 2 attack on Garissa University in Kenya. In a further recent set-back for the group, Shaykh Hassan Abdullah Hersi al-Turki, one of the group's veteran leaders, died in southern Somalia of natural causes at the age of 73 on May 27 (Shabelle Media Network, May 28). Al-Turki had been one of the group's longest-standing leaders, having been active with the Islamic Courts Union (al-Shabaab's predecessor), and he had been designated as terrorist financier by the U.S. government in 2004. Although al-Turki was reported to have been suffering from a long-term illness that likely reduced his active involvement in the group, his death is nonetheless likely to damage the group's morale at a time when it has already been driven out of most of its strongholds in southern Somalia.
Much of the recent relative decline in al-Shabaab's activity in Somalia is due to the increasingly sophisticated humanitarian and counter-insurgency work being undertaken by a range of regional and international actors, particularly in the capital, which buttress the kinetic military actions being undertaken by the African Union and Somali government forces. For example, in early June, the United Arab Emirates opened a public hospital in Mogadishu that will provide free medical care to local people (Somali Current, June 4). Such initiatives—which have also notably been undertaken by Turkey—have the potential to help address some of the grievances that have previously driven local people to support al-Shabaab, whose initial popularity was partly driven by its promises to restore a measure of normality to Somalia. Supporting such efforts are two camps in Baidoa and Mogadishu that aim to rehabilitate and de-radicalize former al-Shabaab members and are funded partly by the German and British governments respectively (BBC, May 24). At the same time, however, Kenya is taking more concrete steps to protect itself against al-Shabaab incursions, notably pressing ahead with plans to construct a border wall with Somalia, although this has recently provoked strong opposition from Somalia politicians (Horseed Media, June 5). However, al-Shabaab is far from defeated, and also it increasingly relies on supporters inside Kenya, notably among the Somali refugee population, which mean that attacks on both sides of the Somali-Kenyan border are likely to continue for the foreseeable future.
AFGHANISTAN'S MILITARY BEARS THE FULL BRUNT OF FIGHTING SEASON FOR FIRST TIME
Kathryn Basinsky
Afghanistan's 2015 fighting season is shaping up to be the worst in nearly a decade. Over 1,000 civilians have been killed so far according to Tolo News, and the UN deputy special representative for Afghanistan predicts more civilian casualties this year than in 2014, which itself saw the greatest number of civilian deaths since 2009, when the UN began recording casualties (Tolo News, June 9; Reuters, April 30). Significantly, the Afghan National Army (ANA) and Afghan National Police (ANP) are bearing the full brunt of these attacks, partly because this is the first fighting season without the presence of NATO combat forces, although U.S. drone strikes are continuing.
According to Ministry of Interior spokesperson Sediq Sediqqi, Afghan forces are currently fighting militants in ten of the country's 34 provinces, which gives an indication of the range of the fighting (Tolo News, June 10). Already casualties among the security forces have increased significantly, and these rose 33 percent from April to May (Tolo News, June 9). In one of the most deadly militant attacks, in April, 27 ANA soldiers were killed by militants in northeastern Badakhstan province, eight of whom were beheaded (Pajhwok, April 27). Separately, ten police stations in Uruzgan province were overrun by Taliban militants in June after two weeks of heavy fighting (Press TV, June 7). Recent attacks are not just limited to armed security personnel, however; Hamidullah Khan, a prosecutor in a district near the Turkmenistan border, was killed by a bomb attached to his car, and in a separate incident in Uruzgan province a prison administrator was gunned down (Press TV, June 11). Attacks have also occurred in the capital, with the Ministry of Justice building in Kabul being bombed by Taliban militants in May, killing five (Press TV, May 19).
One reason for the increased attacks is due to neighboring Pakistan's year-long Operation Zarb-e-Azb against militant strongholds in North Waziristan. A side-effect of this has been to push Taliban forces across the porous border into Afghanistan. Partly as a result, the increased violence in Afghanistan is taking a toll on the Afghan-Pakistan relationship (VOA, June 10). Some Afghan politicians claim that Ashraf Ghani, the president of Afghanistan, had an agreement with Pakistani officials: they allege that Ghani pushed to increase counter-terrorism cooperation with Pakistan over the objections of other Afghani officials, and that in return, Pakistan agreed to encourage their contacts within the Taliban to push for peace talks. While talks between Taliban and Afghan officials have occurred—with many supportive statements from Pakistan—in Qatar, they were specifically not termed peace talks, and the continuing fighting season has not yet shown signs of a change of heart by the Taliban leadership (VOA, May 3).
Despite the above overall negative trends, the Afghan government is having some successes in combating militants. For instance, 41 militants surrendered to government forces on June 9 in Kunar Province, joining 419 others who have already done so there (Tolo News, June 10). The number of civilian casualties has also fallen, dropping 40 percent from April to May; there has been a corresponding increase in militant casualties indicating that perhaps the Afghan security forces are receiving and using actionable intelligence (Tolo News, June 9). The ANA and ANP have also launched an operation to reclaim Yamgan district in northeastern Badakhstan province from militants (RFE/RL, June 7). The fighting season will last for several more months until the start of the winter season again hampers militant operations, so it remains to be seen if the Afghan security forces can hold their own against militants throughout the country or if the militants prove to be too much to handle in the absence of NATO combat troops.