May 2015 Briefs
Publication: Militant Leadership Monitor Volume: 6 Issue: 5
By: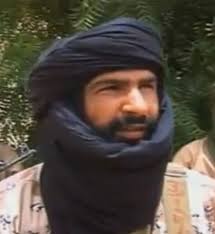 TRANS-SAHARAN JIHADIST LEADER DECLARES ALLEGIANCE TO THE ISLAMIC STATE
Nicholas A. Heras
In an audio statement sent to the Mauritanian newspaper al-Akhbar, prominent trans-Sahara jihadist leader Lehbib Ould Ali Ould Said Ould Jumani (a.k.a. Adnan Abu Walid al-Sahrawi) declared allegiance to the Islamic State on behalf of himself and a section of the organization that he leads, Harakat al-Tawhid wal-Jihad fi Gharb Afriqiya (Movement for Unity and Jihad in West Africa—MUJWA). He also called for the region's jihadist groups to follow his example in declaring baya'a (allegiance) to Islamic State leader Abu Bakr al-Baghdadi (AFP, May 19; France 24 [Paris], May 15; Liberation [Paris], May 14; al-Akhbar [Nouackchott], May 13). Initial reports of his audio statement indicated that al-Sahrawi was declaring allegiance to the Islamic State on behalf of the larger militant Salafist al-Murabitun (The Sentinels) organization, of which MUJWA is a constituent part. However, Mokhtar Belmokhtar, the preeminent trans-Sahara jihadist commander, reaffirmed his allegiance to global al-Qaeda's commander Ayman al-Zawahiri and disapproved of al-Sahrawi's action (Reuters, May 17; al-Quds al-Arabi, May 16; France 24 [Paris], May 15 ).
Al-Sahrawi is believed to have been born in Laayoune, the capital of the disputed Western Sahara region, to a locally prominent family, although he lived for a significant period of time in the Sahrawi refugee camps in Algeria and eventually attended university in Cuba and Algeria (al-Sakina, July 14, 2013). He is alleged to have been an active member in the Western Sahara-based insurgent Polisario Movement and to have recruited some radicalized, former Polisario members into al-Qaeda in the Islamic Maghreb (AQIM) and later into MUJWA (Le Mag [Rabat], May 23, 2013; La Tribune du Sahara, March 26, 2013).
A former commander in AQIM, al-Sahrawi supposedly was one of the founding members of MUJWA when it was formed in October 2011 (al-Akhbar [Nouackchott], May 13; Reuters, March 14, 2014). He also served as the leader of the Mujahideen Shura Council in Gao, Mali, an organization that sought to coordinate the actions and behavior of the various militant Salafist factions seeking to establish an Islamic state based in Mali (al-Sharq News Agency [Nouackchott], June 22, 2013; Jihadology, January 5, 2013).
Prior to MUJWA's August 2013 merger with Belmokhtar's organization al-Mulathamin (Masked Men), al-Sahrawi was one of the most prominent commanders within MUJWA; he served on its shura council and communicated with international media as MUJWA's spokesman, commenting on the group's operations in Mali and in the wider trans-Sahara region (al-Akhbar [Nouackchott], May 13; AFP, March 30; Reuters, March 14, 2014; Le Mag [Rabat], May 23, 2013; Naharnet [Beirut], March 22, 2013; al-Riyadh [Riyadh], June 30, 2012; al-Jazeera, June 28, 2012). Under al-Sahrawi's command, his faction of MUJWA/al-Murabitun claimed responsibility for the April 4 kidnapping of a Romanian security officer working for the Pan African Minerals company in the town of Tambao in Burkina Faso near the border with Niger and Mali (AP, May 20; AFP, May 19; AP, April 4).
Al-Sahrawi is a committed jihadist leader with long experience as an outspoken commander in Saharan and Sahelian insurgent movements. This experience combined with his ability to network with jihadist fighters position him as one of the more important militant Salafist leaders in this vast region. As a veteran combatant commander in the Malian war who supports operations directed at kidnapping Westerners in this region, Adnan Abu Walid al-Sahrawi's leadership is a threat to international as well as local actors. Furthermore, his reported declaration of baya'a to Abu Bakr al-Baghdadi, when taken in the context of similar declarations by Boko Haram and Libyan militant Salafist organizations, represents the continued expansion of the influence of the Islamic State in the potentially lucrative black market trade of the Sahara and Sahel area.
SYRIAN-PALESTINIAN COMMANDER FIGHTS OFF ATTACKS BY ISLAMIC STATE IN DAMASCUS SUBURB
Nicholas A. Heras
The ongoing fighting between the Islamic State, reportedly in alliance with the al-Qaeda affiliate Jabhat al-Nusra, and Palestinian armed groups for control over the besieged southern Damascus neighborhood of al-Yarmouk, the site of a large Palestinian refugee camp, is one of the most important battles in Syria's capital region (AFP, May 26, Ma'an News Agency [Bethlehem], May 23; al-Hayat, April 10; YouTube, April 5). The HAMAS-linked Syrian-Palestinian armed group Aknaf Bayt al-Maqdis (Environs of Jerusalem-ABM) has been the most prominent organization confronting the Islamic State in Yarmouk, and is reportedly cooperating with the Syrian military, its auxiliaries and other Palestinian armed groups to drive the Islamic State out of the neighborhood (YouTube, April 13; AFP, April 9; AP, April 9; YouTube, April 1; YouTube, April 1). ABM's military commander is Nidal Abu Ela (a.k.a. Abu Humam), a native and resident of al-Yarmouk.
As military commander, Abu Humam is responsible for overseeing 200-300 fighters drawn from al-Yarmouk camp (al-Quds, April 5). He is believed to be the principal deputy of Muhammad Zaghmout, a prominent Syrian-Palestinian member of HAMAS, and to have worked with Zaghmout as deputies to the formerly Damascus-based leader of HAMAS' Political Office, Khaled Mishaal (Free Palestine Agency, March 25, 2014). Abu Humam and Zaghmout were reportedly wanted for arrest by the Syrian security forces for mobilizing, training and smuggling weapons into al-Yarmouk for armed opposition forces in the camp and for coordinating with other armed opposition groups in the Damascus area, although they are believed to have been pardoned by regime security services in return for their support of Syrian military operations (al-Quds, April 5; AP, April 9).
Abu Humam has been targeted for assassination four times, most recently in January 2015 by an improvised explosive device (IED) that ABM accused Syrian-Palestinian loyalist forces, including the Popular Front for the Liberation of Palestine-General Command and Fatah al-Intifada, of planting (Aknaf Bayt al-Maqdis, January 5). ABM's rivalry and clashes with loyalist Syrian-Palestinian factions has complicated its cooperation with these forces and Syrian security forces against the Islamic State (Orient News [Dubai], April 8). Recently, Abu Humam fiercely criticized destructive Syrian Air Force and artillery attacks against reported Islamic State positions inside and near al-Yarmouk camp, expressing a belief that the continued attacks are a plot by the regime to destroy the camp and displace Palestinians that had resisted regime control (Felesteen [Gaza], May 27). These statements are indicative of the uneasy relationship between ABM and the Syrian military and its auxiliaries.
Abu Humam is presented as a local commander with popular support in his community (YouTube, January 18). During the early stages of the battle for al-Yarmouk, Abu Humam communicated with the media and released videos stating that ABM fighters, drawn from the local population and battling to protect their homes and community, would emerge victorious over the Islamic State (YouTube, April 8; YouTube, April 8; YouTube, April 4; YouTube, April 1). He has also criticized and published the names of groups within al-Yarmouk that he alleged facilitated the operations of the Islamic State. This has been a controversial action, which has prompted recriminations among residents in the camp (YouTube, May 8; Facebook, April 6).
Abu Humam is a significant commander in the strategic battlespace of the southern Damascus suburbs. Although the al-Yarmouk neighborhood is, for the time being, a severely depopulated area, physical control over the area of al-Yarmouk is a prize that is highly sought after by the Syrian military forces and their auxiliaries and the armed opposition, including the Islamic State. As an avowedly anti-Islamic State commander who coexists uneasily with the regime and other armed opposition groups, Abu Humam and Aknaf Bayt al-Maqdis represent important partners in the fight for control over the southern suburbs in Damascus.