BRIEFS
Publication: Terrorism Monitor Volume: 14 Issue: 7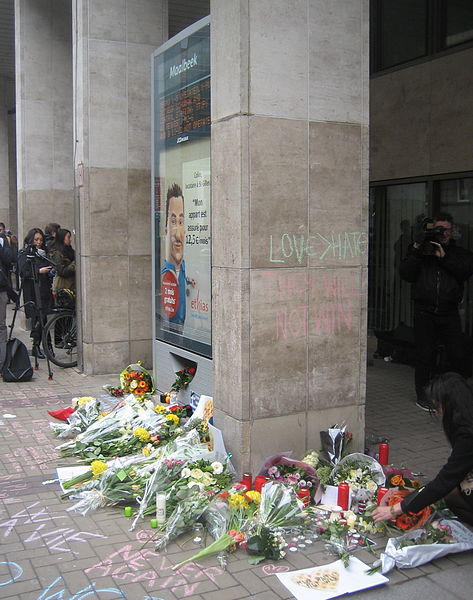 BELGIUM: THE SCALE OF THE THREAT FACING EUROPE
Alexander Sehmer
Belgian counterterrorism forces are under particular scrutiny following the attacks in Brussels that left at least 31 people dead and hundreds more injured. The attacks on the morning of March 22— which consisted of three blasts, two at Zaventem airport and one at the Maalbeek metro station, just down the road from the EU's headquarters—came four days after the arrest of Salah Abdeslam, wanted in connection with last year's Paris attacks (Le Soir, March 18).
Abdeslam, who had been on the run since he allegedly failed to detonate his suicide vest in the French capital in November, had been able to evade capture in Brussels for months, at one point hiding in the same apartment in Schaerbeek for three weeks (La Dernière Heure, February 19). After his capture, Belgium interrogators reportedly treated him with kid gloves, interrogating him for just one hour as he was recovering from a gunshot wound in the leg sustained during the operation to apprehend him. Then, in the wake of the attacks, it emerged that crucial information about Abdeslam's whereabouts had not been entered into the police database (VTM, March 25), and that Belgium had ignored a warning from Turkey that it had arrested Brahim el-Bakraoui, one of the Brussels airport bombers, on the border with Syria in June last year (BBC, March 24).
Belgian's security forces are undoubtedly struggling – and have admitted a catalogue of errors (BBC, March 30) – but to accuse them of being entirely complacent is unfair. They face an uphill task. There are at least 117 Belgian citizens in the country who have returned home from fighting in Syria, according to figures released this year by the interior ministry (Le Soire, February 22). Other European countries face the same problem, an issue explored further in this issue of Terrorism Monitor in "Finland Raises Terror Alert as Jihadist Scene Grows More Complex" by Juha Saarinen.
For all the fanfare around Abdeslam's arrest, Belgian interior minister Jan Jambon had already warned security forces that jihadist networks were stepping up plans for an attack (EU Observer, March, 21). A joint French-Belgian raid on a Brussels apartment on March 15 had uncovered Salafist material, along with weapons and ammunition. It also ended (unexpectedly, it seems) in a shootout in which another Islamic State (IS) operative in Europe connected to the Paris attacks—an Algerian named Mohamed Belkaid—was killed.
Under pressure in Iraq and Syria, IS has promised further assaults on Europe. Germany, which made at least two arrests in the days following the Brussels attacks, has grown increasingly nervous since the events in Paris (Deutsche Welle, March 26). A day after the Brussels attacks, the pro-IS Wafa Media Foundation published a message in which it promised, in typically verbose fashion, to plunge all of Europe into a "black nightmare" and went on to direct comments at UK Prime Minister David Cameron.
The events in Brussels have led to an inevitable wave of arrests across the continent. The issue may lie less in the complacency of the Belgian authorities, and more in the extent of the counterterrorism task facing Europe's capitals.
ALGERIA: AQIM TARGETS FOREIGN COMPANIES
Alexander Sehmer
Al-Qaeda in the Islamic Maghreb (AQIM) has claimed responsibility for a rocket attack on Algeria's In Salah gas field. At 6:00am on March 18, three rockets hit the facility in Krechba in the desert region of Ain Saleh, though there were no injuries and the attack caused no damage according to Statoil and BP, the oil companies that run the facility alongside Algeria's Sonatrach.
The In Salah attack is the first assault on an oil and gas facility in Algeria since In Amenas in 2013, but seems to have been much less ambitious in scale. The In Amenas attack saw gunmen led by Mokhtar Belmokhtar seize the facility – also run by BP and Statoil – and subsequently hold hundreds of workers hostage. At least 40 people lost their lives, including those who were killed when the Algerian army mounted a rescue operation. The event led to a great deal of soul searching, not just on the part of Algeria; in the UK, an inquest strongly criticized BP for not taking adequate security precautions (The Guardian, February 26, 2015).
The response this time seems to have been better organized. The Algerian military reacted quickly, surrounding the plant and mounting an operation around the gas field, reportedly killing four militants (Alalam, March 21), and wounding another three (PressTV, March 20). In the meantime, both BP and Statoil withdrew their employees from the field, leaving the operation of the plant to Sonatrach's Algerian staff. Sonatrach confirmed its staff were keeping the plant running following a temporary shutdown during the attack, adding that, in fact, production had since increased (Algeria Press Service, March 22).
AQIM's targeting of foreign companies and Algeria's gas facilities is a strike at an economic nerve, but its statement on the attack that its fighters had used 130mm rockets to target "the Crusader BP, the plunderer of our wealth" (TSA, March 18) may also be designed to cultivate local grievances about the exploitation of natural resources. Unconnected with BP's project, In Salah was the scene of protests against shale gas exploration in 2014, where demonstrators complained the process was contaminating the water supply. By January 2015, there were reports of a 15,000-strong demonstration, with further protests in Tamanrasset, Ouargla, and even in the capital city of Algiers (The New Arab, March 17), leading eventually to the downfall of then minister of energy and mines, Youcef Yousfi (Le Monde, May 15, 2015).