BRIEFS
Publication: Terrorism Monitor Volume: 12 Issue: 18
By: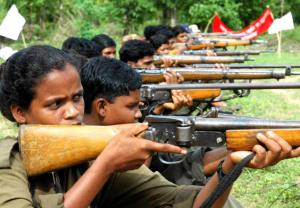 MODI GOVERNMENT REVEALS NEW INITIATIVES AGAINST THE NAXALITE INSURGENCY
Kathryn Basinsky
While Narendra Modi, India's new prime minister, has been in office a little over 100 days, a number of new initiatives have been announced to further the fight against the Naxalite-Maoist insurgency, which has plagued central India for decades. Most of these policies continue the efforts of the previous administration to weaken the militants.
On September 15, a new training program for mid-level bureaucrats in combatting Naxalism and "Left Wing Extremism" was announced (Times of India [Mumbai], September 15). Officers from the Indian Administrative Service, Indian Police Service and Indian Forest Service will be trained by members of the armed forces in Chhattisgarh, one of the most affected states. The idea is intended to improve coordination between ministries and the Indian military as well as improve the country's overall national security. This new program comes a few weeks after a new bounty of ten million rupees ($164,000) on top Naxalite leaders, namely Muppala Lakshman Rao (a.k.a. Ganapathy), or for information on their whereabouts was announced (Press Trust of India, August 29). The Modi government has also replaced several police superintendents in Chhattisgarh with others whose districts have shown a decrease in insurgent activity (The Hindu [Chennai], June 12).
Naxalism is a far left-wing movement that began in West Bengal in 1967 after the Communist Party of India (Marxist) split. The movement spread southwestward into other states and controls a significant portion of territory in what is now called the Red Corridor. Today the Communist Party of India (Maoist) is the largest group of the movement, which follows Mao Tse Dong's concept of a protracted people's war to overthrow the current Indian government. Indian tribal groups (Adivasi) form a key population that supports, or is coerced into supporting, the Naxalites. These indigenous populations typically live in rural, isolated communities with little in the way of government services and do not have equal access to India's economic opportunities (DNAIndia.com, November 23, 2013). [1]
Naxalite groups are capable of large-scale attacks, often targeting infrastructure and industrial facilities within the Red Corridor. Naxalites recently blew up a railway used by power plants and the delay to reroute coal caused shortages and concerns over how much electricity could be generated, a critical need in India's growing economy (Business Today [New Delhi], October 12). On a day that Modi was campaigning in Chhattisgarh, roughly 200 militants attacked a steel plant and set 17 trucks on fire after locking up the employees (Business Standard [New Delhi], March 29). These industrial or economically crucial targets were chosen due to the communist nature of the insurgent group and the corruption that typically surrounds them. Police and military units are also preferred targets in standard insurgency tactics. In March, 100 Maoists ambushed 50 security personnel in Chhattisgarh, killing 15 (The Hindu [Chennai], March 13). There are many areas within the Red Corridor that are not under the control of state authorities, while in many others, government officials are under threat.
India's recent efforts against the Naxalites appear to be working. Up to 144 militants surrendered between May 16 and August 15; only 44 surrendered in the same period last year (Times of India [Mumbai], September 13). Also, the chief of the Central Reserve Police Force recently claimed "violent incidents perpetrated by Maoists against civilians have gone down" (Press Trust of India, August 29). Estimates have shown that the number of cadres has decreased over the past several years, though these numbers are a matter of contention, mostly because they are several years old.
Given how vocal Modi is about changing policies inherited from the back-to-back terms of Manmohan Singh, these new initiatives have received comparatively little fanfare. This is likely because the previous administration's counter-insurgency policies were having an effect and therefore, there was no need to focus on the Naxalite threat as strongly during the election cycle. Regardless, it appears that the Modi government is capably addressing one of India's most persistent domestic terrorist threats by instituting and continuing the preceding administration's effective counter-insurgent policies.
Kathryn Basinsky is a program associate for The Jamestown Foundation on the Global Terrorism Analysis program. You can follow her on Twitter @kbasinsky.
Note
1. For more information on Naxalism and its leaders, please see Militant Leadership Monitor, April 29, 2010, https://mlm.jamestown.org/single/?tx_ttnews[tt_news]=36336&tx_ttnews[backPid]=568&no_cache=1#.VCNmqBbvZLc.
RUSSIA SOUNDS THE ALARM ABOUT THE THREAT POSED BY ISLAMIC STATE
Mairbek Vatchagaev
Russian observers reacted quite strongly to an Internet video released by the Islamic State, in which militants are threatening to launch a war in the Caucasus (al-Arabiya, September 2). The group, formerly known as the Islamic State of Iraq and Syria (ISIS), operates in Iraq and Syria as well as in Lebanese border areas,
The video lasts only one minute and 42 seconds and displays a group of militants inside an airplane hangar at the Tabaka military airport in Syria's Raqqa province, which was captured by insurgents. Several of them are seen climbing on an old, long-ago decommissioned Soviet MiG-21 jet. The video starts with threats against Syrian President Bashar al-Assad, with a militant promising to attack al-Assad in his own jets. At one minute three seconds into the video, a militant sitting in a car next to the jet, apparently responding to the North Caucasian cameraman's request, starts addressing Vladimir Putin personally, in Arabic, threatening that the jets the Russian leader sent to help President al-Assad will fly back to Russia to liberate Chechnya and the entire Caucasus. Another militant, sitting in the cockpit of the MiG, declares that the insurgents plan to liberate Chechnya and the Caucasus "by the grace of Allah." The video is accompanied by a Russian translation (Ukrainian Independent News Agency, September 3). [1]
One would think that a statement by a random Arab militant would not concern Russian analysts, especially given that such statements have been made previously (Fondsk.ru, March 23, 2013). However, people in Russia took the statement much more seriously than it deserved at first sight. Ramzan Kadyrov, head of the Chechen republic, reacted first. Drawing attention to the video, the Chechen leader stated on his personal Instagram webpage: "Terrorists from Syria who call themselves 'the Islamic State' have made a childish threat to start a war in Chechnya and the Caucasus." Kadyrov felt obliged to show that an ordinary militant could not have made a statement like that on his own, but only on the orders of the United States:
The militants in Syria and Iraq by themselves are nothing to be worried about… They are bandits who are trained and armed by the U.S.A. and by the West to destroy strong and resource-rich Islamic countries… I declare with all responsibility that whoever had the idea of threatening Russia and uttering the name of the president of our country, Vladimir Putin, will be eliminated right where he made that statement. [2]
Apparently not sharing Kadyrov's optimism, the Russian Prosecutor General's office demanded that the Federal Service for Supervision of Communications, Information Technology and Mass Media restrict public access to the Islamist terrorist group's video threatening to launch a war in the North Caucasus (Newsru.com, September 4). YouTube blocked the video to users inside Russia (Interfax, September 4). However, the clip has been republished on multiple private channels, under different names, circumventing YouTube's regulations and Russian wishes.
Meanwhile, the Investigative Department of the Federal Security Service (Federal'naya sluzhba bezopasnosti – FSB) began preparing a criminal investigation into "threats to carry out a terrorist attack and public calls for actions that are aimed at violating the territorial integrity of the Russian Federation" (Newsru.com, September 4). It is unlikely that Russian investigators will be able to determine the actual identity of the person who shot the video; thousands of people from the North Caucasian diaspora have traveled to Syria to help establish the Islamic State under the command of Abu Bakr al-Baghdadi. An ethnic Chechen, Omar al-Shishani, is one of al-Baghdadi's closest associates (Nezavisimaya Gazeta [Moscow], July 7). The North Caucasians appear to be al-Baghdadi's primary force, since they can afford to carry out attacks that local Arabs cannot. Omar al-Shishani's rapidly growing wing of the group is likely to become the largest in the Islamic State before the end of the year.
Why has Russia been so sensitive about a statement by Islamic State militants? The rebels, who are shooting videos, in which they discuss plans to help Russian Muslims and to organize a caliphate on Russian territory, hardly threaten Russian interests. Moscow should rather be concerned about the ideologues that are behind them, which actually threaten Russia. Instead of MiG-21s, their powerful propaganda spreads via the Internet into the brains of young people on a daily basis. Russia remains on the edge of an Islamic time bomb; it is only a question of time before it explodes.
Dr. Mairbek Vatchagaev is a Non-Resident Senior Fellow at The Jamestown Foundation and a noted Chechen historian and political analyst.
Notes
1. https://www.youtube.com/watch?v=M244nSFJXe8#t=15.