September 2014 Briefs
Publication: Militant Leadership Monitor Volume: 5 Issue: 9
By: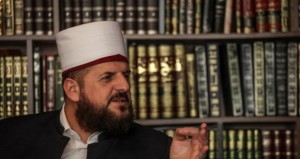 ABU MUHAMMAD NAMED NEW DAGESTANI AMIR OF CAUCASUS EMIRATE
Mairbek Vatchagaev
Earlier this year Abu Muhammad, who became the new head of the Caucasus Emirate in the North Caucasus in March, made his first public address where he outlined his group's new priorities following the death of former leader Doku Umarov. Abu Muhammad's latest statement, which was made in a video posted online on July 2, outlined the strategy and tactics of the North Caucasus insurgency.
In the video, Abu Muhammad explained why Muslims should not support the head of the Islamic State, Abu Bakr al-Baghdadi, but instead provide support to al-Qaeda leader Shaykh Ayman al-Zawahiri. [1] The leader of the North Caucasus militants has now put forward a new set of initiatives. Moreover, the video is significantly important because it defines the actions the regional militants will take in the North Caucasus for the near future. [2]
In a video interview before an audience made up mostly of fellow militants, one of the first questions concerned the use of suicide bombers. Amir Abu Muhammad unequivocally spoke out against suicide bombers. He said that there was no point in losing a militant only for the sake of carrying out a bomb attack somewhere in Russia. Abu Muhammad also spoke out against the use of female suicide bombing even more strongly, saying it is only justified when the police corner a woman and she thinks she will be persecuted if she surrenders. Abu Muhammad expressly prohibited female suicide bombers under all other circumstances, saying that he had previously prohibited many women from carrying out such attacks. The Caucasus Emirate leader then cited the example of Afghanistan, where he said there has not been a single case of istishad (suicide bombing by a female) (Kavkaz-Uzel, July 1). Abu Muhammad pointed out that this method of fighting was imported from elsewhere and was neither necessary nor obligatory in the North Caucasus.
The rebel leader said that the death of a female in a house surrounded by the police is of no use to the militants and asked what could be the purpose of the death of a young female, if she has the opportunity to surrender and hope that one day she will be exchanged or continue jihad after her release. As an example, Abu Muhammad cited the case of Ruzana Ibragimova, who was killed on April 24 in a special operation in Khasavyurt, Dagestan, while she was in her ninth month of pregnancy. Ibragimova refused to leave a house that was surrounded by police and decided to die along with her husband (Kavkaz-Uzel, April 25). The rebel leader reprimanded the dead woman for having taken this decision, saying that she had no right to make such decisions for her unborn child.
Abu Muhammad also said that most of the time civilians die in suicide attacks in Russia and that he, as the amir of the Caucasus Emirate, did not support attacks against civilians. At the same time, he noted that suicide bomb attacks would continue in Russia, but only against those who harm the militants. The insurgent leader said he would do everything possible to avoid civilian victims. Moreover, he offered apologies to the civilian population of Russia for all of the victims of suicide attacks (Russian Planet, July 2). In 2012, the then Caucasus Emirate leader Doku Umarov also suspended any terror attacks that would harm Russian civilians (RFE/RL, February 3, 2012). However, he broke the conditions of that truce a year later and called on the militants to carry out strikes across Russia, using all available means. [3]
Abu Muhammad also touched on relations with Sufism. According to the rebel leader, the Sufis are not the enemies of the insurgents and he did not want to have a conflict with the militants. However, he said that the Sufis decided to go to war with the Salafist insurgency after the official spiritual bodies, which are dominated by Sufis, declared war on Salafist militants. Therefore, the militants would continue attacks on people who harm the insurgents and cooperate with the authorities, Abu Muhammad said. This is not the first time that followers of the Caucasus Emirate have raised this issue. Two years ago, Umarov was also forced to say the rebels were not fighting the Sufis and did not consider them enemies per se. Rather, he said, the rebels thought of the Sufis as brothers and asked them not to remain neutral, but to support the insurgency. [4]
Another question raised during the interview concerned whether Muslims in Russia should consider moving to Muslim countries because the Russian authorities do not allow Muslims to observe their religion. Abu Muhammad responded by saying that there was no country in the world that would fully satisfy the criteria of a true Islamic country, with Shari'a installed properly. Therefore, he said, no one should leave his or her country, which was a striking statement basically calling for Muslims in Russia to stay home and fight Russian authorities.
Out of all statements made by Abu Muhammad in the latest video, the most important was the one about suicide bombings. The new amir has not simply suspended the practice of suicide bombings as Doku Umarov did previously, but argued that the very practice of suicide bombings is useless and alien to the culture of the North Caucasus. Such statements have not been made since the Caucasus Emirate was founded in 2007. Instead of a moratorium, he is attempting to resolve this issue once and for all by removing it from the agenda entirely.
Mairbek Vatchagaev is a noted Chechen historian and political analyst on the North Caucasus.
Notes
1. "CE Amir Abu Muhammad: Related to Corruption in Damascus [sic]," Kavkaznews1, June 23, 2014, https://www.izlesene.com/video/ke-emiri-ali-ebu-muhammed-samdaki-fitne-ile-ilgili-ke-durusu/7581733?utm_source=player&utm_medium=referral&utm_campaign=player_clicktag_izlesene_embed.
2. "CE Amir Shaykh Ali Abu Muhammad: Questions and Answers. Part 2," Kavkaznews1, July 2, 2014, https://www.izlesene.com/video/ke-emiri-ali-ebu-muhammed-samdaki-fitne-ile-ilgili-ke-durusu/7581733?utm_source=player&utm_medium=referral&utm_campaign=player_clicktag_izlesene_embed.
3. "Doku Umarov Announced the Lifting of the Moratorium on the Terrorist Attacks in Russia," 3mv.ru, July 3, 2012, https://3mv.ru/publ/doku_umarov_objavil_o_snjatii_moratorija_na_terakty_v_rossii/1-1-0-17327.
4. "Doku Umarov: Sufis Are not Our Enemies and the Brothers," Anton Chexov, September 13, 2012, https://www.youtube.com/watch?v=PU3OromYeyw.
IMAM OF PRISHTINA'S GRAND MOSQUE ARRESTED
Ebi Spahiu
Just over a month after Kosovo's police conducted a major operation in which they arrested 40 people accused of terrorism, links to extremist organizations including Jabhat al-Nusra and the Islamic State (formerly the Islamic State of Iraq and Syria, or ISIS), and inciting religious hatred, they conducted yet another major sweep. 15 persons were arrested across the country, including nine imams and a member of an Islamic-rooted political party with seats in parliament (VOA, September 17). Among those booked on September 17 was Shefqet Krasniqi, the imam of Prishtina's Grand Mosque (RFE/RL, September 17). Since August 11, Kosovo has arrested a total of 55 individuals.
Dr. Shefqet Krasniqi is one of Kosovo's most influential and controversial religious figures due to his promotion of a Salafist vision of Islam, financial ties to several religious groups in Saudi Arabia and his public approval of the martyrdom of young Albanian jihadists dying in Syria (Gazeta Express [Prishtina], August 12). He became one of the first imams in the country to declare such support when, in May 2013, he publicly blessed a young Albanian man who was reportedly killed fighting in Syria. In a Facebook post that month, Krasniqi named the young Albanian fighter from Gostivar, Macedonia, who had reportedly died in Damascus, and quoted the Quran on the promised blessings for martyrs who sacrifice their lives for Allah. [1]
When the first series of arrests were made by Kosovo's police in August, several Kosovar media outlets were surprised that Krasniqi did not mention the arrests of many of his fellow imams. Instead, during a weekly Friday prayer, he spoke of the hardships Muslims need to live through in this life in order to earn their place in heaven: "The road to heaven (janat) is filled with barriers, whereas the road to hell (jehenemet) is filled with flowers" (Gazeta Express [Prishtina], August 15).
Prishtina's Grand Mosque is the largest religious institution under Bashkesia Islame e Kosoves (BIK – Islamic Union of Kosovo), which is an officially recognized religious institution under Kosovo's constitution. Dr. Krasniqi was also a lecturer for the Islamic Studies department at the University of Prishtina, which is managed by the BIK. As confirmed by his lawyer during a live interview for Kosova TV, Dr. Krasniqi is accused, among other things, of facilitating money laundering through the BIK's financial accounts (Gazeta Express [Prishtina], September 17). The BIK has promoted a Salafist vision of Islam and is believed to have supported the recruitment of young Albanians to travel to the Middle East for jihad. Since the new mufti (chief Islamic jurist) of Kosovo, Naim Tervana, took over the BIK's leadership in 2008, the organization began silencing moderate religious leaders who spoke out against Salafism by either forcing them to resign or pressuring them to leave Kosovo altogether. The BIK has also tried to portray former leaders of the Kosovo Liberation Army (KLA) as martyrs of Allah since many former KLA fighters have been recruited to fight in the Middle East. [2]
According to unconfirmed reports, more than 200 young ethnic Albanians from Albania, Kosovo and Macedonia have responded to the Islamic State's call to join the jihad. Radical Islam and the recruitment of ethnic Albanians into the ranks of the Islamic State pose a serious threat to the stability and security of the Balkans, a region that has been marred by ethnic tensions and war in the recent past. Despite these issues, religious harmony between Muslims and Christians is deeply rooted, particularly in Albania. The emergence of radical religious leaders like Dr. Shefqet Krasniqi inside official religious institutions that have long protected religious harmony is a key to understanding the lines of recruitment that hundreds of Albanians follow on their way to the Middle East.
Ebi Spahiu is an independent analyst of Central Asian and Western Balkan Affairs, focusing on gender and religious extremism.
Notes
1. See https://m.facebook.com/story.php?story_fbid=659682470724988&substory_index=0&id=100000497236566.
2. Interview with Visar Duriqi, journalist based in Prishtina, September 2014.