BRIEFS
Publication: Terrorism Monitor Volume: 11 Issue: 9
By: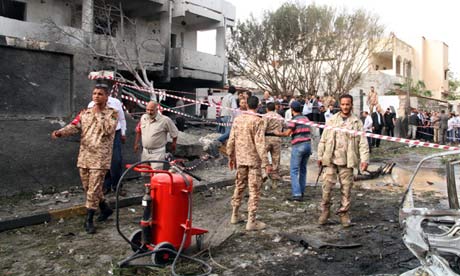 ISLAMIST VIOLENCE IN TRIPOLI DEFIES EFFORTS TO RESTORE SECURITY IN LIBYA
Andrew McGregor
An estimated 80 percent of the two-story French Embassy in the suburban al-Andlus neighborhood of Tripoli was destroyed by a car bomb on the morning of April 23. The massive blast also damaged four neighboring houses. Remarkably, only two French gendarmes were injured in the 7 AM attack, which seemed designed to avoid mass casualties amongst the hundreds of Libyans who assemble outside the embassy later in the morning to seek French visas. No group has claimed responsibility, though the Interior Ministry and Foreign Ministry have both typically blamed Qaddafi loyalists rather than radical Islamists for the bombing (Le Monde, April 26; Xinhua, April 23).
The attack may actually have been connected to French operations against Islamist militants in northern Mali. The bombing came one day after France's decision to extend its military mission in Mali and coincided with a visit to Tripoli by Jacques Myard, chairman of the National Assembly's Foreign Affairs Committee (al-Sharq al-Awsat, February 24). Islamists in Tripoli and Benghazi expressed their anger with the French intervention in January protests. Since then, there have been concerns in Libya that continued inability to prevent attacks on foreign nationals and facilities in Tripoli and elsewhere in Libya might invite further foreign military intervention (al-Watan [Tripoli], April 24; February Press [Tripoli], February 24).
Libyan officials still see the hand of Qaddafi loyalists behind much of the insecurity in Libya. According to Libyan Defense Minister Muhammad al-Barghathi: "There are enemies inside Libya from the former regime who are still active in undermining the internal situation and influencing some leaders." In light of the bombing and earlier attacks on the Italian ambassador in January and the fatal assault on the U.S. consulate in Benghazi in September, Libyan Foreign Minister Muhammad Abd al-Aziz concedes the existence of radical Islamists in Libya, but believes "The solution is to have a dialogue with them and to pursue a policy of integration with the families. To use force is not the right approach within the context of the national reconciliation necessary to rebuild Libya" (Le Monde, April 26).
Car-jackings and gunfights between militias have become daily occurrences in Tripoli, which was known for its safety until recently. Libya's militias are also opposing the development of a free press, a crucial step in the development of a democratic society. Beatings, threats and illegal detentions have all been used to silence attempts to report on militia activities in Tripoli (Reuters, May 1). In recent days the Libyan government has come under siege from the militias and even its own police, making the establishment of a functioning government nearly impossible:
•
On April 28, armed men and vehicles surrounded the Foreign Ministry in a continuing blockade to demand the dismissal of Ministry employees who worked for the Qaddafi regime.
•
On April 29, former rebels briefly occupied the Finance Ministry.
•
On April 29 and 30, policemen took over the Interior Ministry twice to demand raises and promotions.
•
On April 30, 20 to 30 gunmen pulled up in front of the Justice Ministry in trucks mounted with anti-aircraft guns and occupied the building, sending Ministry workers fleeing. The gunmen were angered by remarks made by the Justice Minister regarding illegal prisons run by the militias (AFP, May 1; BBC April 30).
As well as arms, much of the Qaddafi regime's internal surveillance equipment has fallen into the hands of various Libyan militias. According to Interior Minister Ashur Shuwayil, these militias are now using this equipment to monitor senior members of the Libyan government, the General National Congress (parliament) and members of the media (al-Sharq al-Awsat, April 24). Inside Libya, there is a debate over whether the intimidation practiced by the militias is a useful stimulus to moving the revolution forward or crass manipulation of the political process by politicians looking to expel potential opponents from the government (BBC, April 30).
Libya's Defense Minister says the government has sought help from Canada, Australia, India, Pakistan, Jordan and Egypt in creating a new professional army to replace the militias. Of these nations, Egypt has been most receptive to Libya's request, despite experiencing its own breakdown in internal security (al-Sharq al-Awsat, April 24). Libya's Defense Ministry is seeking to obtain modern, sophisticated weaponry, but must wait another year for UN restrictions on arms sales to Libya to expire. Describing the army of the Qaddafi regime as "a joke," Defense Minister al-Barghathi maintains that Libya is trying to restore security and is "seeking to build an army whose number is proportionate with the population despite Libya's vast territory, but in ways that lead to units that are small in size but professional and equipped with special weapons—and in which aircraft are used in particular" (al-Sharq al-Awsat, April 24).
Libyan armed forces chief-of-staff Major General Yusuf al-Mangush continues to face opposition from officers of the new national army, especially in Benghazi and other eastern regions. Though government officials continue to express confidence in al-Mangush, a recent conference in al-Burayqah saw army officers, militia leaders and civilian leaders call for the chief-of-staff's immediate dismissal and an investigation into missing funds issued to the Libyan Army's General Staff (al-Watan [Tripoli], April 23). One of the groups represented at the conference was composed of current and former army officers who have organized under the name "Free Libyan Army Officers Assemblage." The group has called for the elimination of the Libyan Army's General Staff and its replacement with an independent body of qualified personnel (al-Hurrah [Tripoli], April 20).
At some point, the new government will need to assert its authority if it wishes to end armed attempts to direct the government's direction. For now, however, the government remains outmanned and outgunned, lacking the firepower advantage normally expected with government militaries. With UN Chapter VII restrictions on arms sales to Libya still in effect for another year, Libya's government will have to seek other means of restraining the militias, which in at least one sense could be viewed as a favorable development, as an argument could be made that shipping even more arms to Libya might contribute little to solving the nation's many problems.
DISSENSION AND DESERTIONS BEGIN TO PLAGUE UGANDA'S MILITARY
Andrew McGregor
Uganda's military is one of the most active in Africa, with ongoing operations in Somalia, the Central African Republic (CAR) and the Democratic Republic of the Congo (DRC) reflecting Ugandan President Yoweri Museveni's willingness to use his nation's military to establish Uganda as a regional power in east Africa. Internally, the Uganda People's Defense Force (UPDF) is still engaged in operations against the Allied Democratic Forces (ADF) in western Uganda (for the ADF, see Terrorism Monitor, December 5, 2007). Last year, the UPDF threatened to intervene militarily in South Sudan if Khartoum attacked the new nation (Sudan Tribune, April 20, 2013). UPDF operations in Somalia and the CAR have the active support of the U.S. Defense Department.
In recent months, over 400 UPDF servicemen have deserted, often with their arms. Surprisingly, 37 of the deserters were members of the elite Special Forces Command (SFC). According to an investigation carried out by a Kampala daily, the deserters had been part of a larger SFC group assigned to fell trees and clear bush around President Museveni's ranch in Mpigi district. The elite troops resented being deployed in heavy labor tasks with no apparent military purpose, though the army maintains the men were used to clear "an observation zone to spot enemies" (Daily Monitor [Kampala], April 25). Desertion has rarely been a problem in the SFC in the past as SFC members are better trained and better paid than other UPDF commands and receive an extra food allowance. Many of the deserters from other units appear to come from the northern and eastern parts of Uganda, reflecting complaints of discrimination in the UPDF against recruits from certain geographical regions. Uganda's Internal Security Organization (ISO) is reported to be running intensive search operations in pursuit of the deserters that have already resulted in over 100 arrests (Daily Monitor [Kampala], April 30).
Deserters are thought to have been among those responsible for a March 4 attack on the Mbuya army barracks that appears to have been designed to seize enough weapons to arm a criminal group or rebel movement. Though the attack was repulsed after a firefight, there are concerns the attackers may have had support from active service members at the Mbuya base (New Vision [Kampala], March 5; Daily Monitor [Kampala], March 6; Observer Online [Kampala], March 19). Colonel Felix Kulayigye, who was appointed Chief Political Commissar of the UPDF in March, says that the problem is that many recruits are joining the army to make money rather than serve the nation: "There has been a misunderstanding that there is a lot of money in the army… A job seeker is simply a wage seeker, and if the wage is not satisfactory to their expectations, they run away" (Daily Monitor [Kampala], April 25).
A lively debate has opened up in Uganda regarding the merits of the SFC commander, Brigadier Muhoozi Kainerugaba, who also happens to be the first son of President Museveni. Muhoozi received education and training at Sandhurst, Fort Leavenworth and the U.S. General Staff College but his rapid rise through the ranks of the UPDF has prompted questions surrounding political interference in the promotion process. The president's son took only one year to rise from second lieutenant in 2000 to major in 2001. Last August, Muhoozi was promoted to Brigadier ahead of many senior colonels and given command of the SFC. According to Minister of Defense Dr. Crispus Kiyonga, Muhoozi was "promoted on merit because he has trained and is very hard-working" (Daily Monitor [Kampala], March 1). After questions were raised about the appointment by opposition politician and former UPDF colonel Dr. Kizza Besigye, the president took the extraordinary step of responding to charges of nepotism by penning a lengthy refutation published in a Kampala daily (Saturday Monitor [Kampala], February 17). As SFC leader, Brigadier Muhoozi commands Uganda's most capable troops, organized in 11 battalions with a total of 10,000 soldiers tasked with protecting the president, guarding oil infrastructure and carrying out special military operations as required. There is reason to believe that Muhoozi's military career is intended as a stepping stone to his eventual succession of his father as Ugandan president.
Uganda's Special Forces have been effective in carrying out special missions of the type recently described by the commander of Uganda's African Union Mission in Somalia (AMISOM) contingent, Brigadier Michael Ondoga: "You may have special scenarios like an enemy hiding somewhere in a narrow place and he can only be dealt with in a special way, say at night by surprising him. These are the kind of special operations we are talking about. Those special scenarios that need night visual equipment and high speed to execute and return. They also carry out night operations in built up areas. They are well trained and have that capability. They can move in quickly and carry out surgical operations and come out" (Ugandan News, March 23).
Ugandan/AMISOM operations in Somalia have been complicated by Ethiopia's March decision to withdraw its roughly 8,000-man force from Somalia. Ethiopian troops entered western regions of Somalia in November 2011, but have remained outside the AMISOM command structure. Al-Shabaab fighters are moving to re-occupy areas from which they were once expelled by the Ethiopian forces (AFP, April 26).
Ugandan police do not believe the Islamist al-Shabaab has lost its ability to carry out terrorist operations and have consequently issued a public alert warning information has been received of potential terrorist attacks by the Somali Islamists (Daily Monitor [Kampala], April 27). There are currently over 6,000 Ugandan soldiers deployed in Somalia.
However, the UPDF is planning a similar withdrawal from joint operations in the Central African Republic designed to eliminate the decades-long threat posed by Joseph Kony and his Lord's Resistance Army (LRA). Working alongside elements from the U.S. Special Forces, Ugandan military operations in the CAR have greatly reduced the number of killings and abductions carried out by the LRA, but Kony remains at large and is expected to exploit the Ugandan withdrawal to resume operations in the region (Daily Monitor [Kampala], April 4). Service in the CAR campaign is disliked by many of the Ugandan troops deployed there and is thought to be behind a number of the recent desertions.
The transformation of the UPDF from a guerrilla force to a national army has not eased a tendency for some officers to be outspoken on political matters, despite the implications for civil-military relations. Many serving and retired officers recently welcomed the verdict of a General Court Martial in the case of former military intelligence chief Brigadier Henry Tumukunde. The Brigadier was ordered released with a "serious reprimand" after being arrested in 2005 following remarks he made in a 2005 radio interview questioning Museveni's leadership and the decision to abolish term limits on the presidency. Former internal security deputy director and current opposition politician Major John Kazoora suggested Tumukunde's prosecution and other government moves to stifle dissent were proof that "The country has gone full cycle into dictatorship. Museveni has muzzled parliament and does not want divergent views" (Daily Monitor [Kampala], April 19; April 18).
Uganda's alliance with the United States and the West and the role of the UPDF in establishing regional security have helped mute Western criticism of election irregularities and authoritarian tendencies in the Museveni government. Nonetheless, the government will find it hard to avoid the internal repercussions of these policies. With the UPDF providing the backbone of the Museveni regime, any signs of dissent within that force are bound to have political importance in Kampala, where opposition figures are eager to use any lever to dislodge the president's grip on power.