BRIEFS
Publication: Terrorism Monitor Volume: 11 Issue: 8
By: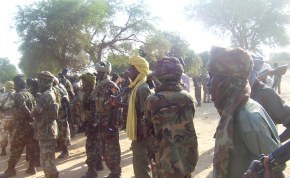 CHAD WITHDRAWS FROM NORTHERN MALI AS PLANNING FOR UN FORCE BEGINS
Andrew McGregor
Chad has begun the withdrawal of its expeditionary force of roughly 2,250 troops from northern Mali as the conflict enters a new stage. According to Chadian president Idriss Déby, the "man-to-man fighting" against armed Islamists in the Ifoghas Mountains is over and the Chadian army does not have the ability to conduct operations against guerrilla forces: "Our troops will return to Chad. They have accomplished their mission. We have already withdrawn the heavy support battalion. The remaining elements will return to the country gradually" (TV5 Monde, April 13).
France is also intent on withdrawing most of its forces in the region. A draft resolution before the UN Security Council calls for the creation of an 11,000 strong UN peacekeeping force (aided by 1,440 police) that could relieve French forces and assume responsibility for security in Mali by July 1 if major combat operations were completed by that date (AFP, April 15). The new mission will be known as the UN Multidimensional Integrated Stabilization Mission in Mali (MINUSMA). President Déby has indicated that Chad will respond positively if it receives a request from the UN for participation (AFP, April 14). UN Secretary General Ban Ki-moon is said to favor an additional Special Forces formation drawn from a single Western nation (the unspoken preference is France) that would be tasked with counter-terrorism operations in parallel with the operations of the UN peacekeeping mission (Jeune Afrique, April 8).
The UN force would likely absorb the mostly inactive African-led International Support Mission in Mali (AFISMA), a force largely drawn from states belonging to the Economic Community of West African States (ECOWAS). On April 9, a senior Pentagon official warned the existing African intervention force was "completely incapable" and would likely be unable to deter al-Qaeda and its allies from retaking northern Mali once French forces pull out (France24, April 10). Most of the AFISMA units remain in southern Mali due to shortages of transportation, food, equipment and even boots. The troops also lack training in desert warfare, making their deployment highly risky (Jeune Afrique, April 8). EU trainers have begun work in Mali but it is expected to be months before training graduates can take the field. A new UN mission may include a deployment from Burundi, whose troops have been honing their combat skills in battles against Somalia's al-Shabaab for several years now as part of the African Union Mission in Somalia (AMISOM).
Tensions have been reported in northern Mali's Kidal region between the Chadians and members of the rebel Mouvement National de Libération de l'Azawad (MNLA), a largely Tuareg group that guides French forces operating in the Adrar des Ifoghas mountains and provides security in Kidal in the absence of regular Malian forces, who are prevented from entering Kidal as the price of the MNLA's necessary cooperation. The MNLA suspects the Chadians are encouraging the arrival of Malian regulars to help facilitate their own withdrawal. The Tuareg separatists have warned they will fire on any Malian regulars who approach the Kidal and Tessalit regions where the MNLA still holds sway. An armed confrontation between the Chadians and the Tuareg rebels was reported to have been narrowly averted on April 13 when a Chadian officer ordered his men to avoid provocations as they were confronted by MNLA protestors in front of the Chadian camp (Xinhua, April 16). The MNLA members said they were angered by the panic of Chadian troops who opened fire on civilians in Kidal immediately after a suicide bombing in the Kidal market that killed three of their comrades and injured four others (Sahara Media [Nouakchott], April 13; RFI, April 12; April 13). The blast brought the number of Chadian dead in the French-led military intervention to 36.
Chadian claims to have killed al-Qaeda terrorist chieftain Mokhtar Belmokhtar during a battle in the Ametetai Valley on March 2 have yet to be verified in the absence of any evidence, but Chadian claims took an odd turn last week when President Déby explained the AQIM leader's remains had been destroyed in an explosion: "We have proof of [Belmokhtar's] death. We couldn't film it because he blew himself up after the death of [AQIM commander] Abu Zeid. He wasn't the only one. Three or four other jihadists [also] blew themselves up in despair…" (AFP, April 14; for Chad's original claim, see Terrorism Monitor Brief, March 8). For the moment, the Chadian claim appears to rest largely on the evidence of prisoners taken in the battle.
Chadian troops remain in the Central African Republic (CAR), where Chadian units tasked with defending the capital of Bangui from Seleka rebels stood down when the rebel force advanced in March, allowing them to seize the capital and engage in a two-day firefight with South African troops the rebels believed were helping to prop up the regime of President François Bozizé (for the battle, see Terrorism Monitor Briefs, April 4).
Bozizé now blames Chad for his downfall and claims his security forces observed 40 Chadian battle-wagons reinforcing the Seleka rebels who took the CAR capital of Bangui on March 24-25 (RFI, April 4). A Chadian spokesman denied the claims: "No Chadian special forces were in the CAR. It is only in the imagination of Bozizé … He is somebody who was in power for 10 years and did not set up an army that could resist that small rebellion which came to seize power in a few hours" (RFI, April 8). By coincidence or otherwise, Seleka's battle with the South African military forces in Bangui worked in favor of Chad and France, both of whom felt their traditional influence in the region was threatened by Bozizé's growing relationship with South African business and government interests.
Asked about perceptions that Chad is using its military strength to become a regional power, Chadian Information and Communication Minister Hassan Silla replied: "We do not have any vision of invading Africa. But today, Chad is solicited by the world as a result of its effectiveness, due to its defense and security forces, which proved their mettle against traffickers and terrorism" (RFI, April 9).
Somalia's al-Shabaab Targets Turkish Nationals in Mogadishu
Andrew McGregor
A series of terrorist attacks in Mogadishu on April 14 may represent a last-ditch attempt by the leadership of the Salafi-Jihadist al-Shabaab movement to prove it is still capable of taking the Islamist insurgency to the new federal government in the face of growing internal dissent and expulsion by African Union troops from its lucrative holdings in Mogadishu and the southern port city of Kismayo. The specific targeting of Turkish nationals in one of these attacks also demonstrates al-Shabaab's rejection of Turkey's growing influence in the rebuilding state.
The Taliban-style attack on a busy courthouse in downtown Mogadishu on April 14 began with a car bomb exploding at the building's gate, followed by as many as nine men in Somali army uniforms firing automatic weapons as they rushed in. At least three of the gunmen blew themselves up with suicide vests while the remainder were killed in a three-hour firefight with Somali security forces and Ugandan AMISOM troops (Reuters, April 14). Twenty-two others were killed at the scene, most of them soldiers.
At roughly the same time, a vehicle packed with explosives targeted Turkish vehicles in an AU/Turkish Red Crescent convoy on the airport road, killing a Somali driver and injuring three Turkish aid workers (Andalou Agency [Ankara], April 15; Mareeg Online, April 14). A Shabaab spokesman contacted a pro-Islamist website to confirm the attacks in Mogadishu were carried out by al-Shabaab's "Special Forces" (Somali Memo, April 14). Al-Shabaab spokesman Shaykh Ali Mahmud Raage also told a French news agency that the attack on the courthouse was "a holy action which targeted non-believers who were meeting within the court complex. We will continue until Somalia is liberated from invaders" (AFP, April 14).
There are reports that Somali investigators believe the deceased leader of the courthouse attackers was a Canadian citizen who left Canada for east Africa four years ago (Toronto Star, April 14; National Post [Toronto], April 15). This news follows reports that as many as four young Canadian citizens were involved in the deadly attack by al-Qaeda in the Islamic Maghreb (AQIM) on foreign workers at the In Aménas gas plant in January.
The attacks in Mogadishu continued the next day, with a roadside bomb failing to kill the district commissioner of Mogadishu's Heliwaa District as he drove to work (Shabelle Media Network, April 15). Security sweeps on April 15 detained hundreds of young men in the capital on suspicion of being al-Shabaab operatives (Dhacdo.com, April 15; AFP, April 15). Somali president Hassan Shaykh Mohamud described the attacks as "nothing but a sign of desperation by the terrorists, who've lost all their strongholds and are in complete decline right across Somalia" (Mareeg Online, April 14).
Divisions within al-Shabaab became public on April 6, when an open letter to al-Qaeda leader Ayman al-Zawahiri from a leading Shabaab member was published on jihadi websites. Penned by Shaykh Ibrahim Haji Jama "al-Afghani" (a.k.a. Abu Bakr al-Zayla'i), the letter reaffirmed the movement's allegiance to al-Qaeda, but outlined growing differences between Somali members of al-Shabaab and foreign fighters who are accused of failing to abide by the Shari'a code (Africa Review [Nairobi], April 18). A veteran of fighting in Kashmir and Afghanistan, al-Afghani also cited the failed leadership of Shaykh Ahmad Abdi Godane "Abu Zubayr," who has replaced many capable military and religious leaders with members of his own Isaaq clan from northern Somalia. Al-Afghani (himself an Isaaq) asks for al-Zawahiri's guidance as the movement stands to lose everything if the losses endured under Godane cannot be reversed: "We have witnessed an obvious drawback in the achievements of the mujahideen. Ten states were under the rule of the movement four years ago, which came with the possession of huge human resources and the sympathy of our Muslim people. Now, the jihadi spirit has receded and the motives for creation and production have been destroyed" (al-Shorfa.com, April 15). Al-Afghani goes on to complain that the movement's internal divisions are now being exposed on social media such as Twitter.
With al-Shabaab having turned to terrorist methods since being driven from the capital by Somali and AMISOM forces in August 2011, Somali president Hasan Shaykh Mohamud warned that after al-Shabaab was defeated, "they changed their war tactics and we want all Somalis to prepare themselves for a new war against al-Shabaab. I know it will be costly, but we need to exercise our patience until we crush them" (Hiraan Online, April 15).
The attack on the Turkish aid workers appears to imply a rejection of Turkey's growing engagement with Somalia. The attack also confirms al-Shabaab's takfiri ideology and dispels speculation that Somalia's Islamist militants might take a more open view to development assistance from a country with a Muslim majority.
The groundbreaking August, 2011 visit to Mogadishu by Turkish Prime Minister Recep Tayyip Erdogan was widely seen as a sign of Somalia's return to the international community and his pledges of Turkish reconstruction assistance represented a show of support from fellow Muslims. Somalis used to ineffectual UN relief and reconstruction efforts run from offices in Nairobi have marveled at what Turkish aid and development workers have accomplished in less than two years on the ground in Mogadishu. Temporary hospitals with Turkish doctors serve the community, schools have been built (which incidentally offer Turkish language courses), the airport reconstructed, streets cleared of debris and students sent to Turkey on scholarships (Reuters, June 3, 2012). Somali police officers are already graduating Turkish police academies and an agreement on military training is in place (Today's Zaman, November 9, 2012). Turkey's interests are not related solely to aid, however; strong efforts have been made to revitalize and legitimize Somalia's business community, much of which has operated without permits, regulation or taxation through years of political chaos. A series of reforms will be required before commerce and financial transactions with Turkey's well-organized business community can begin.
Ottoman contacts with Somalia go back to the mediaeval period and intensified in the 19th century when the Egyptian Khedive sought to expand his empire (under Ottoman suzerainty) into the Horn of Africa, establishing short-lived bases at Kismayo and Barawe (Brava) and going so far as to send an exploratory mission up the Juba River under the command of a British naval officer, McKillop Pasha, and two American Civil War veterans, Colonel Chaillé-Long and Lieutenant Colonel William H. Ward.
Ankara has also pledged increased levels of aid to autonomous Somaliland and is hosting and facilitating a new round of reconciliation talks in Ankara between the unrecognized breakaway state and the rest of Somalia. Turkish investors have initiated a number of economic projects in Somaliland and Turkish oil exploration company Genel Energy PLC is planning to begin operations in the region (Today's Zaman, April 14; Anadolu Agency, April 15).
While engagement with Somalia promises access to resources and new markets for Anatolian industries, Turkey's growing involvement in places such as Libya and the Horn of Africa is part of a larger Turkish geo-political offensive in the African continent that is part of Ankara's vision of Turkey as an advanced non-Western state ready to embrace its Ottoman heritage (with conditions) and resume its place as a vital and important international player. However, the targeting of Turkish nationals displays al-Shabaab's determination to impose its own version of a Salafist theocracy on Somalia regardless of economic realities and the desperate conditions endured by many Somalis.