BRIEFS
Publication: Terrorism Monitor Volume: 10 Issue: 21
By: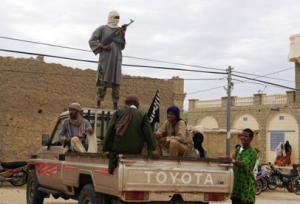 AL-QAEDA SUPPORT IN NORTHERN MALI BEGINS TO CRUMBLE AS ALLIES PULL BACK
It was an alliance that shocked security professionals and political observers—a coalition of Tuareg military veterans, Muslim militants from West Africa and one of al-Qaeda's most active and vicious regional chapters, al-Qaeda in the Islamic Maghreb (AQIM). This grouping was able to force Tuareg nationalist rebels from the urban centers of northern Mali earlier this year and has since been engaged in applying its own crude version of Islamic law in the region in defiance of both local and international opposition. Now, however, in the face of growing plans for an international military intervention to take back northern Mali, al-Qaeda appears to be in danger of losing the support of many of the allies in the region that have enabled AQIM to be the first branch of al-Qaeda to establish its own proto-state.
The largely Tuareg Ansar al-Din movement has discovered that while it is possible to seize territory in remote northern Mali, it still lacks the authority to impose Shari'a without some type of recognition by the international community. There is speculation that movement's leader Iyad ag Ghali is now seeking to escape this dilemma by transforming Ansar al-Din from an armed movement to an Islamist political party (Le Combat [Bamako], November 5). The movement is trying to distance itself from its Islamist partners in northern Mali by asserting its independence "from any other group" and its willingness to enter negotiations (L'Essor [Bamako], November 6).
Ansar al-Din even appears to have backed off, at least temporarily, from its demands for the nation-wide implementation of Shari'a in Mali. According to movement negotiator Muhammad ag Aharid, "It is not the moment to talk of the Shari'a; it will be perhaps later when we shall have reached a compromise to restore peace to the country" (Jeune Afrique, November 8).
The movement now has separate negotiating teams in the official peace talks in Ouagadougou and in unofficial but possibly more significant talks in Algiers, reportedly being attended by Ag Ghali himself (Jeune Afrique, November 4; Le Républicain [Bamako], November 7; al-Hayat, November 9).
The negotiating group in Ouagadougou has committed to a process of political dialogue with the transitional government in Bamako, as well as a cessation of hostilities and the free movement of people, goods and humanitarian assistance in northern Mali. Most importantly, the movement's negotiators say Ansar al-Din rejects all forms of extremism and terrorism (PANA Online [Dakar], November 8).
An Algerian source involved in the negotiations claimed that the Ansar al-Din delegation had issued a statement in which the movement declared it was not ideologically associated with al-Qaeda, with one member of the delegation claiming that accusations of terrorism leveled at the movement were designed to prevent the group's participation in dialogue (al-Hayat, November 9). The statement would seem to open the way to direct negotiation with transitional authorities in Bamako. However, the existence of the Ansar al-Din statement was immediately questioned by movement spokesman Sanda Ould Boumama, who insisted that if Ag Ghali had decided to distinguish the movement from AQIM, he "would normally have been in the know" (Tout sur l'Algerie, November 4). A day later, though, Boumama sounded more positive about the Algiers negotiations, telling an Algerian newspaper that "the solution will be reached through the gate of Algeria" (el-Khabar, November 5).
Algeria's position on the crisis in northern Mali has gradually grown closer to the "double approach" favored by the Economic Community of West African States (ECOWAS); a process of dialogue that does not rule out the use of armed force. Diplomatic efforts are underway to persuade Algeria to contribute to the planned military intervention, at the very least in the context of giving authorization for flyovers and the use of the military airport at Tamanrasset. Even if Algeria chooses to opt out of the intervention, it will still need to increase its deployment of troops along the 1,200 mile border with Mali to prevent the infiltration of militants trying to escape the intervention (L'Indépendant [Bamako], November 5).
Burkinabe Foreign Minister Djibril Bassole says that he went to Kidal (the home province of ag Ghali in northern Mali) in August to advise the movement that "the atrocities that were being committed in their name were prejudicial to them and were likely to drown completely the demands of the Tuareg community and that it was high time they distanced themselves from them." Bassole went on to describe Burkina Faso's approach to the Tuareg role in the conflict:
We, as a neighboring country [to Mali] and member of the same regional community, do not want to declare war on a given community. We have Tuaregs in Burkina Faso, Niger has them, and Algeria also has them. There are Tuaregs almost everywhere, we do not want to give the impression that we are going to war against the Tuaregs. We want to wage war on scourges, on terrorism, and on organized crime. That is why we want to give a chance to the Tuareg movements to get a grip on themselves, to distance themselves from what has completely changed the nature of their demands—crime and terrorism (Jeune Afrique, November 10).
There are still questions regarding the sincerity of Ansar al-Din's renunciation of al-Qaeda and its commitment to participating in military efforts to drive the organization out of northern Mali. According to movement spokesman Muhammad ag Aharib, "AQIM is made up of Muslims like us. It is not part of our ethics to fight other Muslims" (al-Watan [Algiers], November 9). Anything short of such action, however, is unlikely to erase the suspicions of the authorities in Bamako.
Besides Ansar al-Din's wavering, AQIM may have lost the support of one of its senior commanders, Mokhtar Belmokhtar, who was notably overlooked for promotion in a recent shake-up of the AQIM leadership in the Sahel (see Terrorism Monitor Brief, November 1). Algerian security sources now claim that the Mali-based Belmokhtar is convinced AQIM leader Abd al-Malik Droukdel is after his head and is preparing to go to war against his former comrades. The dispute supposedly began once the AQIM leadership learned Belmokhtar was in regular contact by telephone with two former AQIM leaders, Hassan Hattab and Abd al-Haq Layada, who have passed on government assurances to Belmokhtar that he will not be handed over to an international court if he defects from the movement. Having lost the trust of the rest of AQIM, Belmokhtar is said to be in a perilous position that can only be remedied by turning himself in to Algerian authorities as soon as possible (al-Quds al-Arabi, October 22).
Elsewhere, al-Qaeda ideologue Abu Hafs al-Mauritani (a.k.a. Mahfouz Ould al-Walid) has announced his opposition to the means being used by Ansar al-Din and its allies to create an Islamic state in northern Mali, going so far as to offer himself as a mediator in negotiations (L'Indicateur du Renouveau [Bamako], October 30).
Even the recently established Movement for Unity and Jihad in West Africa (MUJWA) is reported to be suffering desertions as preparations for an ECOWAS military intervention intensify. Members of terrorist groups like MUJWA or AQIM can expect little mercy from international African forces or Malian troops eager for retribution for the massacres of Malian troops at Aguelhoc and elsewhere in the early months of the year. The MUJWA commander in Gao, Abd al-Hakim, has warned that further desertions will not be tolerated: "Any element who tries to take flight will be executed, and any suspected elements will be gunned down… All those who have accepted recruitment will wage this war… We will wage this war together, whether we win or lose it" (Le Combat [Bamako], November 7).
SUDANESE ISLAMIST HASSAN AL-TURABI PREDICTS ISLAMIC GOVERNMENT WILL REPLACE MILITARY REGIME
In a recent interview with a pan-Arab daily, Dr. Hassan Abdullah al-Turabi, the former leader of the Sudanese Ikhwan (Muslim Brotherhood) and the nation's leading Islamist, predicted the sudden and imminent collapse of Sudan's current military/Islamist regime and its replacement with an Islamist government:
My personal assessment is that [the regime in Khartoum] is going to collapse and fall. The country is torn up, there are threats of severing other parts of it, and there is no freedom. Suppression leads to explosion, and the economic crisis is exerting severe pressure on the people. This kind of tension in most cases brings in revolution. The situation of the regime is very bad; it is abject, hunted down, politically isolated, and criminally accused by the world; and internally it is as you can see. I expect it to collapse suddenly… I beseech God that the opposition is prepared, because if the regime collapses, we will move from an odious regime to chaos, and the situation will be worse than it is in Somalia, because of the lack of something that unites the Sudanese (al-Sharq al-Awsat, November 1).
Al-Turabi is the Sorbonne-educated pioneer of modern political Islam in Sudan and the former sponsor of Osama bin Laden's presence in that country in the 1990s. Today, he is the leader of the People's Congress Party (PCP), an Islamist faction that broke away from the ruling National Congress Party (NCP), headed by President Field Marshal Omar al-Bashir (wanted by the International Criminal Court) and effectively managed by al-Turabi's former Ikhwan deputy, Ali Osman Muhammad Taha.
One of Sudan's most controversial political figures, al-Turabi is disliked by many Sudanese for his central role in introducing Islamic law in Sudan in the early 1980s as Attorney General in the government of dictator General Ja'afar Nimieri. Turabi's Islamic legal code, the notorious "September Laws," were strongly criticized within Sudan for their emphasis on punishments such as amputations and crucifixions and their failure to address issues of social justice, the establishment of which is generally regarded as a necessary precursor to the implementation of harsh huduud punishments. Al-Turabi's push for nation-wide Shari'a is often cited as one of the main causes behind the Sudan's return to civil war in 1983, a conflict in which over two million Sudanese perished.
Al-Turabi also revealed his fear that he is the potential target of a Western assassination attempt. "The West hated Islam and hence it killed Bin Laden and it only has al-Turabi [left] now. They have hit me in Canada, but it was not yet my time of death" said al-Turabi, referring to a 1992 assault on the Islamist by a Sudanese karate champion in an Ottawa airport that left al-Turabi hospitalized for a month. Though his attacker claimed the assault was a spontaneous reaction to seeing the Islamist leader in the airport, al-Turabi now seems to have woven the attack into a larger Western conspiracy to eliminate him.
The Sudanese Islamic Movement split in 1999, leading to the existence of two wings, the ruling National Congress Party (NCP) and al-Turabi's Popular Congress Party (PCP). Since the split, al-Turabi has had a contentious relationship with the regime, leading to several terms of imprisonment, most notably in 2009, when al-Turabi supported the ICC indictment of President Omar al-Bashir on war crimes charges.
According to al-Turabi, the Sudanese opposition has "agreed that this regime is hopeless, and we have to work to remove it completely. Now, our priority is to overthrow the regime, and our methods are peaceful. We have learned a lesson from the military coups d'état, as whoever stages a coup d'état [finds] it is turned against him" (al-Hayat, October 19).
Elsewhere, al-Turabi has maintained that of Sudan's opposition groups, only the Islamists have the organization and grassroots support needed to take power in the aftermath of an impending popular revolution (al-Jazeera, October 14). Reflecting on the 1989 coup that brought Omar al-Bashir into power with the support of al-Turabi and the Ikhwan, the Islamist leader concedes that "with hindsight we have said: 'This was wrong, wrong;' change ought to have happened through a popular revolution." Al Turabi's enthusiasm for a popular revolution in Sudan is not shared by all the opposition elite; former prime minister and leader of the Umma Party Sadiq al-Mahdi has warned that such a revolution would lead to the breakup of what remains of the country (Sudan Tribune, October 15).
While al-Turabi foresees an Islamist takeover in Sudan, the ruling NCP is busy replacing Sudan's transitional 2005 constitution with one that would establish Sudan as an Islamic state, a change promised by al-Bashir in the event that the largely non-Muslim South Sudan voted for separation. The opposition has refused to partake in talks regarding the creation of an Islamic constitution until the NCP is replaced by a more representative transitional government, but the NCP has warned it "doesn't want any disagreement" over the issue (Sudan Tribune, October 31).