BRIEFS
Publication: Terrorism Monitor Volume: 10 Issue: 20
By: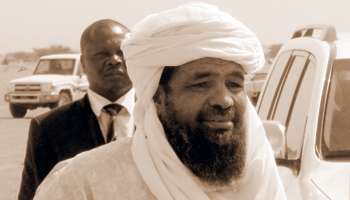 ALGERIA WORKING TO SPLIT TUAREG ISLAMISTS FROM AL-QAEDA IN NORTHERN MALI
Algeria has modified its stance on the conflict in northern Mali by dropping its insistence on a mediated settlement based on dialogue in favor of a growing willingness to consider the military option to bring an end to Islamist rule in the region. Part of this shift may be attributed to Algeria's desire to keep French military forces far from Algeria's 870-mile border with Mali by providing military and logistical assistance to an African intervention force that would otherwise be provided by France. Algeria's approach now appears to be based on efforts to separate the largely Tuareg Islamist Ansar al-Din movement from the Al-Qaeda in the Islamic Maghreb (AQIM) and Movement for Unity and Jihad in West Africa (MUJWA) Islamists who have occupied northern Mali.
Referring to the possibility of an African Union/ECOWAS military intervention in Mali, a recent statement issued by Ansar al-Din warns of the efforts of the "temporary authorities in Mali" to "ignite a ferocious war in the region, and its involving of other parties in it, which doesn't serve the interest of Mali itself or the neighboring countries and threatens regional stability." The statement further discounted possible French involvement as being motivated by "greed in exploiting the underground resources and riches of the region." The movement is, however, prepared to negotiate "through the mediation of Algeria and Burkina Faso" (Agence Nouakchott d'Information, October 19).
Ansar al-Din spokesman Sanda Ould Bouamama has also expressed the movement's confidence in Algerian mediation:
Contacts with the Algerian authorities have not been interrupted, not even for 24 hours. Our delegations are often sent to Algiers. Algeria has repeatedly stated that a political solution exists. She has overcome difficulties and solved problems more difficult and complicated than ours. She has always found a solution. Some would not let [Algeria] play its role in the region (Tout sur l'Algérie, October 30).
When asked if Ansar al-Din would join an anti-terrorist coalition to expel AQIM from northern Mali, the spokesman initially expressed disinterest but was ultimately non-committal, an attitude that suggests the movement is at least considering its options:
We are going to fight al-Qaeda in whose interest? For the interests of Obama? The problem of the Muslim world cannot be solved through war but rather with a realistic vision of the situation and with a return to religion. Those who would fight al-Qaeda must turn to religion and then ask themselves if they must fight al-Qaeda… I told you that we are an Islamist movement. We will fight those who our religion orders us to fight and we stop fighting when our religion requires us to do so (Tout sur l'Algérie, October 30).
Referring to Algeria's colonial past, Bouamama appeared to regard Algeria as a potential guardian against foreign military intervention rather than a participant: "We will resist and defend ourselves; that is our right. I think that Algerians are best placed to know. Algeria has paid [in the fight against colonialism] with the blood of a million and a half martyrs. We will not be the first to suffer a military intervention" (Tout sur l'Algérie, October 30). The Ansar al-Din spokesman's remarks were made the same day the Algerian minister of veterans' affairs demanded a "frank acknowledgement" of French war crimes committed during the colonization of Algeria (Algérie Presse Service, October 30).
An Algerian daily said that official sources from Ansar al-Din had held a secret meeting with Algerian military commanders in Kidal in the fourth week of October to discuss the issue of foreign military intervention in northern Mali. According to the sources, the leader of the Algerian military delegation warned that Algeria was under pressure to take part in the intervention and had concluded such action was inevitable if terrorism was to be defeated in the region (El-Fadjr [Algiers], October 24).
Burkina Faso President Blaise Compaoré has been acting as a mediator for the crisis in northern Mali for several months and has met with both the largely sidelined Tuareg separatists of the Mouvement national pour la libération de l'Azawad (MNLA) and the Tuareg Islamists of Ansar al-Din. While it has been suggested that Compaoré is working to split Ansar al-Din from their AQIM and MUJWA allies, the Burkinabé president is adamant that he is "not seeking to divide anybody." He does, however, follow the emerging line that the military option would target "only terrorists and traffickers," i.e. the militants of al-Qaeda and MUJWA (Jeune Afrique, October 13).
ECOWAS spokesman Abdou Cheick Touré appeared to echo this approach when he noted a negotiated approach had not been abandoned and that it was "normal" to talk to the Tuareg of the MNLA and Ansar al-Din while emphasizing that the latter must drop their alliance with AQIM and MUJWA: "[The Tuareg] are Malians. We must see if they agree to come back into the republic, to abandon their secessionist ideas, to make peace and abandon other criminal groups" (AFP, October 30).
Algerian Foreign Ministry spokesman Amar Belani has claimed there is a trend in the press to characterize Algeria's position on the military intervention as being at odds with its neighbors. Noting that the use of force was "legitimate" to eliminate terrorism and organized crime in the Sahel, Belani also drew a distinction between the Tuareg insurgents and the outside Islamist groups who were now based in northern Mali: "The use of force must be carefully done to avoid any ambiguity or confusion between northern Mali's populations who have legitimate demands and the terrorist groups and drug dealers who must be the primary target…" (Algérie Presse Service, October 11).
There are reports that the MNLA has made important changes in its military leadership in anticipation of an offensive against AQIM. For the moment, they are still waiting to hear whether Ansar al-Din leader Iyad ag Ghali will be friend or foe in the looming struggle. Ag Ghali is said to be under strong pressure from his Ifoghas tribe to abandon his AQIM allies, with traditional Ifoghas chief Intalla ag Attaher telling ag Ghali: "It is now that you have to decide or in the future we will consider you as an enemy" (Jeune Afrique, October 29).
In a recent interview, Abdelkader Messahel, Algeria's minister for Maghrebi and African Affairs, appeared to offer the Tuareg rebels a review of their grievances if they dissociated themselves with terrorism or separatism. According to Messahel, AQIM and MUJWA are "terrorists and drug traffickers" with whom there can be no negotiation: "I think that the time has come for these [Tuareg] groups in northern Mali to distance themselves from terrorism and organized crime. And at the same time for them to engage in a national process that will preserve Mali's national unity and dissociate these groups from any quest for independence or any kind of collusion with these terrorist groups." On Ansar al-Din's alliance with AQIM and MUJWA, Messahel said: "We want this group to dissociate itself once and for all from any ties or collusion with all forms of terrorism. This is what we think, and this is what we want." At the same time, Messahel emphasized the importance of strengthening the Malian army, "which must also be at the center of the Malian State's redeployment throughout its territory" (RFI, October 16).
An AU delegation will meet with the defense ministers of Algeria, Mauritania and the ECOWAS nations and their military chiefs-of-staff on November 5 to discuss planning for a military intervention in Mali (Jeune Afrique, October 27).
BAHRAIN PUTS SHI'A VILLAGE UNDER SIEGE
Twenty months into a simmering Shiite "Arab Spring" style revolt in the Sunni-ruled Kingdom of Bahrain, the Gulf state's Interior Ministry has issued orders banning all anti-government protests and demonstrations, claiming that Bahraini society was "fed up" with the regular demonstrations that call for the Khalifa royal family to step down (Mehr News Agency, October 30). The protests, often organized through social-networking sites, have continued despite violent crackdowns by Bahraini security forces that have killed at least 60 people. Bahrain's role as host of the U.S. Fifth Fleet, at the same time the kingdom's monarchy represses calls for democracy by the Shi'a majority, has given Iran a unique propaganda opportunity to attack their antagonists in America and the Sunni-ruled Gulf states.
Recently, Iranian press agencies seized on the alleged "siege" by Bahraini security forces of the village of al-Akr, 20 miles south of the Bahraini capital of Manama. Problems began in al-Akr on October 18, when police in the village were attacked with a homemade bomb that killed one officer and left a second in critical condition. Prior to the blast, residents of al-Akr were in the streets waving Bahrain's flag and chanting slogans calling for the fall of the regime and the deposition of Bahrain's ruler, Hamad bin Isa al-Khalifa (BBC, October 19). The demonstration was one of several called for by the February 14 Youth Coalition, an opposition group that organizes through social networking sites (AFP, October 19). Shiite activists claimed that the policeman killed in the attack was a "foreign national" (al-Alam [Tehran], October 21).
Security forces detained seven men in the incident and placed a cordon around the village that police said was intended to help capture other suspects in the bombing (NOW Lebanon, October 23). Opposition reports claimed that government reports that life in the village was continuing normally were false, suggesting that "mercenary forces" were preventing food and medical aid from reaching the village, had attacked a Shiite mosque and were punishing the village for its "past defiant stances" (Bahrain Online, October 23; Fars News Agency, October 23). In the Bahraini context, "mercenary" is a euphemism for troops and policemen from Saudi Arabia, Qatar and the UAE who entered Bahrain in March 2011 as part of the Peninsula Shield Force (PSF), a multi-national armed force under the command of the Gulf Cooperation Council (GCC) (see Terrorism Monitor Brief, March 24, 2011).
Despite its small size, the village of al-Akr has been a hotbed of anti-regime activity that has turned violent before. On April 9, seven policemen were injured (three critically) by what police described as a pipe bomb attached to a container full of gasoline detonated near a police checkpoint. Police entered the village and arrested four suspects the following day, reportedly beating the relatives of those suspects who had evaded arrest. The village was surrounded by police forces who opposition elements claimed were imposing "collective punishment" (al-Arabiya, April 10; UPI, April 11).
In the latest incident, Iranian reports claimed security forces surrounding al-Akr had used "bombs and poisonous gas against citizens passing along the streets" (Fars News Agency, October 28). While tear gas and "sound bombs" were reported to have been used in confrontations with demonstrators in al-Akr, there is no evidence the town has otherwise been bombed or shelled.
Hoseyn Sobhaninia, a senior member of the Majlis (Iranian parliament) roundly condemned the "siege": "The deadly silence of the international community has given the al-Khalifa regime freedom to continue suppressing and killing people and they keep [creating] human rights catastrophes by attacking defenseless people" (Press TV [Tehran], October 26). Ten Bahraini opposition groups and NGOs went so far as to send an urgent appeal to UN Secretary-General Ban Ki-moon to intervene in lifting "the siege on al-Akr" and to take a firm stand against Bahrain's "collective punishment policy" (al-Wifaq.net, October 21). Human rights activists in Bahrain called for the trial of Interior Minister Shaykh Rashid bin Abdullah al-Khalifa for crimes against humanity (Fars News Agency, October 24). Other reports insisted that Shiite opposition groups were inflating the seriousness of the situation in al-Akr in order to deflect public attention from the death of the policeman and prevent the apprehension of his killers (al-Watan [Manama], October 22; October 23). Four suspects detained in relation to the bombing later told an activist who met them in custody that they had been beaten and tortured into signing confessions (Fars News Agency, October 23).
Clashes following protests against the police activity in al-Akr spread to the predominantly Shiite village of Bani Jamra where police used tear gas and shotguns firing birdshot to battle demonstrators armed with Molotov cocktails and iron rods on October 23 (BBC, October 26). There were also reports of clashes with police outside al-Akr as activists tried to enter the village (al-Awwamiyah, October 23). On October 25, security patrols were attacked in the streets of Manama with firebombs and iron rods (al-Wasat [Manama], October 26). The continuing protests and street violence demonstrate that the Bahraini regime is still far from quelling anti-regime activity, as well as proving that some activists are ready to raise the stakes with fatal attacks on local security forces. With Iran ready to fan the flames created by opposition activity, it is clear that even a relatively minor incident could be used to precipitate a broader Shi'a uprising against the rule of the Sunni royal family.