Islamic State Inspires Lone Wolf Attackers in Israel
Publication: Militant Leadership Monitor Volume: 13 Issue: 3
By: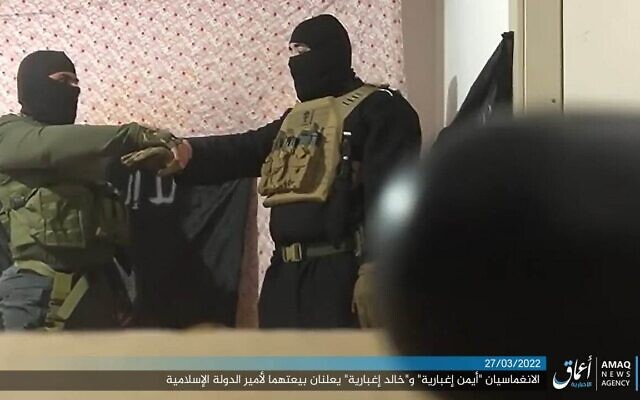 On March 27, 2022, two gunmen opened fire at a bus stop in Hadera, Israel, killing two police officers and wounding several other people. Footage of the attack showed the men firing machine guns, and evidence from the crime scene showed they were armed with multiple handguns as well. Video footage of the Hadera attack also captured the gunmen picking up the weapon of one of the police officers before continuing the bloodshed. Decisively, the assailants were shot dead by undercover counter-terrorism officers who happened to be close by. The two police officers killed in the attack were named Yazan Fallah and Shirel Aboukaret, the terrorists who killed them were a pair of cousins: Ayman and Ibrahim Ighbariya.
Shortly after the attack, a video was found on the assailant's Facebook page, showing that they had pledged their loyalty to IS and its new caliph, Abu al-Hasan al-Hashimi al-Qurashi, before they took aim at Israel. IS immediately claimed the attack in the aftermath, making it the first one claimed by the group since 2017, and it follows in the middle of now three terror attacks in Israel over the past week. The history of the attackers, a pair of IS commandos according to the terror group, is largely a mystery, but a few pieces can be put together concerning their background and radicalization before this event.
Ayman and Ibrahim Ighbariya were both Israeli-Arabs – Palestinians — born and raised in the town of Umm el-Fahm, about 25 kilometers east of Hadera. Currently, Israeli special units are operating in the Umm el-Fahm sector to make further arrests because of the incident, in order to investigate how it began. According to local sources , the cousins had links to IS since 2016 and 2017 respectively. Ibrahim was arrested by Turkish authorities in 2016 for attempting to join IS in Syria via Turkey. He was detained in the Turkish city of Gaziantep, about 40km from the border with Syria, and sent back to Israel. During interrogations at that time (he was aged 23), Ibrahim said he began embracing the ideology of IS after "watching videos and reading information published by the organization". Originally, when Ibrahim left Israel, he left a letter for his family informing them he was joining the jihad, and a few friends knew of his decision as well. According to Shin Bet officials at the time of Ibrahim's arrest, "this case and other similar cases serve as a reminder of the results of youth exposure to ISIS content and videos on the internet." His cousin, Ayman, was later arrested for three weeks in 2017 on charges of weapons violations.