October 2013 Briefs
Publication: Militant Leadership Monitor Volume: 4 Issue: 10
By: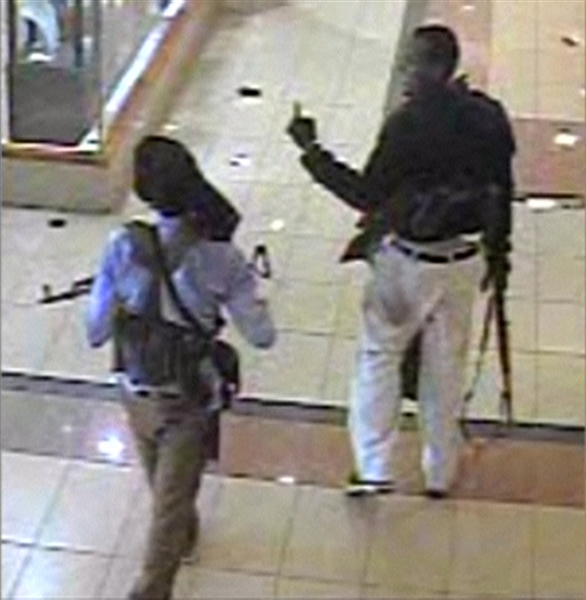 UGANDAN MILITARY ACCUSES DRC-BASED UGANDAN MILITANT SALAFIST LEADER OF COMPLICITY IN NAIROBI MALL ATTACKS
Nicholas A. Heras
General Edward Katumba Wamala, the Chief of Uganda's Defense Forces, stated in September that the Ugandan militant Salafist leader Jamil Mukulu (a.k.a. Professor Musharraf) could have assisted the Somali militant Salafist organization al-Shabaab in planning and executing the September 21-24 attack on the Westgate shopping mall in Nairobi, Kenya that killed 62 and wounded 175 (Uganda Radio Network [Kampala], September 24). Mukulu is the Supreme Commander of the Ugandan militant group the Allied Democratic Forces (ADF), which has established bases in the northeastern Democratic Republic of the Congo (DRC) province of North Kivu (for more information on the ADF and its east African presence see Terrorism Monitor, July 25). His assets were frozen by the U.S. Department of the Treasury's Office of Foreign Assets Control for contributing to the conflict in the DRC pursuant to Executive Order 13413 on October 5, 2011 and the United Nations Security Council imposed a travel ban upon him on April 12. [1]
Mukulu, 48, is alleged to have developed at least ten aliases in order to facilitate his travel into and out of Uganda, including: Professor Musharraf; Steven Alirabaki; David Kyagulanyi; Musezi Talengelanimiro; Mzee Tutu; Abdullah Junjuaka; Alilabaki Kyagulanyi; Julius Elius Mashauri; Hussein Muhammad; Nicolas Lummu; and Talengelanimiro. [2] It is believed that Mukulu was a Catholic who converted to Islam in the early 1990s (IRIN, July 12). Mukulu was an important member of the Tabliqs, a group of violent Muslim youths. The Tabliqs seized the Ugandan Muslim Supreme Council headquarters in Kampala in 1991 (New Vision [Kampala], May 21, 2007). The Ugandan military stormed the building. Mukulu and the other Tabliqs were arrested and incarcerated at Luzira until 1993. In prison, Mukulu preached radical Islam, actively sought to mobilize his fellow inmates for rebellion and helped establish a Salafist mosque in the Katwe district of Kampala (New Vision [Kampala], May 21, 2007). The mosque was raided and closed by Ugandan security forces in 1994 for being a center for recruiting Ugandan militant Salafists to conduct attacks within the country (New Vision [Kampala], May 21, 2007).
Mukulu left Uganda and is believed to have traveled to Sudan where he worked with Osama bin Laden and al-Qaeda. He received training in Afghanistan and Pakistan through the al-Qaeda network (Christian Science Monitor, April 18, 2003). Influenced by this training, Mukulu reportedly ordered the ADF's campaign of attacks against Ugandan civilians between 1996-2000 (Daily Monitor [Kampala], July 21). Under Mukulu's leadership the ADF is believed to have received military support from the government of Sudan from 1999-2000 and to have reconstituted itself in the DRC province of North Kivu in 2005 after a successful Ugandan military campaign against the group. [3]
The Ugandan and Kenyan security services assert that Mukulu utilizes several Ugandan passports with his various aliases to travel throughout the eastern part of the African Great Lakes region (The Observer [Kampala], May 31, 2012). Ugandan and Kenyan security officials believe that Mukulu maintains homes in Nairobi, Burundi, Rwanda, Tanzania and London, where he is alleged to have raised money for the ADF from British Muslim communities (The Observer [Kampala], May 31, 2012; Guardian on Sunday [Dar es Salaam], August 12, 2012).
Mukulu allegedly traveled throughout east Africa using the alias of "Julius Elius Mashauri" on a Tanzanian passport. He is also said to have engaged in the illegal trade of timber and minerals taken by the ADF from the DRC and sold in the northeastern port city of Tanga, Tanzania for money to obtain arms and other materiel utilized by the ADF as well as to build personal wealth (Guardian on Sunday [Dar es Salaam], August 12, 2012). Al-Shabaab agents in Nairobi are alleged by Kenyan and Ugandan security services to have provided financial support for Mukulu and his family prior to Mukulu's return to the DRC in 2011, to have facilitated his illicit businesses, conspired with him to transfer ADF fighters from the DRC for training in al-Shabaab camps in Somalia and to have posted bail for Mukulu's imprisoned son in Kenya, Bikumbi Hassan Mukulu, in November 2011 (New Vision [Kampala], January 3).
Mukulu is believed to be currently headquartered at an ADF camp near the northeastern town of Eringeti near the DRC-Ugandan border in North Kivu. [4] He reportedly communicates with ADF fighters in Kiswahili and Arabic and frames his rhetoric for ADF combat against the Yoweri Museveni-led Ugandan government in the context of a religious war against an apostate regime (The Observer [Kampala], January 10). He will likely remain a key node in an active network of militant Salafist organizations in eastern Africa that seek to strike at what they perceive to be local and regional apostate governments and their foreign allies.
Notes
1. "Designation of Jamil Mukulu Pursuant to Executive Order 13413," United States Department of the Treasury, October 5, 2011. https://www.treasury.gov/resource-center/sanctions/OFAC-Enforcement/Documents/congo_notice_10052011.pdf; "Sanction Committee Concerning Democratic Republic of the Congo Adds One Individual to Assets Freeze, Travel Ban List," United Nations Security Council, October 12, 2011. https://www.un.org/News/Press/docs/2011/sc10410.doc.htm.
2. "List of Individuals and Entities Subject to the Measures Imposed by Paragraphs 13 and 15 of Security Council Resolution 1596 (2005), as Renewed by Paragraph 3 of Resolution 2078 (2012)," United Nations Security Council, April 12. https://www.un.org/sc/committees/1533/pdf/1533_list.pdf.
3. "Letter Dated 15 November 2010 from the Chair of the Security Council Committee Established Pursuant to Resolution 1533 (2004) Concerning the Democratic Republic of the Congo Addressed to the President of the Security Council," United Nations Security Council, November 15, 2010, pg. 31. https://www.un.org/ga/search/view_doc.asp?symbol=S/2010/596.
4. "Letter Dated 20 June 2013 from the Group of Experts of the Democratic Republic of the Congo Addressed to the Chair of the Security Council Committee Established Pursuant to Resolution 1533 (2004) Concerning the Democratic Republic of the Congo," United Nations Security Council, June 20, 2013. https://www.innercitypress.com/drcsanc0613repicp.html.
SAUDI-LINKED SYRIAN ARMED OPPOSITION LEADER CONSOLIDATES INFLUENCE OVER DAMASCUS' MOST POWERFUL REBEL FACTION
Nicholas A. Heras
Shaykh Muhammad Zahran Alloush (a.k.a. Abu Abdullah) is one of the founders and the head military commander of the Syrian armed opposition group Jaysh al-Islam (Islamic Army). Alloush was declared the General Commander of Liwa al-Islam (Islamic Brigades) in a large ceremony on September 29. [1] Liwa al-Islam, which dominates the Jaysh al-Islam, is reported to have approximately 50 constituent battalions and is estimated to possess 9,000-10,000 well-armed fighters, a majority of whom are concentrated in Damascus' eastern suburbs of Ghouta and Douma (Zamanalwsl.net, September 20; BBC, October 17). The group is believed to receive significant financial support from Saudi Arabia through Alloush and his father, Muhammad Alloush, a famous Syrian Salafist religious figure currently resident in Saudi Arabia (Reuters, October 1). Syrian media sympathetic to the al-Assad government allege that Zahran Alloush was given $4 million by the Saudi intelligence services to fund Liwa al-Islam's operations in Ghouta (Thawra Online [Damascus], August 24). Currently, it is reported by pro-Assad media that Alloush, upon the suggestion of the Saudi intelligence service, is directing 3,000-5,000 Liwa al-Islam fighters to stage a major armed campaign to seize the Jebel Qalimoun mountain range northwest of Damascus on the Lebanese-Syrian border in order to strike at Hezbollah's supply lines supporting the Syrian military in the strategic western Syrian governorate of Homs and in the Damascus suburb (al-Safir [Beirut], October 18).
Alloush, 43, was born in Ghouta and was raised in an observant Salafist household. Alloush studies Islam under the direction of his father and his father's clerical peers (Orient News [Damascus], September 30). He majored in Islamic jurisprudence at Damascus University and received an advanced degree at the Islamic University in Medina, Saudi Arabia. After completing his studies, Alloush is reported to have established a contracting company (al-Manar [Beirut], October 10). He returned to Syria from Saudi Arabia in 2009 and was arrested in the same year by the Syrian government on charges that he was conspiring to arm militant Salafist fighters in and around his hometown of Ghouta (Zamanalwsl.net, September 20). Imprisoned in the infamous Saidnaya prison north of Damascus, Alloush was among a group of political prisoners in Saidnaya that were released in June 2011 with the pardon of Syrian President Bashar al-Assad as part of a Syrian government policy to attempt to appease the growing opposition movement in the country (Reuters/Akhbar al-Sham [Damascus], August 9).
He is a charismatic leader and effective public speaker who frequently participated in interviews and debates on Arab language satellite television channels, particularly on Saudi networks and the Qatari-owned al-Jazeera network. Alloush maintains a very active and well followed Twitter account under the name "zahran1970," as well as an official Facebook page. [2] He asserts that he joined the armed opposition as a result of the oppression of the Sunni majority of Syria's population by what he considers to be a corrupt, Alawite-dominated, socio-political system (Wasal [Riyadh], June 8).
Alloush has expressed contradictory views on the role of Islam in a potential post-Assad Syria. He asserts that one of the major causes of the Syrian revolution was the religious oppression of the country's people by the Assad government and that most participants in the country's internal opposition movements are motivated by Islam. He stated that he would seek to participate in any potential post-Assad governance (al-Jazeera [Doha], June 19). Alloush has publicly called for the imposition of an Islamic Caliphate in Syria modeled on the Umayyad Caliphate and has harshly attacked Shiite Muslims. [3] He has also publicly asserted that while he believes that no law in a post-Assad Syria should contradict Islam and that throughout history Arabs have been most successful when organized through Islam, minority rights should be respected in any post-Assad Syrian state (al-Jazeera [Doha], June 19). Alloush is a harsh critic of the Syrian opposition outside of the country and does not publicly recognize its authority over his movement or the internal Syrian armed opposition as a whole (Wasal [Riyadh], June 8; al-Jazeera [Doha], June 19).
It is likely that Zahran Alloush will continue to be one of the most important armed opposition leaders in the foreseeable future. The strategic significance of the battlefronts in which Liwa al-Islam is strongest and most actively engaged—in and around Damascus and the developing campaign northwest of Damascus along the Lebanese-Syrian border—and the group's reportedly strong ties to a major foreign sponsor in Saudi Arabia, are likely to continue to emphasize it as a key participant in the rebellion against the Assad government. Although Saudi Arabia's reported influence over Alloush's decision-making could lead to Liwa al-Islam's gradual cessation of hostilities in the event that a grand bargain was struck on Syria between Iran and the Gulf Arab monarchies of Saudi Arabia and Qatar, Alloush and Liwa al-Islam's stated animosity towards the socio-political system dominated by the Assad government makes that scenario less likely. Alloush's personal charisma, combined with successes by Liwa al-Islam on the battlefield against the al-Assad government and its allies, could propel him into the status of the most important rebel commander in the Syrian civil war.
Notes
1. "43 Military Factions Offer Allegiance to Shaykh Zahlan Alloush, Commander of the Islamic Army," Liwa al-Islam YouTube page, September 29, 2013, https://www.youtube.com/watch?v=3OlauVb4E98.
2. For Alloush's Twitter, see: https://twitter.com/zahran1970; For Alloush's official Facebook page, see: https://www.facebook.com/pages/%D9%85%D8%AD%D8%A8%D9%8A-%D8%A7%D9%84%D8%B4%D9%8A%D8%AE-%D8%B2%D9%87%D8%B1%D8%A7%D9%86-%D8%B9%D8%A8%D8%AF-%D8%A7%D9%84%D9%84%D9%87-%D8%B9%D9%84%D9%88%D8%B4-%D9%84%D9%88%D8%A7%D8%A1-%D8%A7%D9%84%D8%A7%D8%B3%D9%84%D8%A7%D9%85/495227030571272.
3. "Speech of the Mujahid Shaykh Zahran Alloush to the Islamic Nation (Umma) and Defying the Rejecters (Shiites)," Liwa al-Islam YouTube page, July 25, 2013. https://www.youtube.com/watch?v=WIFrWG9PQTc&feature=youtu.be.