Saharan Jihadist Leaders Establish New Alliance
Publication: Militant Leadership Monitor Volume: 8 Issue: 3
By: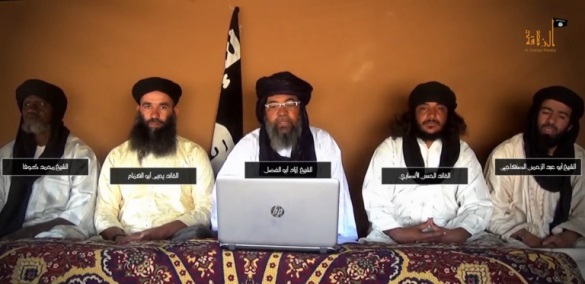 As the Islamic State loses ground in Iraq and Syria and its regional offshoots also weaken, al-Qaeda's affiliates are regaining momentum. In Syria, the al-Qaeda affiliate group Hayat Tahrir al-Sham (HTS) (formerly known as Jabhat al-Nusra and, from July 2016, Jabhat Fateh al-Sham) has managed to unify a significant number of local Syrian groups under its strategic umbrella. A similar process is currently ongoing in North Africa. Al-Qaeda in the Islamic Maghreb (AQIM) recently announced the merger of a number of local jihadist groups into a new alliance called Jamaat Nusrat al-Islam wal Muslimeen (Support for Islam and Muslims). This partnership includes the Islamist Tuareg organization of Ansar Al-Dine; al-Mourabitoun, the group led by Mokhtar Belmokhtar; AQIM's Sahara division; and the Katiba Macina Liberation Front of Ansar al-Dine (Jeune Afrique, March 10; L'Economiste, March 6).
The new alliance will be led by Iyad ag Ghali. The historical leader of Ansar al-dine, Iyad ag Ghali was one of the key Tuareg leaders who led the Tuareg rebellion in the 1990s. He allegedly became radicalized after serving as the ambassador of Mali to Saudi Arabia. He was the link between the Tuareg groups and the Islamist organizations that conquered the northern part of Mali between 2012 and 2013, before the French-led intervention to dismantle this proto-Islamic state created in the area (see Militant Leadership Monitor, February 29, 2012; MaliActu.net, March 7).
In a photograph of Jamaat Nusrat al-Islam wal Muslimeen's leadership released online, several other notable jihadist militants are featured aside from Ag Ghali. One such militant is Hamadoun Koufa, the head of the Katiba Macina of Ansar Aldine — he is considered to be very close to ag Ghali. Koufa is a Peul radical preacher from the central Malian region of Mopti (Jeune Afrique, June 26, 2016). Some previously believed Koufa to be dead, however, his presence in the group picture confirms that he is still alive.
Also featured in the photograph is Jamal Oukacha, the Emir of AQIM in the Sahara. Oukacha, who is a close ally of AQIM central Emir Abeldmalek Droukdel, became the leader of AQIM in the Sahara following the killing of Abou Zeid in 2013. He was considered to be a counterbalance to Belmokhtar's influence over southern katibas and was tasked with re-organizing the group's presence in the region following the French military operation (see Militant Leadership Monitor, July 31, 2013; see Terrorism Monitor, May 30, 2013).  Jamal Oukacha's presence in an alliance with Belmokhtar's group is likely a further signal that relations between Belmokhtar and AQIM are completely mended after the return of al-Morabitoun to the AQIM ranks.
Two other militant leaders featured in the photograph are Abou Hassan al-Ansari and Abou Abderrahmane al-Sanhaji. Abou Hassan al-Ansari, whose real name is Mohammed Ould Nouini, is an Arab Malian from Tilemsi and the Malian leader of al-Mourabitun. Al-Ansari — he is the cousin of Ahmed al-Tilemsi, the former military commander of MUJWA and al-Mourabitoun co-founder who was killed in 2014 — is allegedly the mastermind behind the attacks that hit Côte d'Ivoire in 2016 (DakarActu, March 23).
Meanwhile, Abou Abderrahmane al-Sanhaji is the qadi (judge) of AQIM in the Sahara. Allegedly from Algeria, he openly threatened all groups participating in the Mouvement Opérationnel de Coordination (M.O.C) (Journal du Mali, January 22). The M.O.C. is formed by ethnically mixed patrols that, according to the provisions of the Algiers Agreement in Mali, control northern Mali and are also used to reintegrate former fighters. Al-Sanhaji clearly stated that AQIM would not discriminate between Arab and non-Arab groups if they collaborate actively with the colonizers.
With this experienced group of militants comprising its top leadership, the new al-Qaeda-front alliance in the Maghreb and the Sahel can be expected to continue to gain momentum in establishing regional dominance.