Central Asia, Afghanistan and the New Silk Road: Political, Economic and Security Challenges
By: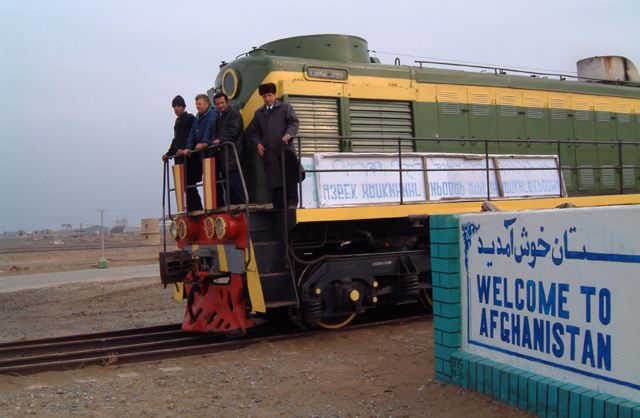 Featuring Ambassador Robert O. Blake
Assistant Secretary for South and Central Asian Affairs

Monday, November 14, 2011
9:00 A.M. – 4:30 P.M.
The University Club of Washington, D.C.
1135 Sixteenth Street, N.W.
Washington, D.C. 20036
*For full video of the conference, please click here.
**The free Conference Report is now available to download here.

Agenda

Registration
8:30 A.M. – 9:00 A.M.
***
Introduction
Glen E. Howard
President, The Jamestown Foundation
***
Opening Keynote:
9:00 A.M. – 9:45 A.M.
S. Frederick Starr
Chairman, Central Asia-Caucasus Institute
"A Strategy for Central Asia after the U.S. Military Withdrawal from Afghanistan"
Q & A
***
Panel One:
Challenges to Security in Central Asia
9:45 A.M. – 11:15 A.M.
Moderator: Ambassador Joseph A. Presel
Former U.S. Ambassador to Uzbekistan
Stephen Blank
U.S. Army War College
"The International Players in Central Asia"
Paul Goble
Azerbaijan Diplomatic Academy
"Security and Political Development"
Birgit Brauer
Jamestown Foundation
"Security and Economic Development"
Thomas Crisman
University of South Florida
"Water Security and Climate Change"
Q & A
***
Coffee Break
11:15 A.M. – 11:30 A.M.
***
Panel Two:
Economic Development and Infrastructure
11:30 A.M. – 1:00 P.M.
Moderator: Ariel Cohen
Senior Research Fellow, The Heritage Foundation
Ambassador William Courtney
Former U.S. Ambassador to Kazakhstan
"The Need for Coherent Long-term Security and Integration Strategy for Wider Central Asia"
Martine-Sophie Fouvez
United Nations Economic Commission for Europe
"Transportation Networks: The New Silk Road"
Vladimir Socor
Jamestown Foundation
"Energy Corridors and Energy Security"
Melanie Nakagawa
Professional Staff Member, U.S. Senate Foreign Relations Committee
"Water Management: Avoiding Conflict"
Discussant: Ambassador Askar Tazhiyev
Ministry of Foreign Affairs of Kazakhstan
Q & A
***
Lunch Break
1:00 P.M. – 1:45 P.M.
***
Keynote and Discussion
1:45 P.M. – 2:45 P.M.
Ambassador Robert O. Blake
Assistant Secretary for South and Central Asian Affairs
"U.S. Administration's Commitments to Stabilization and Development of the Wider Central Asian Region"
Q & A
***
Panel Three:
Major Challenges to Regional Cooperation and Economic Development – Views from the Central Asian Countries
2:45 P.M. – 4:15 P.M.
Chair: Ambassador John Ordway
Former U.S. Ambassador to Kazakhstan
Ambassador Erlan Idrissov
Ambassador of Kazakhstan
Ambassador Muktar Djumaliev
Ambassador of Kyrgyzstan
Ambassador Abdujabbor Shirinov
Ambassador of Tajikistan
Alessandro Pio
Resident Director General, North American Representative Office,
Asian Development Bank
Discussant: Fatima Kukeeva
Al-Farabi Kazakh National University
Q & A
***
Concluding Remarks
4:15 P.M.
Participant Biographies
Ambassador Robert O. Blake, Jr.
Mr. Blake was appointed Assistant Secretary for South and Central Asian Affairs in May 2009. As Assistant Secretary, he oversees U.S. foreign policy with India, Bangladesh, Sri Lanka, Nepal, Maldives, Bhutan, Kazakhstan, Uzbekistan, Kyrgyzstan, Turkmenistan, and Tajikistan. He previously served as Ambassador to Sri Lanka and Maldives from 2006 to mid-2009 and Deputy Chief of Mission at the U.S. Mission in New Delhi, India from 2003-2006. Since he entered the Foreign Service in 1985, he has served at the American Embassies in Tunisia, Algeria, Nigeria and Egypt. He has also held a number of positions at the State Department in Washington, including Senior Desk Officer for Turkey; Deputy Executive Secretary; and Executive Assistant to the Under Secretary for Political Affairs.
Mr. Blake earned a B.A. from Harvard College in 1980 and an M.A. in international relations from Johns Hopkins School of Advanced International Studies (SAIS) in 1984. He is married to Sofia Blake, with whom he has three daughters.
Stephen J. Blank
Dr. Stephen J. Blank has served as the Strategic Studies Institute's expert on the Soviet bloc and the post-Soviet world since 1989. Prior to that he was Associate Professor of Soviet Studies at the Center for Aerospace Doctrine, Research, and Education, Maxwell Air Force Base, and taught at the University of Texas, San Antonio, and at the University of California, Riverside. Dr. Blank is the editor of Imperial Decline: Russia's Changing Position in Asia, coeditor of Soviet Military and the Future, and author of The Sorcerer as Apprentice: Stalin's Commissariat of Nationalities, 1917-1924. He has also written many articles and conference papers on Russian, Commonwealth of Independent States, and Eastern European security issues. Dr. Blank's current research deals with proliferation and the revolution in military affairs, and energy and security in Eurasia. His two most recent books are Russo-Chinese Energy Relations: Politics in Command, London: Global Markets Briefing, 2006 and Natural Allies?: Regional Security in Asia and Prospects for Indo-American Strategic Cooperation, Carlisle Barracks, PA: Strategic Studies Institute, US Army War College, 2005. He holds a B.A. in History from the University of Pennsylvania, and a M.A. and Ph.D. in History from the University of Chicago.
Birgit Brauer
Birgit Brauer has over 15 years of experience in international journalism, writing for some of the world's leading publications, including The Economist and The New York Times, particularly on Central Asia. She has covered politics, geopolitics, economics, environmental issues, ethnic problems, and energy. In addition, she has served as an expert for NGOs on revenue transparency and media relations. Ms. Brauer's specialties are energy (oil and gas) and the ex-Soviet countries of the Caspian Sea region. She graduated from Harvard University Extension School and received her Master's degree in Journalism from American University. She has a Ph.D. in Political Economy from the University of Birmingham in the UK, having written her dissertation on foreign direct investment in the oil sectors of Azerbaijan, Kazakhstan and Russia. She is fluent in English, German, Russian, French and Spanish, and has a working knowledge of Kazakh.
Ambassador William Courtney
William Courtney is director of strategy and development for Computer Sciences Corporation (CSC). He was senior vice president for national security programs at DynCorp from 2000 until CSC acquired it in 2003. Prior to retiring from the Foreign Service, he was co-chair of the US delegation to the review conference of the Organization for Security and Cooperation in Europe which prepared for its 1999 summit in Istanbul. He was an adviser on the 1999 reorganization of foreign affairs agencies, special assistant to the president for Russia, Ukraine, and Eurasia, and ambassador to Kazakhstan and Georgia. He led negotiations to eliminate strategic nuclear weapons in Kazakhstan, and to remove a large cache there of highly enriched uranium (project sapphire). Earlier he headed the US delegation to the implementation commission of the Threshold Test Ban Treaty, and co-chaired the US delegation in initial talks with the USSR and Russia on nuclear weapons safety, security, and dismantlement. It helped pave the way for the Nunn-Lugar cooperative threat reduction program. He graduated from West Virginia University with a B.A. and Brown University with a Ph.D. in economics, and was an international affairs fellow at the Council on Foreign Relations. He is a member of the Council, the American Academy of Diplomacy, and the board of directors of the World Affairs Council of Washington DC.
Thomas L. Crisman
Thomas L. Crisman is a broadly trained aquatic ecologist specializing in ecohydrology, climate change projections and responses, and sustainable management of water resources in subtropical and tropical landscapes. Prior to joining the University of South Florida in 2007, he was professor of Environmental Engineering Sciences at University of Florida for 30 years and director of the Howard T. Odum Center for Wetlands for 10 years. His long-term research program in the Balkans and Greece focuses on watershed management, transboundary water issues and landscape responses to long term over-exploitation of groundwater resources. He has been a Fulbright scholar in Greece and Turkey regarding water resources, team leader for a UNDP assessment of water use and the sustainability of the Azraq Oasis in Jordan, and consultant to the State Department on water management in Greece, the Balkans and the Middle East. He is co-organizer of a series of workshops in cooperation with U.S. Central Command addressing water and security issues in Afghanistan and Central Asia.
Ambassador Muktar Djumaliev
Muktar Djumaliev is the Ambassador of Kyrgyzstan to the United States and Canada. Before his appointment to Washington in December 2010, he served as First Deputy Chief of Staff of the Administration of President Roza Otumbayeva. Previously, Muktar Djumaliev served as Ambassador to Switzerland and permanent representative to the World Trade Organization and the United Nations Office in Geneva (2004-2010). His previous appointments include First Deputy Minister of Foreign Trade and Industry, economic adviser of the President, and Deputy Director of the National Bank of Kyrgyzstan. He has degrees in economics and law from the National University of Kyrgyzstan and a Master's degree in International Law and Economics from the World Trade Institute, Bern University.
Martine-Sophie Fouvez
Martine-Sophie Fouvez has been working as Regional Adviser for Transport in the UN Economic Commission for Europe in Geneva since October 2008. Previously she was with the Organization for Economic Cooperation and Development (OEDC) for 30 years. Her latest position within OEDC was Principal Administrator in the European Conference of Ministers of Transport (ECMT), which recently turned into the International Transport Forum (ITF), in charge of road transport, road safety, and combined transport, inland waterways and international traffic trends. Ms. Fouvez is of French nationality. She holds a Diploma of "Ecole Supérieure de Commerce de Paris" (ESCP) in International Affairs. She also holds a DEA in Monetary Economy, and a DESS in Maritime and Air Transport from the University of Paris I, Sorbonne.
Paul Goble
Paul Goble is a longtime specialist on ethnic and religious questions in Eurasia. He currently serves as a director for studies on the Baltic Countries, Ukraine and Poland at the U.S. Department of State's Foreign Service Institute. Prior to that, he was director of research and publications at the Azerbaijan Diplomatic Academy. Earlier, he served as vice dean forthe social sciences and humanities at Audentes University in Tallinn and a senior research associate at the Euro College of the University of Tartu. While there, he launched the "Window on Eurasia" series (www.windowoneurasia.blogspot.com). Prior to joining the faculty therein 2004, he served in various capacities in the U.S. State Department, the Central Intelligence Agency and the International Broadcasting Bureau as well as at the Voice of America and Radio Free Europe/Radio Liberty and at the Carnegie Endowment for International Peace. He writes frequently on ethnic and religious issues and has edited five volumes on ethnicity and religion in the former Soviet space. Trained at Miami University in Ohio and the University of Chicago, he has been decorated by the governments of Estonia, Latvia and Lithuania for his work in promoting Baltic independence and the withdrawal of Russian forces from those formerly occupied lands.
Ambassador Erlan A. Idrissov
Erlan A. Idrissov is Kazakhstan's ambassador to the United States and has served in this position since 2007. Mr. Idrissov worked in Pakistan and different diplomatic positions. In 1992 he was appointed to the position of Secretary of the Permanent Mission of Kazakhstan to the United Nations in New York. Three years later, he began work for the Ministry of Foreign Affairs of Kazakhstan as the Head of the American Department while also acting as the Ambassador-at-Large. Mr. Idrissov later became an assistant to the President of Kazakhstan, focusing on international issues, and, in 1997, was nominated to become the First Vice-Minister of Foreign Affairs of Kazakhstan. Following his service in this position, he was appointed Minister of Foreign Affairs of Kazakhstan in October 1999. Mr. Idrissov was posted to London in 2002 to serve as Ambassador to the United Kingdom, Norway, and Sweden. He continued to work in Europe until he was appointed Ambassador to the United States on July 7, 2007.
Fatima Kukeyeva
Fatima T. Kukeyeva is a professor in the International Relations and World Economy Department at al-Farabi Kazakh National University, specializing in foreign and security policy, transatlantic relations, American studies, issues of globalization and democracy. She is the author of two monographs and numerous articles on the U.S.-EU transatlantic partnership, U.S. policy in Central Asia, and U.S. foreign policy and international engagement more broadly. Kukeyeva also directs the al-Farabi University's Resource Center for American and Democratic Studies, which she founded in 2004 to promote American studies in Kazakhstan.
Professor Kukeyeva is co-director of the "al-Farabi Carnegie" Program on Central Asia, established by al-Farabi Kazakh National University and the Carnegie Endowment for International Peace in 2011. She is an alumni of Fulbright program of the US State Department (2001, 2010). She is a recipient of the presidential "Best Lecturer of the Year" fellowship (2007), and "Outstanding Scholar" fellowship (2008).
Melanie Nakagawa
Melanie Nakagawa is a Professional Staff Member with the U.S. Senate Foreign Relations Committee. She advises the Chairman, Senator John Kerry, on issues involving the environment, energy, natural resources and climate change. She analyzes and drafts legislation in these areas, including extensive work in the last Congress on comprehensive climate change legislation. Earlier this year, she served as lead author for a majority staff report developing policy recommendations to promote trans-boundary water security titled, Avoiding Water Wars: Water Scarcity and Central Asia's Growing Importance for Stability in Afghanistan and Pakistan.
Prior to joining the Senate, Ms. Nakagawa was attorney with the International Program of the Natural Resources Defense Council (NRDC) in Washington, DC. She served as NRDC's lead representative at several international negotiations and meetings. She was also the director of NRDC's Global Safe Water Project, which promotes U.S. leadership in addressing water security in developing countries. Ms. Nakagawa earned a Juris Doctor and Master's of Arts in International Affairs from American University's Washington College of Law and School of International Service. She received a Bachelor of Arts from Brown University.
Ambassador John Ordway
John Ordway is a retired Foreign Service Officer who is serving as the U.S. Commissioner to the U.S.-Russian Bilateral Consultative Commission under the New START Treaty. He served as Ambassador to Kazakhstan (2004-2008) and to Armenia (2001-2004). He was Director of African Affairs at the National Security Council during the first Bush Administration, as well as Deputy Chief of Mission at the U.S. Embassy in Moscow from 1999-2001. More recently he was chargé d'affaires at the U.S. Embassy in Vienna, Austria from May to July 2009, chargé d'affaires at the U.S. Embassy in Sofia, Bulgaria from August to November 2009, chargé d'affaires at the U.S. Embassy in Kathmandu, Nepal from December 2009 to January 2010, and chargé d'affaires at the U.S. Embassy in Prague, Czech Republic from May to October 2010. He returned to Kazakhstan and was chargé d'affaires at the U.S. Embassy in Astana from January to September 2011. Earlier in his career, Ambassador Ordway was a participant in the U.S. negotiating team that resolved the Angola-Namibia conflict, leading to the withdrawal of Cuban troops from Angola and the independence of Namibia. Ambassador Ordway has received numerous State Department awards.
Alessandro Pio
Alessandro Pio is the Resident Director General of the Asian Development Bank's (ADB) North American Representative Office (NARO) in Washington DC. Before his appointment in Washington in May 2011, Mr. Pio led ADB-wide operations planning in the Strategy and Policy Department, and was Senior Advisor in ADB's Budget, Personnel and Management Systems Department. From 2004 to 2011, he served as Country Director of the Sri Lanka Resident Mission, where he co-chaired coordination of the aid agencies post-tsunami reconstruction response, and oversaw implementation of ADB's country program, including operations in the conflict-affected northeastern provinces. Other positions within ADB included country economist for Sri Lanka and the Maldives, and programs economist for Viet Nam, where he was posted from 2000 to 2004. Before joining ADB in 1993, he was a professor at Bocconi University in Milano, Italy, where he taught macroeconomics and development economics and coordinated research activities at the Institute for Latin American Studies. In the early years of his career, he worked in Latin America with the Economic Commission for Latin America and UNICEF.
Ambassador Joseph A. Presel
Joseph A. Presel is an American diplomat and was United States Ambassador to Uzbekistan between November 1997 and October 2000. Joseph Presel joined the Foreign Service in 1963 and has specialized in Russian, multilateral diplomacy, and political military affairs. He has served in Turkey, France, Moscow, Belgrade (as Deputy Chief of Mission), and twice in the U.S. Arms Control Delegation in Vienna (the second time as Deputy U.S. Representative). Ambassador Presel, of Rhode Island, has served as the Coordinator for Regional Affairs in the New Independent States since 1993 and became Special Negotiator for Nagorno-Karabakh in 1995, with the rank of Ambassador. His Washington service includes two assignments to the Arms Control and Disarmament Agency, service in the European, Politico-Military, International Organizations and INR bureaus, as well as several assignments in the offices of Department of State principals. He is a graduate of Harvard College, and studied at St. Antony's College, Oxford University. He is married to Claire-Lise Junod Presel.
Ambassador Abdujabbor Shirinov
Abdujabbor Shirinov was appointed as the Ambassador of Tajikistan to the United States in February 2007. Previously, he served as First Deputy Director of the Agency for State Finance Control and Anti-Corruption (2006-2007) and First Deputy Chairman of the National Bank of Tajikistan (2000-2006). He also chaired the Committee for State Financial Control of Tajikistan in 2006. From 1998 to 2000, Mr. Shirinov was First Deputy Chairman of the Executive Board of the Joint-Stock Commerce Agro-Industrial Investment Bank. During the six years before that he held several positions at the National Bank of Tajikistan – from Chief Engineer to Director of the Settlement Department. He graduated in mathematics from the Tajik National University in 1974 and returned to earn a degree in economics in 1999.
Vladimir Socor
Vladimir Socor is a Senior Fellow of the Washington-based Jamestown Foundation and its flagship publication, Eurasia Daily Monitor (1995 to present), where he writes analytical articles on a daily basis. An internationally recognized expert on former Soviet-ruled countries in Eastern Europe, the South Caucasus, and Central Asia, he covers Russian and Western policies there, focusing on energy policies, regional security issues, secessionist conflicts, and NATO policies and programs.
Mr. Socor is a frequent speaker at U.S. and European policy conferences and think-tank institutions. He is a regular guest lecturer at the NATO Defense College and at Harvard University's National Security Program's Black Sea Program (Kennedy School of Government). He is also a frequent contributor to edited volumes. Mr. Socor was previously an analyst with the Radio Free Europe/Radio Liberty Research Institute (1983-1994). He is a Romanian-born citizen of the United States based in Munich, Germany.
S. Frederick Starr
Dr. S. Frederick Starr is Chairman of the Central Asia-Caucasus Institute and Silk Road Studies Program. He is a Research Professor at the Paul H. Nitze School of Advanced International Studies, Johns Hopkins University. Dr. Starr for several years served as Rector Pro Tem of the University of Central Asia, and is a Trustee of the Eurasia Foundation. Prior to founding the Central Asia-Caucasus Institute, he served as founding Director of the Kennan Institute for Advanced Russian Studies 1974-79; as Vice-President for Academic Affairs at Tulane University in 1979-1982; as Scholar-in-Residence of the Historical New Orleans Foundation in 1982-83. He was appointed President of Oberlin College in 1983, a position he held for eleven years. In 1994-96, he served as President of the Aspen Institute. Dr. Starr served as an advisor on Soviet Affairs to President Reagan in 1985-86 and to President George H.W. Bush in 1990-92. Starr holds a Ph.D. in History from Princeton University, an M.A. from King's College, Cambridge University, and a BA from Yale University.
Ambassador Askar S. Tazhiyev
Askar Tazhiev is Ambassador-at-Large and Director of the Americas Department at the Ministry of Foreign Affairs (MFA) of Kazakhstan. He was responsible for the OSCE issues at MFA in 2008-2009 during the preparation for Kazakhstan's Chairmanship of the organization. Mr. Tazhiyev joined the MFA in 1992 and served twice at the Embassy of Kazakhstan in Washington – as Deputy Chief of Mission in 2003-2005 and First Secretary in 1996-1999. He has previously worked as a senior engineer at Telecom, Kazakhstan. Mr. Tazhiyev graduated from the Institute of Foreign Languages in Almaty and has a degree in Telecommunication Engineering from the Institute of Telecommunications in St. Petersburg, Russia.