Yemen After the Arab Spring: From Revolution to Disintegration?
By: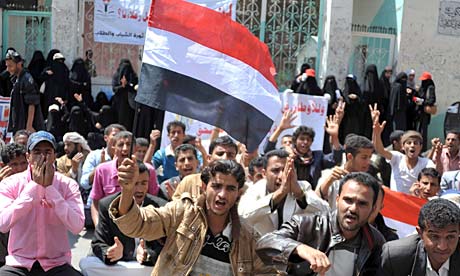 Yemen After the Arab Spring:
From Revolution to Disintegration?

Thursday, October 13, 2011
9:00 A.M. – 3:45 P.M.
Root Conference Room
Carnegie Endowment for International Peace
1779 Massachusetts Avenue, N.W.
Washington, D.C.
Registration
8:30 A.M. – 9:00 A.M.
***
Introduction
Glen E. Howard
President, The Jamestown Foundation
***
Panel One:
Yemen's Post-Revolution Transition
9:00 A.M. – 10:30 A.M.
Jeb Boone
"Opposition Politics and the Future of Yemen"
Former Managing Editor, Yemen Times
Saadaldeen Talib (Invited)
"The Role of Yemen's Youth Leadership Council"
Member, Youth Leadership Council
Abdul-Ghani Iryani
"The Opposition's Reaction to the GCC Initiative"
Development Consultant and Political Analyst
Munir Mawari
"The Future of the Southern Mobility Movement"
Independent Consultant
Moderator:
Michael Ryan
Senior Fellow, The Jamestown Foundation
Q&A
***
Coffee Break
10:30 A.M. – 10:45 A.M.
***
Panel Two:
Post-Revolution Strategies and Developments in Yemen's Militant Movements
10:45 A.M. – 12:15 P.M.
Barak Salmoni
"The Future of the Huthis in Post-Revolution Yemen"
National Defense University
Murad Batal al-Shishani
"AQAPs Post Revolution Strategy: Local and Regional Strategies"
Analyst, The Jamestown Foundation
Daniel Green
"Defeating AQAPs Political Program in Yemen"
Washington Institute for Near East Policy
Jack Barclay (Invited)
"Challenging the Influence of Anwar al-Awlaki"
Strategic Communications Consultant
Moderator:
Ambassador Edmund Hull
Former U.S. Ambassador to Yemen
Q & A
***
Luncheon
12:15 P.M. – 1:00 P.M.
***
Keynote Speaker
1:00 P.M. – 1:30 P.M.
Ali Soufan
"Yemen and Cracking al-Qaeda"
Chairman and CEO, Soufan Group LLC
Author of The Black Banners: The Inside Story of 9/11 and the War Against al-Qaeda
Q & A
***
Coffee Break
1:30 P.M. – 1:45 P.M.
***
Panel Three:
The Economic & Water Dimensions of Yemen's Security
1:45 P.M. – 3:00 PM
Andrew McGregor
"Bursting the Dam of Ma'rib:
Regional Destabilization and Scenarios for the Collapse of the Yemeni State"
Director, Aberfoyle International Security and
Senior Editor, Global Terrorism Analysis, The Jamestown Foundation
Robert Powell
"Yemen's Looming Economic Disaster"
Economist and Editor, Middle East, Economist Intelligence Unit
Thomas Crisman
"Water Insecurity as a Political Tool in Yemen"
Department of Integrative Biology, University of South Florida
Chris de Bodisco
"Scenarios for Making Yemen's Water Options Viable"
Senior Research Economist, The Balmoral Group
Q & A
***
Concluding Remarks
3:00 to 3:45 P.M.
Nabeel Khoury
Director, Near East South Asia Office
U.S. State Department Bureau of Political Analysis (INR)
Conclusion
3:45 P.M.
Participant Biographies
Jack Barclay
Jack Barclay is a Strategic Communication consultant specializing in the use of strategic messaging to counter violent extremism. He works with a range of organizations to improve their understanding of radical Islamist ideologies and the strategic communications activities of Salafi-Jihadi movements. He has provided support to counter-terrorism strategic communication research and campaign developments by a range of public sector agencies. He is based in the United Kingdom.
Chris de Bodisco
Chris de Bodisco, Ph.D., is a Senior Research Economist at the Balmoral Group, a professional consulting firm offering economic, engineering, and GIS advisory services in Florida. He has experience in a wide range of resource economics issues – from analysis of agricultural and public water demand, to cost benefit analysis of an integrated source water protection program, to working directly with fishermen to determine the desirability of issuing blue crab operator permits. He has compiled data on Florida's coastal economy for the Florida Ocean and Coastal Economies Report, including statistics concerning major coastal industries (commercial fishing, recreational fishing, and aquaculture), imports and exports of seafood, and fishing and boating licenses. In other work, he developed an economic model to project future agricultural irrigation demand for Northwest Florida Water Management District (NWFWMD) and a follow-up study for NWFMD to estimate the long-term agricultural water demand for several river basin areas of Georgia. Results of the study were published as a basis of comparison with water demand estimates by the state of Georgia and used to evaluate a contentious interstate debate. Dr. de Bodisco has experience working under adverse conditions. As a Visiting Professor at the Pontificia Universidad Catolica of Lima, Peru, he conducted surveys of micro-enterprises in low-income neighborhoods in Lima. The tools used in his analyses range from econometric analysis to public workshops and expert panels, to multi-criteria analysis.
Jeb Boone
Jeb Boone is a freelance journalist formerly based in Sana'a, Yemen and former managing editor of the Yemen Times. Boone's writings on Yemen have appeared in the Washington Post, the Los Angeles Times, Time Magazine, Foreign Policy, the Christian Science Monitor, the Guardian, the Independent, the Sunday Telegraph, and Global Post and he has appeared on the BBC World Service, BBC World News, Sky News, and Anderson Cooper 360.
Thomas L. Crisman
Thomas L. Crisman is a broadly trained aquatic ecologist specializing in ecohydrology, climate change projections and responses, and sustainable management of water resources in subtropical and tropical landscapes. Prior to joining the University of South Florida in 2007, he was professor of Environmental Engineering Sciences at University of Florida for 30 years and director of the Howard T. Odum Center for Wetlands for 10 years. His long-term research program in the Balkans and Greece focuses on watershed management, transboundary water issues and landscape responses to long term over-exploitation of groundwater resources. He has been a Fulbright scholar in Greece and Turkey regarding water resources, team leader for a UNDP assessment of water use and the sustainability of the Azraq Oasis in Jordan, and consultant to the State Department on water management in Greece, the Balkans and the Middle East. He is co-organizer of a series of workshops in cooperation with U.S. Central Command addressing water and security issues in Afghanistan and Central Asia.
Daniel Green
Daniel Green is a Soref Fellow at The Washington Institute for Near East Policy, focusing on Yemen, al-Qaeda, counterinsurgency, and stability operations. A reserve officer with the U.S. Navy, he served most recently as the International Security Assistance Force Joint Command liaison officer to the U.S. embassy's Office of Interagency Provincial Affairs in Afghanistan (2009-2010). Previously he has also served in Fallujah, Iraq (2007), and with the Department of State as a political advisor to the Tarin Kowt Provincial Reconstruction Team in Uruzgan Province, Afghanistan (2005-2006). Since 2001, he has held several senior advisory positions dealing with the Middle East, Central Asia, and NATO/Europe in the Office of the Secretary of Defense and the Department of State. Mr. Green is currently working on his dissertation for a Ph.D. in political science at George Washington University, and his first book, The Valley's Edge: A Year with the Pashtuns in the Heartland of the Taliban, will be published by Potomac Books in 2011. He writes a monthly column on irregular warfare for Armed Forces Journal.
Ambassador Edmund Hull
After 9/11, Edmund J. Hull was sent as ambassador to Yemen, where he served until mid-2004. Previously, he served both Presidents Clinton and Bush as Deputy, then Acting, Coordinator for Counterterrorism in the Department of State. A career foreign service officer, he also served as director for Peacekeeping and Humanitarian Affairs, deputy chief of mission in Embassy Cairo, director for Near East Affairs on the National Security Council, and director for Northern Gulf Affairs (Iraq and Iran) during Operation Desert Storm. A graduate of Princeton University's Woodrow Wilson School, he was appointed its first diplomat-in-residence after departing Yemen. Ambassador Hull has received numerous honors including the CIA's George H. W. Bush Award for Excellence in Counterterrorism, a Presidential Meritorious Service Award and the State Department's Award for Excellence in the Direction and Management of Overseas Missions. Ambassador Hull's views on Yemen have been featured on 60 Minutes, CNN, the New York Times, and Al Jazeera. His op-ed "Al Qaeda's Shadowland" ran in the New York Times on January 11, 2010. His book High-Value Target: Countering Al Qaeda in Yemen, published by Potomac Books in April, 2011, was awarded the Academy of American Diplomacy's book award for this year.

Nabeel Khoury
Nabeel Khoury, a senior Foreign Service Officer with the rank of Minister Counselor, is currently Director of the Near East South Asia Office of the State Department's Bureau of Political Analysis (INR). Previously, from 2007-08, he was the Department of State Chair at the U.S. Marine War College at Quantico. A Foreign Service Officer since 1987, Dr Khoury has served most recently as Deputy Chief of Mission in Yemen (2004-07), Deputy Director of the Media Outreach Centre in London (2002-04), and Consul General in Morocco (1994-97). In 2003, During the Iraq war, he served as Department spokesperson at Centcom in Doha and in Baghdad. Before his Foreign Service career, he was an Assistant Professor of Political Science at the College Saint Rose in Albany, NY and earlier as an Assistant Professor of Political Science at the University of Jordan, Amman. During his years in academia, Dr. Khoury published a number of articles in such journals as The Middle East Journal, Journal of South Asian and Middle Eastern Studies, and The International Journal of Middle East Studies on issues of leadership and development in the Arab world.
Andrew McGregor
Andrew McGregor is Director of Toronto-based Aberfoyle International Security and Managing Editor of the Jamestown Foundation's Global Terrorism Analysis publications. He received a Ph.D. from the University of Toronto's Department of Near and Middle Eastern Civilizations in 2000 and is a former Research Associate of the Canadian Institute of International Affairs. He has worked as a consultant to New Scotland Yard's SO15 Counter Terrorism Command and provided expert witness for the UK's Crown Prosecution Service. His latest book is A Military History of Modern Egypt, published by Praeger Security International in 2006. Dr. McGregor has written over 300 articles on international security issues for organizations including Jane's Intelligence, the Royal Institute of International Affairs and the Canadian Institute of Strategic Studies. He is the author of an archaeological history of Darfur published by Cambridge University in 2001 and provides frequent commentary on military and security issues for international newspapers, radio and television, including the New York Times, Financial Times, and the BBC.

Munir Mawari
Munir Al Mawari is a Washington-based freelance analyst of Yemeni origin. He was born and raised in Sana'a, the capitol of Yemen, and has personally witnessed many important events in Yemen's contemporary history. He has been analyzing Yemeni issues for different major domestic and Pan-Arab media outlets since 2003. Mawari has worked previously for al-Jazeera TV, Voice of America and Asharq al-Awsat daily. He appears frequently on the BBC Arabic service and other satellite TV channels. Mawari has demonstrated a deep knowledge of Yemeni political and cultural conditions and an ability to predict and understand significant events in the country. In 2009, he published two analytical books in Arabic about the dynamic situation in Yemen, in which he predicted the fall of the Saleh regime.
In the same year, a Yemeni Press and Publications Court sentenced Mawari, in absentia, to a lifetime ban on writing in Yemen, on charges of defaming President Saleh. The case stemmed from an opinion piece in which Mawari said that Saleh's leadership style would lead to "mass destruction." In an almost similar article, published by the Jamestown Foundation in Terrorism Monitor Volume on June 4, 2009, Mawari warned the United States of the security threats emerging from Yemen saying that "Yemen's near future will undoubtedly witness a bloody resolution to the problem of the undemocratic nature of the present regime." The article maintains the flavor of an organic and spontaneous assessment extracted from three decades of careful attention to ongoing Yemeni affairs.
Robert Powell
Robert Powell is responsible for the Economist Intelligence Unit's Middle East political and economic research out of the New York office. A member of the Middle East editorial team since May 2001, he has been the Yemen analyst since 2005. A graduate of Trinity College in Dublin, Mr. Powell has a background in international history and the news, reporting regularly on politics and economics in the Middle East. He has traveled extensively across the region, including Israel, the West Bank, Jordan, Syria, Iraq, and Yemen. He also has extensive knowledge of the energy sector, with a particular focus on the gas industry. He has appeared as a guest on CNN, CNBC the BBC, ABC and NPR, and is regularly quoted across the regional and global press.
Michael W. S. Ryan
Dr. Michael W.S. Ryan is a Senior Fellow at The Jamestown Foundation and an adjunct scholar at the Middle East Institute. He is currently finishing a book on al-Qaeda's political military strategy based on Arabic language sources. Dr. Ryan also acts as an independent consultant and researcher on Middle Eastern security issues.
Dr. Ryan served as Senior Vice President at The Middle East Institute in Washington. D.C. (2008-2009). The White House appointed him as Vice President in The Millennium Challenge Corporation (2006-2008). Previously, Dr. Ryan held senior positions in the Departments of State, Defense, and the U.S. Environmental Protection Agency after joining the U.S. federal government in 1979 as a Middle East/North Africa analyst for the Department of Defense.
In 1981, Dr. Ryan earned a Ph.D. from the Department of Near Eastern Languages and Civilizations at Harvard University. During his graduate study, he spent three years in Egypt under Fulbright, Smithsonian, and Center for Arabic Study Abroad fellowships. He was also a fellow at The American Research Center in Egypt during this period. He received his undergraduate degree from St. John's College in Annapolis, Maryland.
Barak Salmoni
Barakh Salmoni works in the Department of Regional and Analytical Studies at the College of International Security Affairs (CISA), at the National Defense University in Washington, DC. His research and teaching focuses on the Islamic world as well as national security leader development for full spectrum operations. He has previously taught at Harvard, Swarthmore, University of Pennsylvania, and the Naval Postgraduate School, in addition to working for the U.S. Army and Marine Corps in training and education program leadership positions. He has also led research projects on national security and regional issues at The RAND Corporation and the Washington Institute for Near East Policy. Salmoni holds a BA and MA in Islamic and Middle Eastern studies and Medieval history from Brandeis University, and he completed his Ph.D. in modern Middle East history at Harvard University. He has published on identity formation in the Middle East, contemporary Islam, conflict in the Persian Gulf and various aspects of military leader development.
Murad Batal al-Shishani
Murad Batal al-Shishani is an Islamic groups and terrorism issues analyst based in London. He is a specialist on Islamic Movements in Chechnya and in the Middle East. He is a regular contributor to several publications in both Arabic and English. He is also author of the book "The Islamic Movement in Chechnya and the Chechen-Russian Conflict 1990-2000", Amman, 2001 (in Arabic), and "Iraqi Resistance: National Liberation vs. Terrorism: A Quantitative Study," November 2005 Iraqi Studies Series, Issue 5, Gulf Research Center-Dubai.
Ali Soufan
Ali Soufan is the CEO of the Soufan Group, an international strategic consultancy that train and advises governments and businesses. Mr. Soufan is a former FBI Supervisory Special Agent who investigated and supervised highly sensitive and complex international terrorism cases, including the East Africa Embassy Bombings, the attack on the USS Cole, and the events surrounding 9/11. Mr. Soufan is regarded as a leading national security and counter-terrorism expert, and continues to play a significant advisory role on today's most sensitive issues. He has has received numerous awards and commendations for his counter-terrorism work. These include the Director of the FBI's Award for Excellence in Investigation, the Respect for Law Enforcement Award for "relentless pursuit of truth and bringing terrorist subjects before the bar of justice," and a commendation from the U.S. Department of Defense that labeled him "an important weapon in the ongoing war on terrorism." He is the author of The Black Banners: The Inside Story of 9/11 and the War Against al-Qaeda, published September 12, 2011.
Saadaldeen Talib
Mr. Talib was selected by the youth of Yemen to be a member of the Youth Leadership Council. He was born in 1959 in the Shibam district in the Hadhramaut in Yemen. He attended primary school in Aden and secondary school in Singapore from 1972 to 1976. He received his university education in Cairo and in 1985 graduated from Medical College of Ain Shams University (Cairo, Egypt). He returned to Yemen in 1990 and worked as a business consultant for a marine engineering company from 1992 to 1997. From 1997 to 2003 he was a member of parliament of the Shibam District of the Hadhramaut. He served as a member of the GPC Permanent Committee from 1997 to 2003. Mr. Talib was elected by parliament in 2007 as a commissioner to the Supreme National Authority for Combating Corruption, which was the first anti-corruption commission in Yemen. In July 2009 he resigned as a member of that commission and left Yemen to relocate to Singapore. He currently works in a family business in Singapore and is married and the father of two boys and a girl.