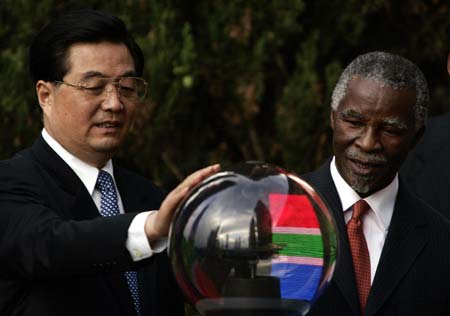 Registration:
8:30 A.M.
Introduction:
9:00 A.M.

Glen E. Howard
President,
The Jamestown Foundation
Opening Remarks:
9:10 A.M.

China's Grand Strategy and Africa
Arthur Waldron
Lauder Professor of International Relations,
University of Pennsylvania
Panel One:
A Chinese Strategy toward Africa?
9:30 A.M. – 10:45 A.M.
Speakers:
Chinese Perceptions of Africa
He Wenping
Director of West-Asia and African Studies,
Chinese Academy of Social Sciences/ China

China's Soft-Power toward Africa
Drew Thompson
Director of China Studies,
The Nixon Center
Africa in Chinese Grand Strategy
Willy Lam
Senior Fellow,
The Jamestown Foundation
Coffee Break:
10:45 A.M. – 11:00 A.M.
Panel Two:
Energy and Commodities
11:00 A.M – 12:15 P.M.
Moderator:

Paul Hare
Executive Director, U.S.-Angola Chamber of Commerce
Speakers:

China's Energy Strategy and Africa
Wenran Jiang
Mactaggart Research Chair of the China Institute, University of Alberta/ Canada

China's Economic Impact on Africa
Edward Friedman
Hawkins Chair Professor of Political Science, University of Wisconsin
Drivers of China's Economic Engagement with African Countries
Joshua Eisenman
Fellow in Asia Studies, American Foreign Policy Council
*Luncheon Keynote Speaker*
12:30 P.M. – 1:15 P.M.
What Does Africa Really Mean to China?
Victor Gao
Director of the China National Association of International Studies and former vice president at the China National Oil Corporation (CNOOC)
Panel Three:

Defense and Security
1:30 P.M. – 3:00 P.M.
Speakers:
China's Involvement in African Conflict Zones
David Shinn
Adjunct Professor of International Affairs,
George Washington University

The Role of Energy in China's Defense and Security Interests in Africa
Bo Kong
Director, Global Energy and Environment Initiative, John Hopkins University
China Going Global: International Trade, Somali Pirates, and the Expansion of Naval Power
Lieutenant Justin D. Mikolay Instructor, U.S. Naval Academy


Coffee Break:
3:00 – 3:15 P.M.

Panel Four:

U.S. – China Cooperation and Africa
3:15 P.M. – 4:45 P.M.
Speakers:
Sudan, Oil and Economic Growth: The Prospects for U.S.-Chinese Cooperation in Africa
Witney Schneidman
President, Schneidman & Associates International

Is China's Commerce with Africa More Than a Hunt for Natural Resources?
Harry Broadman
Managing Director, The Albright Group
Chief Economist, Albright Capital Management
Prospects for U.S.-China Defense Cooperation in Africa
General (Ret.) Carlton Fulford
U.S. Marine Corps
Closing Remarks:
4:45 P.M.
___________________________________________________________________________
Wednesday, May 20, 2009
The National Press Club
Grand Ball Room
529 14th Street NW
Washington, DC
Registration Fee:
Registration Fee: $80
Friends of Jamestown Registration Fee: $40*
Student Registration Fee: $40**
*For more information on the Friends of Jamestown Program,
please visit: https://www.jamestown.org/friendsofjamestown/

**For student registration, please e-mail: Russell Hsiao, hsiao@jamestown.org
***To register for this event or for further information, please visit

Space is limited, therefore preregistration is required.

If you have any questions or concerns, please contact us by email at chinainafrica@jamestown.org or by phone at (202) 483-8888.

___________________________________________________________________________
Dr. Harry Broadman is the Managing Director of The Albright Group and Chief Economist of Albright Capital Management LLC, an investment advisory firm focused on emerging markets. Dr. Broadman is globally recognized as an expert on foreign investment and trade, corporate governance, antitrust and regulation, and enterprise restructuring pertaining to OECD and developing countries, especially China, Russia, India and Africa. He draws on more than 25 years of senior positions in the private sector, international financial institutions, government, think tanks and academia. Most recently, Dr. Broadman held a variety of high-level appointments at the World Bank in East Asia; Eastern Europe and the former Soviet Union; and Sub-Saharan Africa. Prior to joining the World Bank, he served as Assistant U.S. Trade Representative and on the Committee on Foreign Investment in the U.S. (CFIUS). Earlier, Dr. Broadman served as Chief of Staff and Senior Economist on the President's Council of Economic Advisers, and Chief Economist of the U.S. Senate Committee on Governmental Affairs.
Joshua Eisenman is a Fellow in Asia Studies at the American Foreign Policy Council (AFPC) in Washington, D.C. and coauthor of China and the Developing World: Beijing's Strategy for the 21st Century (ME Sharpe 2007). He is pursuing a Ph.D. in political science at UCLA. Prior to joining the AFPC, Mr. Eisenman worked for two and a half years as a professional policy analyst on the staff of the Congressionally mandated U.S.-China Economic and Security Review Commission. Since 2002, he has written more than two dozen articles on China's domestic development and foreign policy for a variety of publications including Far Eastern Economic Review, Current History, the Asian Wall Street Journal, the Baltimore Sun, and Newsday.
Dr. Edward Friedman is a Professor in the Department of Political Science at the University of Wisconsin, Madison. His article, How Economic Superpower China Could Transform Africa, appeared in the Journal of Chinese Political Science earlier this year and was then condensed and published by Beijing Review. Professor Friedman specializes in the study of Chinese foreign policy. In 1981, 1982 and 1983 he was a China specialist on the staff of the U.S. House of Representatives Committee on Foreign Affairs. Since then he has continued to do work on China for diverse executive agencies. Some of his more recent books are What if China Doesn't Democratize? Implications for War and Peace, China's Rise, Taiwan's Dilemmas and International Peace, Regional Cooperation and Its Enemies in Northeast Asia, and Asia's Giants: Comparing China and India.
General (Ret.) Carlton Fulford presently consults with U.S. government and other private organizations on security matters. He served as director of the Africa Center for Strategic Studies, a Department of Defense regional center, from 2003-2006.
Victor Gao is a Director of China National Association of International Studies (CNAIS) and an International Councillor of Asia Society. Gao is also an Executive Director of Beijing Private Equity Association (BPEA) and the Chairman of its International Committee, and the Secretary-General of the China Private Equity Association, which will be the principal self-discipline body for the PE industry in China. Victor Gao is also a Director of Center for China and Globalization. Gao was with the Chinese Foreign Service in Beijing and the United Nations Secretariat in New York City between 1983 and 1989, and was an English interpreter for the late Chinese leader Deng Xiaoping. In 1999 and 2000, he was the China Policy Advisor with the Hong Kong Securities and Futures Commission. Gao has extensive working experience in investment banking and corporate management, including positions with Morgan Stanley and its joint-venture China International Capital Corporation (1994 to 1999), PCCW, Henderson Land, and, most recently, with CNOOC Limited where he served as Senior Vice President, General Counsel, Company Secretary, as well as Member of the CNOOC Investment Committee and Director of CNOOC International.
Ambassador Paul Hare was U.S. Ambassador to Zambia from 1985 to 1988, where, in addition to his bilateral responsibilities, he initiated the first high-level dialogue with the exiled African National Congress of South Africa, then headquartered in Lusaka. From August 1988 to July 1989, he was the Principal Deputy Assistant Secretary of State in the Bureau of the Near East and South Asian Affairs of the Department of State. After retiring from the U.S. Foreign Service in 1991, Hare became the vice president of the Middle East Institute in Washington, D.C. In October 1993, he was appointed by President Clinton as Special Envoy to the Angola Peace Process and in this capacity participated in the negotiations that led to the Lusaka Protocol of November 1994. Subsequently, Hare continued to have a close and active involvement with the implementation of the Lusaka agreement, frequently traveling to Angola for meetings with the principals of UNITA and the Angolan government. At the beginning of August 1998, Hare relinquished his responsibilities as special envoy and became the executive director of the U.S.-Angola Chamber of Commerce.
Dr. Wenran Jiang is Mactaggart Research Chair and Founding Director of the China Institute at the University of Alberta. He is Special Advisor on China to US- and Canada-based Energy Council, Senior Fellow of Asia Pacific Foundation of Canada, President of Canadian Consortium on Asia Pacific Security, Leader of Energy and Resources Research Group of Canada's Emerging Dynamic Global Economies (EDGE) Network, and a BusinessWeek online columnist. Dr. Jiang is a major contributor to Jamestown Foundation's biweekly China Brief, and his op-ed articles and opinions on East Asia and energy issues appear regularly in the world media.
Dr. Bo Kong is Professorial Lecturer of International Policy and Director of the Global Energy and Environment Initiative (GEEI) at the Johns Hopkins University School of Advanced International Studies (SAIS). Additionally, he sits on the Council of the National Capital Area Chapter of the United States Association for Energy Economics (NCAC-USAEE). His research covers different dimensions of energy policy and energy governance. Currently, he focuses on China's nuclear governance, Chinese overseas minerals investment, and comparative energy policy. His writings appear in both English and Chinese. His recent publications include An Anatomy of China's Energy Insecurity and Its Strategies (2005), "Institutional Insecurity" in China Security (2006), "China's Energy Insecurity" in Lindaozhe [Leaders] (2007), "China's Long March toward Energy Security," in Global Dialogue (2008)", "China's Energy Decision Making—More Like the United States?" in Journal of Contemporary China (2009), Chinese Minerals Investment in Two River Basins—the Congo River Basin and the Mekong River Basin (2009), and China's International Petroleum Policy (2010). Besides, many of his op-eds are carried by www.ChinaStakes.com.
Lieutenant Justin D. Mikolay is an Instructor of international relations and national security policy at the U.S. Naval Academy. His research projects to date have focused on America's presence and influence in Asia, particularly U.S. basing strategy in the Pacific. His article in the U.S. Naval Institute's Proceedings addressed China's contribution to counter-piracy efforts in the Gulf of Aden. Before arriving in Annapolis to teach, LT Mikolay completed nuclear power training in Charleston, South Carolina and reported to the USS SAN JUAN in Groton, CT. There, he served as Damage Control Assistant on a Mediterranean deployment to CENTCOM until November 2005 and later served as Assistant Operations Officer until his transfer in May 2007. LT Mikolay earned a Bachelor of Science in Political Science from the U.S. Naval Academy and a Masters of Public Affairs from the Woodrow Wilson School at Princeton University.

Dr. Willy Wo-Lap Lam is a Senior Fellow at The Jamestown Foundation. He has worked in senior editorial positions in international media including Asiaweek newsmagazine, South China Morning Post, and the Asia-Pacific Headquarters of CNN. He is the author of five books on China, including the recently published Chinese Politics in the Hu Jintao Era: New Leaders, New Challenges. Dr. Lam is an Adjunct Professor of China studies at Akita International University, Japan, and at the Chinese University of Hong Kong.
Dr. Witney Schneidman is President of Schneidman & Associates International, a Washington-based consulting firm that works with American companies and NGOs active in Sub-Saharan Africa. During the Obama campaign for President, Dr. Schneidman was co-chair of the Africa Experts Group on the Foreign Policy Advisory team and a member of the Presidential Transition Team. He also was Senior Adviser at the Leon H. Sullivan Foundation where he was Director of the Global Sullivan Principles on corporate social responsibility and Study Director of the Africa-China-U.S. Trilateral Dialogue, a partnership with the Council on Foreign Relations, the Brenthurst Foundation in South Africa and the Chinese Academy of Social Sciences in Beijing. The Trilateral Dialogue was an initiative created to promote greater cooperation and understanding in Africa among African, U.S and Chinese interests. During the Clinton Administration, Dr. Schneidman served as Deputy Assistant Secretary of State for African Affairs, and was responsible for economic and commercial issues in Sub-Saharan Africa and had regional responsibility for Southern Africa.
Ambassador David H. Shinn is an Adjunct Professor of International Affairs at The George Washington University's Elliott School of International Affairs, Amb. Shinn, who received his B.A., M.A., and Ph.D. from GW, is a former U.S. Ambassador to Ethiopia (1996-99) and to Burkina Faso (1987-90).
Drew Thompson is the Director of China Studies and Starr Senior Fellow at The Nixon Center in Washington, D.C. Prior to joining The Nixon Center, he was the National Director of the China-MSD HIV/AIDS Partnership in Beijing, a 5 year, $30 million HIV/AIDS program established by Merck & Co. and the Chinese Ministry of Health. Mr. Thompson served previously as Assistant Director to the Freeman Chair in China Studies at the Center for Strategic and International Studies (CSIS). He also was the President of a Washington, D.C. company that manufactured snack food in Qingdao, China. He lived in Shanghai from 1993 to 1998 where he was the General Manager of a U.S. freight forwarding and logistics firm, overseeing offices in Beijing, Shanghai, and Nanjing. Mr. Thompson was the founder and Chairman of the American Chamber of Commerce Transportation and Logistics Committee in Shanghai and has traveled extensively throughout China in both urban and rural areas.
Dr. Arthur Waldron is the Lauder Professor of International Relations in the Department of History at the University of Pennsylvania. Dr. Waldron has served as selector for the MacArthur Foundation, the American Philosophical Society, the Social Science Research Council, the Bradley Foundation, the Earhart Foundation, and the Harry Frank Guggenheim Foundation, among others. He serves on the boards of The Jamestown Foundation and of Freedom House, and is a member of the Council on Foreign Relations. He is a member of the Editorial Board of War in History and formerly of The International History Review. Dr. Waldron is a founder and Vice President of the International Assessment and Strategy Center, an independent, non-partisan 501(c)3 nonprofit research organization in Washington, D.C., devoted to work on foreign policy.
Dr. He Wenping is Professor and Director of African Studies Section at the Institute of West-Asian and African Studies (IWAAS), Chinese Academy of Social Sciences (CASS). Specializing on Africa's relations with China and major western powers, African democratic transition, and South African politics. Dr. He has been serving as Professor and Senior Research Fellow at CASS since 2004. She began her researching/teaching career at CASS in 1989, first as Assistant Professor and then as Associate Professor from 1996. She has also served as a visiting scholar at Yale University (1993/7-1994/7), London University (1997/5-7) and the Nordic Africa Institute (2008/8-11). Dr. He is Secretary-General of the Chinese Asian & African Research Society as well as Standing Member of the Research Society for African Problems and Asian–African Development & Exchange Society of China.
&nb