Watch the Video: China, Russia and Central Asia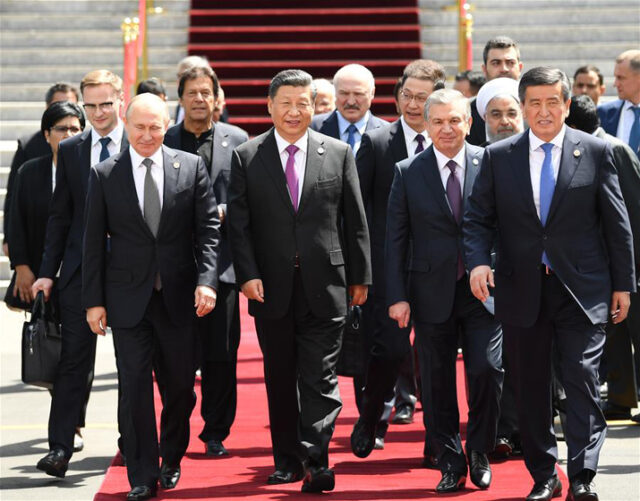 The Jamestown Foundation held a webinar on "China, Russia and Central Asia" on Thursday, March 30. 
At his National People's Congress press conference on March 7, Foreign Minister Qin Gang stated that China would host an inaugural China-Central Asia Summit later this year. The decision to launch a China-Central Asia forum follows General Secretary Xi Jinping's visits to Kazakhstan and Uzbekistan last September, his first travel outside China since January 2020, underscoring the region's importance to Chinese foreign policy.
The China-Russia relationship in Central Asia has long been characterized as a "division of labor," wherein China is the region's principal economic partner, with Russia acting as the primary security provider. However, China has recently assumed a more active role in regional security affairs, while Russia's presence has diminished due to its overwhelming preoccupation with the Ukraine war. As a result, the China-Russia dynamic in Central Asia may be due for a reassessment.
The Jamestown Foundation invited two leading experts,  Margarita Assenova and Raffaello Pantucci to discuss these issues. The panel was moderated by Jamestown China Program Manager John S. Van Oudenaren.
---
Margarita Assenova is a Senior Fellow at The Jamestown Foundation. She is a regular contributor to the Jamestown publication Eurasia Daily Monitor on political and energy security developments in the Balkans and Central Asia. Assenova is a recipient of the John Knight Professional Journalism Fellowship at Stanford University for her reporting on nationalism in the Balkans. She has authored book chapters and journal articles on security, energy, and democracy published by CSIS Press, Brassey's, Freedom House, Bertelsmann Foundation Publishers, the University of New Haven, and The Jamestown Foundation.
Assenova's latest books include Eurasian Disunion: Russia's Vulnerable Flanks (The Jamestown Foundation, 2016), a critical study on Russian subversion in Europe, Eurasia and Central Asia, co-authored with Janusz Bugajski, and the edited volume Azerbaijan and the New Energy Geopolitics of Southeastern Europe  (The Jamestown Foundation, 2015).
Raffaello Pantucci is a Senior Fellow at the S. Rajaratnam School of International Studies (RSIS) and Senior Associate Fellow at the Royal United Services Institute (RUSI). His research focuses on terrorism and counterterrorism as well as China's relations with its Western neighbors. Prior to joining RUSI in London in 2013, Pantucci lived for over three years in Shanghai, where he was a visiting scholar at the Shanghai Academy of Social Sciences (SASS). Before that he worked in London at the International Institute for Strategic Studies (IISS), and earlier than that at the Center for Strategic and International Studies (CSIS). He has also held positions at the European Council of Foreign Relations (ECFR) and at the International Center for the Study of Radicalization (ICSR) at King's College, London. He is the author of We Love Death As You Love and Sinostan: China's Inadvertent Empire (Oxford University Press, 2022).
---