Watch the Video: Assessing China's Growing Influence in the Middle East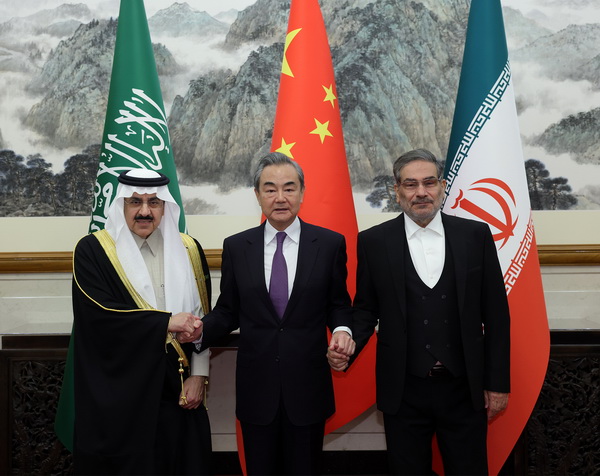 The Jamestown Foundation hosted a webinar on "Assessing China's Growing Influence in the Middle East" on Tuesday, April 4.
On March 10, Iran and Saudi Arabia agreed to restore normal diplomatic relations in a deal brokered by China. Although Iraq and Oman also played key roles in facilitating negotiations, Tehran and Riyadh ultimately turned to Beijing to finalize the agreement. This diplomatic breakthrough follows Iranian President Ebrahim Raisi's state visit to China in February and General Secretary Xi Jinping's visit to Saudi Arabia last December, where he attended the inaugural China-Arab States and China-GCC Summits. Despite China's expanding role in Middle Eastern geopolitics, the extent of its influence in the region is debated. One potential brake on China-Saudi cooperation is that although relations between Washington and Riyadh have been fraught of late, neither side appears willing to abandon the long-standing U.S.-Saudi security partnership entirely.
In order to assess the drivers and limits of China's growing influence in the Middle East, the Jamestown Foundation invited three leading analysts, Andrea Ghiselli, Sine Ozkarasahin and Alex Vatanka. The panel was moderated by Jamestown China Program Manager John S. Van Oudenaren.
---
Participant Biographies 
Andrea Ghiselli is an Assistant Professor at the School of International Relations and Public Affairs of Fudan University. He is also the Head of Research of the TOChina Hub's ChinaMed Project. His book Protecting China's Interests Overseas: Securitization and Foreign Policy was published by Oxford University Press in 2021.
Sine Ozkarasahin is an analyst in the security and defense program at the Istanbul-based think tank, the Centre for Economics and Foreign Policy Studies (EDAM). Sine holds an undergraduate degree from Leiden University and an MSc from Sciences Po Paris. Her research mainly focuses on smart defense, emerging defense technologies (with a specific focus on UCAVs) and their geopolitical implications.
Alex Vatanka is the founding Director of the Iran Program at the Middle East Institute. He specializes in Middle Eastern regional security affairs with a particular focus on Iran. He was formerly a Senior Analyst at Jane's Information Group in London. Alex is also a Senior Fellow in Middle East Studies at the US Air Force Special Operations School (USAFSOS) at Hurlburt Field and teaches as an Adjunct Professor at DISAS at Wright-Patterson Air Force Base.
---