Watch the Video: Kazakhstan's Political Reforms and the Changing Geopolitical Environment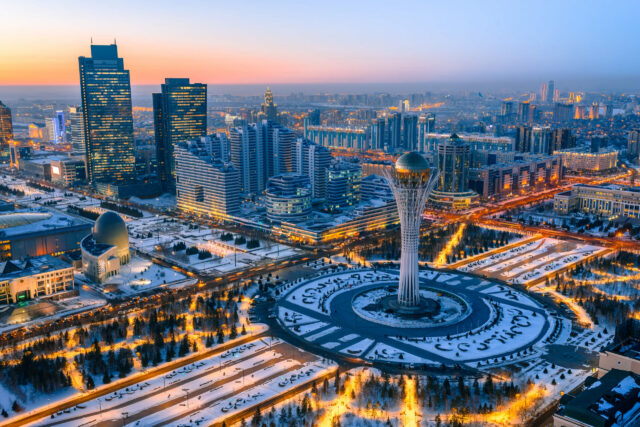 The Jamestown Foundation was proud to present the in-person event on "Kazakhstan's Political Reforms and the Changing Geopolitical Environment" on Tuesday, April 18, where Jamestown hosted several leading experts to examine the prospects for Kazakhstan in 2023 and beyond.
Kazakhstan is undergoing political and economic reforms in an environment of unprecedented security, diplomatic, and economic challenges stemming from Russia's war against Ukraine. As the war has disrupted supply chains, energy transportation, and trade networks, Kazakhstan is expanding diplomatic and economic relations with the United States and Europe to strengthen its international standing and attract new investments. At the same time, regional integration and cooperation with the Caucasus states and Turkey have reached unprecedented levels in efforts to diversify trade corridors.
After the domestic unrest in January 2022, Kazakhstan has undertaken political reforms through constitutional and legislative changes seeking to transform the national political system from a "super-presidential" structure to a presidential republic in which parliament and civil society have enhanced policy-making influence. The newly-elected Mazhilis consists of six political parties, marking a significant difference from previous parliaments that were entirely dominated by the ruling party. In November 2022, voters elected the first president with a single, seven-year mandate. Will Kazakhstan be able to manage the challenges presented largely by external developments and successfully complete the planned internal reforms?
Featured 
Paul Goble
Senior Fellow, The Jamestown Foundation
Daniel Witt
President, International Tax and Investment Center (ITIC) 
Kamran Bokhari
Senior Director of the Eurasian Security & Prosperity Portfolio, New Lines Institutes
 
Opening Remarks
Glen E. Howard
President, The Jamestown Foundation
Moderator
Margarita Assenova
Senior Fellow, The Jamestown Foundation
---
Margarita Assenova is a Senior Fellow at The Jamestown Foundation. She is a regular contributor to the Jamestown publication Eurasia Daily Monitor on political and energy security developments in the Balkans and Central Asia. Assenova is a recipient of the John Knight Professional Journalism Fellowship at Stanford University for her reporting on nationalism in the Balkans. She has authored book chapters and journal articles on security, energy, and democracy published by CSIS Press, Brassey's, Freedom House, Bertelsmann Foundation Publishers, the University of New Haven, and The Jamestown Foundation.
Her latest books include Eurasian Disunion: Russia's Vulnerable Flanks (Jamestown Foundation, 2016), co-authored with Janusz Bugajski, a critical study on Russian subversion in Europe, Eurasia and Central Asia, and Azerbaijan and the New Energy Geopolitics of Southeastern Europe, Ed. (2015). Her report "Nord Stream 2: Myths, Reality, and the Way Forward" (CEPA, 2018) became instrumental in mobilizing efforts to curtail Russian energy domination ambitions in Europe.
Kamran Bokhari is Senior Director of the Eurasian Security & Prosperity Portfolio at the New Lines Institute. Dr. Bokhari is also a national security and foreign policy specialist at the University of Ottawa's Professional Development Institute. Bokhari has also served as the Central Asia Studies Course Coordinator at U.S. Department of State's Foreign Service Institute. He was a Fellow with the Program on Extremism at George Washington University (2016-18). Dr. Bokhari has also been a Senior Consultant with The World Bank since 2009. He has 15 years of experience in the private sector intelligence space during which he provided intellectual leadership in the publishing of cutting-edge geopolitical analysis & forecasts.
Dr. Bokhari is the author of Political Islam in the Age of Democratization (Palgrave Macmillan, 2013) and other books. His core areas of expertise are: Geopolitical/Intelligence Analysis of the Middle East, South Asia, & Central Asia, Countering Violent Extremism/Counterterrorism/Deradicalization, Islamist/Muslim Moderation, Geosectarianism, Governance, Democratization, Civil-Military Relations, & Comparative Political Systems. He has briefed various US, Canadian & UK government agencies, published thousands of analytical/theoretical/op-ed articles, presented papers in int'l academic/policy forums and given hundreds of interviews to leading global media organizations. Bokhari earned his PhD from the Department of Politics & Int'l Relations at the University of Westminster. 
Paul Goble is a longtime specialist on ethnic and religious questions in Eurasia. Most recently, he was director of research and publications at the Azerbaijan Diplomatic Academy. Earlier, he served as vice dean for the social sciences and humanities at Audentes University in Tallinn and a senior research associate at the EuroCollege of the University of Tartu in Estonia. While there, he launched the "Windows on Eurasia" series. Prior to joining the faculty there in 2004, he served in various capacities in the U.S. State Department, the Central Intelligence Agency and the International Broadcasting Bureau as well as at the Voice of America and Radio Free Europe/Radio Liberty and at the Carnegie Endowment for International Peace. He writes frequently on ethnic and religious issues and has edited five volumes on ethnicity and religion in the former Soviet space. Trained at Miami University in Ohio and the University of Chicago, he has been decorated by the governments of Estonia, Latvia and Lithuania for his work in promoting Baltic independence and the withdrawal of Russian forces from those formerly occupied lands.
Daniel Witt has been working to promote free markets and helping to lower the barriers to tax, trade, and investment in transition economies for nearly 30 years. Having worked with 85 countries, he has codeveloped a unique neutral table to bring together the public sector, private sector, and academics to advance pro-investment economic policy reforms. Being among the first foreigners to discuss international tax and investment issues with the Russian Federation (1991), the Republic of Kazakhstan (1993), Vietnam (1996), Iraq (2004), Libya (2006), and Myanmar (2012), Mr. Witt is a recognized expert in newly opened-up frontier markets. 
Mr. Witt is the President of the International Tax and Investment Center (ITIC), which he helped found in September 1993. ITIC has offices in Washington, DC, USA; Moscow, Russia; Almaty and Astana, Kazakhstan; Baku, Azerbaijan; Kiev, Ukraine; Manila, the Philippines; Dubai, United Arab Emirates; Baghdad, Iraq; Bangkok, Thailand; Nay Pyi Taw, Myanmar; and London, United Kingdom. ITIC is a global brand that is trusted as a reliable source of tax and investment policy and administration expertise. Mr. Witt is also the co-founder of the Asia-Pacific Tax Forum, Eurasia Fiscal Experts' Seminar, Middle East/North Africa (MENA) Tax Forum, and the Africa Tax Forum that annually bring together hundreds of government officials and legislators with industry representatives, academics, and other experts to propose tax and investment climate reforms.