Watch the Video: Putin's Predicament and Ukraine's Coming Counteroffensive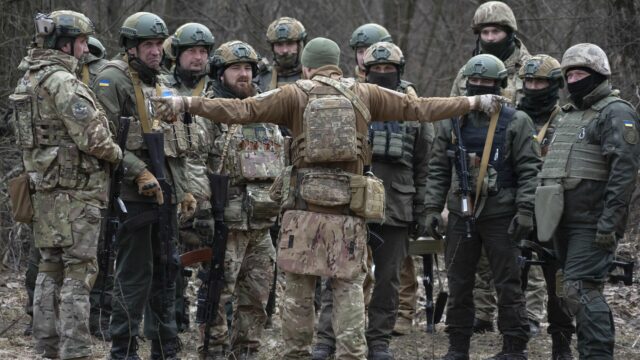 The Jamestown Foundation was proud to host the event "Putin's Predicament in Ukraine and the Coming Counteroffensive" on Tuesday, May 2. The event featured Russian military experts and regular Jamestown commentators Pavel K. Baev and Pavel Luzin and was moderated by Jamestown President Glen E. Howard.
As critical Western weapon systems, long-range munitions, and tanks arrive in the country, Ukraine is gearing up for its much-anticipated counteroffensive. By some reports, this measure has been stalled due to slow weapon deliveries and the hesitancy of some Western leaders. And while the exact nature or direction of this campaign remains a hotly debated topic, it is clear that the Russian side is also making preparations, aiming to shore up strategically vulnerable positions. Yet, these Russian efforts are being continually plagued by acute manpower shortages as well as an increasingly decrepit defense industry.
Meanwhile, Russian President Vladimir Putin is tightening his inner circle and becoming increasingly isolated, with his courtiers feeding him carefully doctored information about the war effort. Additionally, China is becoming more active in an aim to implement its dubious "peace plan" and position itself as an arbiter in the Russo-Ukrainian war.
Nevertheless, understanding Ukraine's goals in this counteroffensive, including potentially making a move on Crimea, is critical for Western policymakers, as they seek to optimize their support for the Ukrainian Armed Forces.
---
Participant Biographies
Dr. Pavel K. Baev is a nonresident senior fellow at the Center on the United States and Europe at the Brookings Institution, a regular contributor to Jamestown's Eurasia Daily Monitor, and a research professor at the Peace Research Institute Oslo (PRIO). He specializes in Russian military reform, Russia's conflict management in the Caucasus and Central Asia, energy interests in Russia's foreign and security policies, as well as Russia's relations with Europe and NATO. Baev graduated from Moscow State University with a Masters in Economic and Political Geography and worked in a research institute in the USSR Ministry of Defense. He received his PhD in International Relations from the Institute for US and Canadian Studies in Moscow, then worked in the newly created Institute of Europe in Moscow until 1992, when he moved to Oslo, Norway.
Dr. Pavel Luzin is a visiting scholar at the Fletcher School of Law and Diplomacy, Tufts University. He is also a regular contributor at The Jamestown Foundation, Riddle and the Foreign Policy Research Institute. He is a specialist in international relations and an expert on the Russian Armed Forces. Much of his research and writings focus on Russian foreign policy and defense, space policy and non-proliferation studies. He received his PhD from Perm State University, where he then taught. Luzin also taught at the Higher School of Economics (Perm campus) and has worked for Russian think tanks IMEMO (Institute of World Economy and International Relations) and PIR-Center.