Nord Stream Two: Evolving Dynamics, Potential Downfall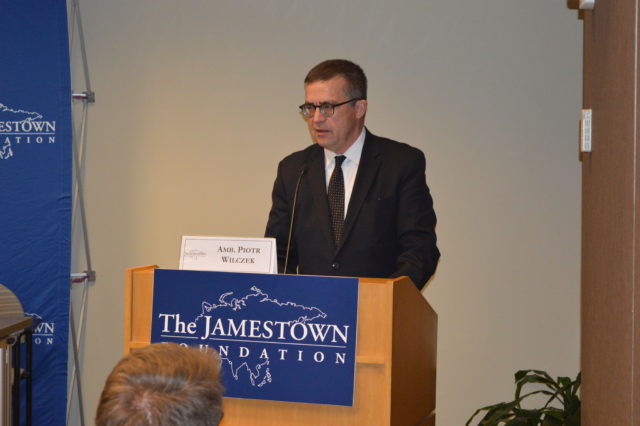 Tuesday, March 12, 2019
2:00 PM – 5:30 PM
Root Conference Room
Carnegie Endowment for International Peace
1779 Massachusetts Avenue, NW
Washington, D.C. 20036-2109
FULL EVENT VIDEO BELOW
---
On March 12, 2019, The Jamestown Foundation hosted the conference "Nord Stream Two: Evolving Dynamics, Potential Downfall" at the Carnegie Endowment for International Peace, in Washington, DC. The conference featured a number of experts and scholars from Europe and the United States, with opening remarks provided by Polish Ambassador to the United States Piotr Wilczek. Ambassador Wilczek underscored that Nord Stream Two is a political and not an economic project, which affects European and wider Transatlantic unity.
The panel speakers addressed both the specific players, interests and evolving strategies at play behind the pipeline, as well as the ways that Nord Stream Two and the associated TurkStream pipeline are distorting the European gas map. In particular, the conference participants characterized Nord Stream Two as one of the greatest threats to European security and solidarity. Commentators also agreed that the pipeline represented an overt effort by the Kremlin to circumvent Ukraine. In improving European energy security moving forward, speakers stressed the need to increase the import of US liquefied natural gas (LNG) to Europe as well as the necessity for continued transatlantic support of infrastructure development in Central and Eastern Europe through the Three Seas Initiative. In the end, most participants concluded that US sanctions represented the only viable option for derailing the project in its late stages.
---
---
Agenda
Registration
1:45 –2:00 P.M.
*  *  *
Welcome
2:00 P.M.
Glen E. Howard
President, The Jamestown Foundation
Opening Remarks
Ambassador Piotr Wilczek
Ambassador of Poland to the United States
*  *  *
Panel One:
Nord Stream Two: Players, Interests and Evolving Strategies 
2:20 P.M.–3:45 P.M.
"Russian Mega Pipelines and European Energy Security"
Margarita Assenova
Senior Fellow, The Jamestown Foundation
"Germany and Nord Stream: Interests, Policy, Politics"
Vladimir Socor
Senior Fellow, The Jamestown Foundation
"Is Ukrainian Transit Becoming Redundant?"
Vadym Glamazdin
Special Envoy on Government Relations
Naftogaz of Ukraine
Comments By
Stephen Blank
Senior Fellow
American Foreign Policy Council

*  *  *
Coffee Break 
3:45 – 4:00 PM
*  *  *
Panel Two:
Nord Stream Two and TurkStream Two: Distorting the European Gas Supply Map
4:00 – 5:30 P.M. 
"Nord Stream Two Impact on Central Europe"
Ambassador Réka Szemerkényi
Executive Vice President,
Center for European Policy Analysis
"NS2 and TS2: Competition or Opposition to Alternative Gas Supplies "
Rauf Mammadov
Resident Scholar on Energy Policy,
The Middle East Institute
"Russian Mega-Pipelines and the Kremlin Corruption Model"
Ilya Zaslavskiy
Head of Research,
The Free Russia Foundation
Moderator 
Mamuka Tsereteli
Senior Fellow, Central Asia-Caucasus Institute,
American Foreign Policy Council 
Concluding Remarks
5:30 P.M.
*  *  *
Coffee and light refreshments will be served
---
Participant Biographies
Margarita Assenova
Margarita Assenova is a senior Fellow at the Jamestown Foundation and a regular contributor to the Jamestown publication Eurasia Daily Monitor on political and energy security developments in the Balkans and Central Asia. Assenova is a recipient of the John Knight Professional Journalism Fellowship at Stanford University for her reporting on nationalism in the Balkans. Assenova's latest books include Eurasian Disunion: Russia's Vulnerable Flanks (Jamestown Foundation, 2016), a critical study on Russian subversion in Europe, Eurasia and Central Asia, co-authored with Janusz Bugajski, and the edited volume Azerbaijan and the New Energy Geopolitics of Southeastern Europe, Ed. (Jamestown Foundation, 2015).
Stephen Blank
Dr. Stephen Blank is a Senior Fellow and resident foreign policy expert at the American Foreign Policy Council.
Stephen Blank is a Senior Fellow at the American Foreign Policy Council in Washington. From 1989–2013 he was a Professor of Russian National Security Studies at the Strategic Studies Institute of the U.S. Army War College in Pennsylvania. Dr. Blank has been Professor of National Security Affairs at the Strategic Studies Institute since 1989. In 1998–2001, he was Douglas MacArthur Professor of Research at the War College.
He has published over 900 articles and monographs on Soviet/Russian, U.S., Asian, and European military and foreign policies, testified frequently before Congress on Russia, China, and Central Asia, consulted for the CIA, major think tanks and foundations, chaired major international conferences in the USA and abroad In Florence, Prague, and London, and has been a commentator on foreign affairs in the media in the United States and abroad. He has also advised major corporations on investing in Russia and is a consultant for the Gerson Lehrmann Group.
He has published or edited 15 books focusing on Russian foreign, energy, and military policies and on International Security in Eurasia. His most recent book is Russo-Chinese Energy Relations: Politics in Command, London: Global Markets Briefing, 2006. He has also published Natural Allies? Regional Security in Asia and Prospects for Indo-American Strategic Cooperation, Carlisle Barracks, PA: Strategic Studies Institute, US Army War College, 2005.
Dr. Blank is also the author of a study of the Soviet Commissariat of Nationalities, The Sorcerer as Apprentice: Stalin's Commissariat of Nationalities, Greenwood Publishing Group, 1994 and the co-editor of The Soviet Military and the Future, Greenwood Publishing Group, 1992.
Prior to this appointment Dr. Blank was Associate Professor for Soviet Studies at the Center for Aerospace Doctrine, Research, and Education of Air University at Maxwell AFB. He also held the position of 1980–86: Assistant Professor of Russian History, University of Texas, San Antonio, 1980–86, and Visiting Assistant Professor of Russian history, University of California, Riverside, 1979–80.
Dr. Blank's M.A. and Ph.D. are in Russian History from the University of Chicago. His B.A is in History from the University of Pennsylvania.
Rauf Mammadov
Rauf Mammadov is resident scholar on energy policy at The Middle East Institute and a Securing America's Future Energy (S.A.F.E.) Security Fellow. He is a contributor to the Jamestown publication Eurasia Daily Monitor. Mammadov focuses on issues of energy security, global energy industry trends, as well as energy relations in the Middle East, Central Asia and South Caucasus. He has particular focus on the post-Soviet countries of Eurasia. Prior to joining MEI, Mammadov held top administrative positions for the State Oil Company of Azerbaijan Republic (SOCAR) from 2006 to 2016. In 2012, he founded and managed the United States Representative Office of SOCAR in Washington, DC.
Aliona Osmolovska
Aliona Osmolovska is Director of Communications at Naftogaz of Ukraine, where she has worked since 2014. In her role at Naftogaz, Ms. Osmolovska is responsible for developing the company's reputation management and comprehensive communications strategy to support gas market liberalization and wider reform in Ukraine. She works with national and international media, think tanks, and industry experts to advance the strategic agenda of Naftogaz, and engages in proactive communications to boost the company's transparency and gain the trust of stakeholders including Ukraine's civil society, government, MPs, international partners and the investment community. Prior to joining the Naftogaz team, Ms. Osmolovska worked in a variety of roles in the financial services industry for over a decade. She holds a Masters degree in Management and Finance from Otto-von-Guericke University in Germany, and a Bachelors degree from the International Christian University Kyiv.
Vladimir Socor
Vladimir Socor is a Senior Fellow of the Washington-based Jamestown Foundation and its flagship publication, Eurasia Daily Monitor (1995 to present), where he writes analytical articles on a daily basis. An internationally recognized expert on former Soviet-ruled countries in Eastern Europe, the South Caucasus, and Central Asia, he covers Russian and Western policies there, focusing on energy policies, regional security issues, secessionist conflicts, and NATO policies and programs.
Mr. Socor is a frequent speaker at U.S. and European policy conferences and think-tank institutions. He is a regular guest lecturer at the NATO Defense College and at Harvard University's National Security Program's Black Sea Program (Kennedy School of Government). He is also a frequent contributor to edited volumes. Mr. Socor was previously an analyst with the Radio Free Europe/Radio Liberty Research Institute (1983–1994). He is a Romanian-born citizen of the United States based in Munich, Germany.
Réka Szemerkényi
Réka Szemerkényi is executive vice president of the Center for European Policy Analysis (CEPA). From 2015 to 2017, Szemerkényi was Hungary's first woman ambassador to the United States. Before this, she was chief advisor in foreign and security policy to the prime minister of Hungary (2011-15); state secretary for foreign and security policy in the prime minister's office (1998-2002) and senior advisor to the state secretary in the Ministry of Defense (1991-94), at the time of Hungary's efforts to join NATO and later the Kosovo war in the Balkans. Szemerkényi is an elected member of the European Council on Foreign Relations since 2016 and serves as vice president of the Hungarian Atlantic Council.
Mamuka Tsereteli 
Dr. Mamuka Tsereteli is a Senior Fellow with the Central Asia-Caucasus Institute at American Foreign Policy Council. His expertise includes economic and energy security in Europe and Eurasia, transit and transportation between Europe and Asia, and business development in the Black Sea-Caspian region. His teaching experience includes classes on Energy Security for Europe and Eurasia at American University and Energy Markets for Middle East and Central Asia at Johns Hopkins SAIS. Dr. Tsereteli also serves as President of the America-Georgia Business Council.  Since the mid-1990s, Dr. Tsereteli was actively involved in promotion and implementation of the Caspian energy transportation projects, including the Southern Gas Corridor.
Ilya Zaslavskiy
Ilya Zaslavskiy is head of research at Washington-based non-profit Free Russia Foundation and head of Underminers.info, a research project exposing kleptocrats from Eurasia in the West. Until December 2018, he was a member of the Advisory Council at the Hudson Institute's Kleptocracy Initiative for which he wrote the report How Non-State Actors Export Kleptocratic Norms to the West. Until August 2018, Ilya was an Academy Associate at Chatham House, where he was a Fellow in 2014. He continues as an energy consultant for Western companies working in developing countries. In December 2018, Council on Foreign Relations published Ilya's report on Advancing Natural Gas Reform in Ukraine.
Piotr Wilczek 
Piotr Wilczek has been Ambassador of the Republic of Poland to the United States of America and to the Commonwealth of the Bahamas and Permanent Observer to the Organization of American States since November 6, 2016.
Before joining the foreign service he was a tenured full professor at the University of Warsaw. From 2009 to 2016 he was Director of the Collegium "Artes Liberales," an innovative college of liberal arts and sciences at this major Polish research university. From 2002 to 2008 he served as Dean of the School of Languages and Literatures at the University of Silesia in Katowice.
Professor Wilczek has been a coordinator and expert in several international research projects on education and intellectual history, a visiting professor and guest speaker at leading British and American universities (including Oxford, Harvard, Boston College, Rice University and the University of Chicago). He is an experienced administrator, organizer of many international conferences, editor and author of numerous books and journal articles. In 2017 he received an honorary degree of Doctor of Humane Letters from Cleveland State University.
Over the last twenty years he has been very active in establishing international contacts between various institutions and promoting Polish culture abroad. From 2011 to 2016 he was Coordinator for Central and Eastern Europe in Refo500, an international academic and cultural network of institutions involved in early modern religious studies. From 2014 to 2016 he was Representative in Poland of the Kosciuszko Foundation, Inc., a New York-based non-profit organization founded in 1925, promoting closer ties between Poland and the United States through educational, scientific and cultural exchanges.