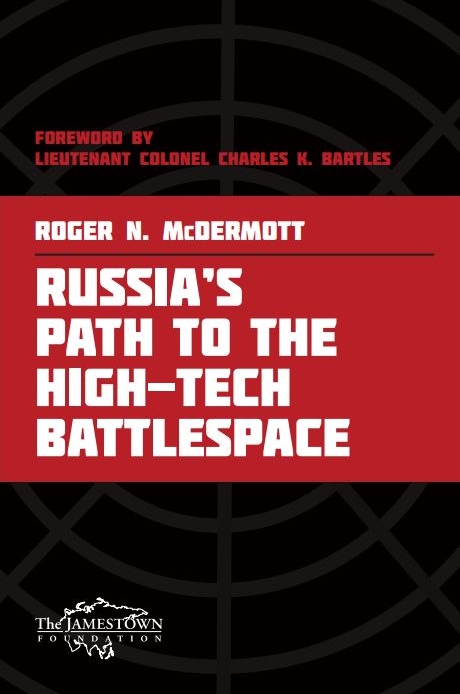 NOW AVAILABLE — Russia's Path to the High-Tech Battlespace
---
---
Russia's Path to the High-Tech Battlespace explores Moscow's long-term modernization of its Armed Forces to exploit technology and adopt new approaches to warfare in the 21st century. The book examines the role of Russian military thought on the changing character of modern war and the influence of technology as part of this wider process. It considers changes in Russian military decision-making, outlining the emergence of network-centric military capability in Moscow's efforts to transition its conventional armed forces away from dependence on large personnel numbers and toward more extensive exploitation of information in a digitized, high-technology operational environment.
This unique study extrapolates key developments from Russian military operations in Syria, setting Moscow's experimentation with non-contact warfare in the context of Russian military thought on sixth-generation warfare. It provides analysis of how Moscow's R&D and procurement of hypersonic missile systems may signal a shift in military strategy to preemptively neutralize emerging threats. The exponential growth in Russian interest and exploitation of electronic warfare capabilities is assessed, as is Russian thinking on how the enhancement of unmanned systems will boost intelligence, surveillance and reconnaissance and future conventional strike capabilities. Rooted in primary Russian-language sources, these chapters analyze the origins, evolution, and trajectory of Moscow rebalancing its nuclear and conventional deterrence to form an array of modernized military capabilities.
"Since the US and Russia are pursuing dissimilar modernization strategies, the success of Russia's military modernization efforts should not be assessed solely through a Western lens, as this was not the context in which they were developed. The chapters of Russia's Path to the High-Tech Battlespace provide the necessary blueprint for a complete understanding and assessment." – US Lieutenant Colonel Charles K. Bartles
Roger N. McDermott is a leading authority on the Russian military. He is a Senior Fellow in Eurasian Military Studies with The Jamestown Foundation, Washington, DC, and a Visiting Senior Research Fellow at the Department of War Studies, King's College, London.
Paperback
*Now available for pre-order through Lynne Rienner Publishers
*To read the full book, please click on the PDF link below: