Watch the Video: Implications of the Russia-Ukraine War for Taiwan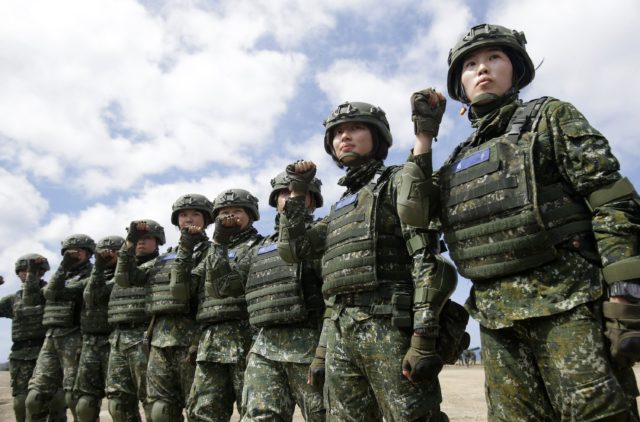 The Jamestown Foundation was proud to host a conference on June 22 to discuss the "Implications of the Russia-Ukraine War for Taiwan." Since the beginning of the Russian invasion of Ukraine in late February 2022, the international security landscape has changed dramatically. In addition to irrevocably altering the outlook for European security, these developments also have profound implications for the future peace and stability of the Indo-Pacific region. In particular, many experts have identified parallels and drawn lessons learned from the ongoing Russia-Ukraine conflict for a possible future invasion of Taiwan by the People's Republic of China.
In light of these developments, the Jamestown Foundation convened several former high-level policymakers and leading experts to examine these issues.
---
Videos
Welcome and Keynote Speaker Introduction 
• Introduction by Michael E. Kavoukjian, Jamestown Foundation Board Member
Keynote address 
• The Honorable Senator Tom Cotton
Panel One: Lessons of Ukraine for Taiwan
• Michael McDevitt, Senior Fellow, CNA
• Bonny Lin, Director, China Power Project Center for Strategic and International Studies
• Joe McReynolds, China analyst, SOSi Center for Intelligence Research
• Russell Hsiao, President, Global Taiwan Institute
Moderator – John S. Van Oudenaren, Editor-in-Chief, China Brief; China Program Manager, The Jamestown Foundation
Panel Two : Final Discussion – Policy Implications for U.S. and Allies
• David Stilwell, Former US Assistant Secretary of State for East Asian and Pacific Affairs
• Miles Yu, Senior Fellow, Hudson Institute
• Michael Vickers, Former Under Secretary of Defense for Intelligence
Moderator – Glen E. Howard, President, The Jamestown Foundation
---
Participant Biographies 
Senator Tom Cotton is a United States Senator from Arkansas. He serves on the Armed Services, Judiciary, and Intelligence Committees.
He is a 6th generation Arkansan who was born and raised on his family's cattle farm in Yell County. He graduated from Dardanelle High School before graduating from Harvard and Harvard Law School.
The September 11 terror attack occurred during Tom's final year of law school, leading Tom to decide to join the military. After clerking and a short time in private practice, Tom joined the Army as an Infantry Officer with the 101st Airborne. He served in Iraq, Afghanistan, and in the Old Guard at Arlington National Cemetery.
In 2012, Tom was elected to the House of Representatives and won a Democratic-held seat by 23 points. In 2014, Congressman Cotton defeated an incumbent Democratic Senator by 17 points. In 2020, Senator Cotton was re-elected by a 2-1 margin, with only a third-party opponent after his Democratic opponent quit the race.
Senator Cotton has been a leader on national security issues in the Senate. Some of his legislative accomplishments include: ending the Obamacare mandate tax as part of the the 2017 Tax Cuts and Jobs Act; helping pass a bill to create a Veterans Administration Office of Accountability and Whistleblower Protection; securing funding for the military; and helping pass legislation to increase competition for prescription drugs.
Tom and his wife Anna have two sons.
Glen Howard is the President of the Jamestown Foundation, one of the world's leading research and analysis organizations on Eurasia. Based in Washington, D.C., Mr. Howard has overseen the research and analysis activities of Jamestown for the past 16 years and extensively dealt with Russia and Eurasia in his capacity as Jamestown President, working with the regional leaders and national strategists across Eurasia from the Baltic to Central Asia. An expert on Eurasia and Russia, Mr. Howard is the co-editor with Matthew Czekaj of the book Russia's Military Strategy and Doctrine (2019), a collection of writings on Russian military strategy and doctrine by some of the world's leading defense experts. Mr. Howard is also the editor of the book Volatile Borderland: Russia and the North Caucasus (2011), and other works. He has published articles in the Wall Street Journal, Real Clear Defense, the Hill, and other prominent publications.
Mr. Howard is privileged to have worked for the late Dr. Zbigniew Brzezinski from 2002 to 2008 as the executive director of an advocacy organization seeking a peaceful resolution of the second Russo-Chechen war.  Mr. Howard worked at the U.S. Embassy Moscow from 1984-1986 and is fluent in Russian and proficient in French, Turkish and Azerbaijani. Mr. Howard received a Master's degree in Soviet and East European Studies from the University of Kansas (1988) and has an undergraduate degree from Oklahoma State University in Business Management (1984).
Russell Hsiao is the executive director of the  Global Taiwan Institute (GTI), a senior fellow at The Jamestown Foundation, and adjunct fellow at Pacific Forum. He is a former Penn Kemble fellow at the National Endowment for Democracy and visiting scholar at the University of Tokyo's Institute for Advanced Studies on Asia. He previously served as a senior research fellow at The Project 2049 Institute and national security fellow at the Foundation for Defense of Democracies. Prior to those positions he was the editor of China Brief at The Jamestown Foundation from October 2007- to July 2011 and a special associate in the International Cooperation Department at the Taiwan Foundation for Democracy. While in law school, he clerked within the Office of the Chairman at the Federal Communications Commission and the Interagency Trade Enforcement Center at the Office of the U.S. Trade Representative. Mr. Hsiao received his J.D. and certificate from the Law and Technology Institute at the Catholic University of America's Columbus School of Law where he served as the editor-in-chief of the Catholic University's Journal of Law and Technology. He received a B.A. in international studies from the American University's School of International Service and the University Honors Program.
Michael E. Kavoukjian is a partner of the international law firm White & Case, where he served as head of the Global Private Clients Group for twelve years. The firm played a central role in the privatization of Eastern Europe after the Cold War. Mr. Kavoukjian represents leading families and financial institutions worldwide in cross-border fiduciary litigation. He previously served as an operations officer in the Directorate of Operations of the Central Intelligence Agency. He is a life member of the Council on Foreign Relations, a member of the Board of Overseers of the Hoover Institution, and a director of the Jamestown Foundation. He holds an A.B. in English and Political Science, with distinction, from Stanford University and a J.D., cum laude, from Harvard Law School.
Admiral Michael McDevitt, USN (Ret.) focuses on U.S. security issues in East Asia. He founded CNA's Strategic Studies division in 2000, and since stepping down as a Vice President in 2012 has been active as a Senior Fellow, leading several major projects related to maritime disputes in the East and South China Seas and China's ambition to become a "great" maritime power. He also developed a major project that analyzed significant security issues along the entire Indian Ocean and Pacific Ocean littoral from a maritime perspective. His other expertise includes strategy, war planning and naval operations worldwide.
During his 34-year naval career, McDevitt held four at-sea commands, including command of an aircraft carrier battle group. He spent all of his operational time in the Pacific, including a two-year assignment in Sasebo, Japan. McDevitt was the Chief of Naval Operations Strategic Studies Group Fellow at the Naval War College and has been the Director of the East Asia Policy Office for the Secretary of Defense. He also served as the Director for Strategy, War Plans and Policy (J-5) for U.S. CINCPAC. McDevitt concluded his active-duty career as the Commandant of the National War College in Washington, D.C. McDevitt holds an M.A. in American Diplomatic History from Georgetown University and a B.A. in U.S. History from the University of Southern California. He is also a graduate of the National War College.
Dr. Bonny Lin is a senior fellow for Asian security and director of the China Power Project at the Center for Strategic and International Studies (CSIS). Previously, she was the acting associate director of the Strategy and Doctrine Program of RAND Project AIR FORCE and a political scientist at the RAND Corporation, where she analyzed different aspects of U.S. competition with China, including U.S.-China competition for influence in the Indo-Pacific and China's use of gray zone tactics against U.S. allies and partners. Her research advised senior leaders in the Department of Defense, including military leaders at U.S. Pacific Air Forces and U.S. Army Pacific. Dr. Lin also served in the Office of the Secretary of Defense from 2015 to 2018, where she was director for Taiwan, country director for China, and senior adviser for China. Dr. Lin holds a PhD in political science from Yale University, a master's degree in Asian studies with a focus on China from the University of Michigan, and a bachelor's degree in government from Harvard College. While pursuing her master's, she interned at CSIS.
Joe McReynolds is the Chief for Global Information Operations and Cyber at SOSi LLC's Center for Intelligence Research and Analysis, the China Security Studies Fellow at the Jamestown Foundation, and a co-founder of the China Cyber and Intelligence Studies Institute. He is the lead editor and co-author of China's Evolving Military Strategy (Brookings Press, 2016) as well as the upcoming Chinese Information Warfare (2022). He has expertise in a range of Sino-American national security issues, including China's illicit technology exfiltration efforts, information warfare operations, defense science and technology development, and IT sector civil-military integration. He also has experience in U.S. coordination with regional allies and partners, serving as the 2019 Visiting Fellow at the Japanese Ministry of Defense and interfacing regularly with the Taiwanese defense establishment and Five Eyes governments. In addition to his national security research, he is an affiliated researcher at Keio University's Architecture and Urban Studies Laboratory in Japan, where he studies Tokyo's approach to urban development and public policy. In this role, he is the research editor and co-author of the recently released best-selling book Emergent Tokyo: Designing the Spontaneous City (Oro Editions, 2022). He served as a foreign policy advisor on the Clinton 2016 and Biden 2020 presidential campaigns.
General David R. Stilwell, USAF (Ret.) is a seasoned leader in the foreign policy world, serving not only as the Assistant Secretary for East Asian and Pacific Affairs (EAP) between 2019 and 2021 but also as the Asia Advisor to the Chairman of the Joint Chiefs of Staff during his time in the Air Force. Stilwell was a member of the Air Force for 35 years and served multiple tours in Korea and Japan as a linguist, a fighter pilot, and a commander. He enlisted in 1980 and retired in 2015 with the rank of Brigadier General. During this time, he served as the Defense Attaché at the U.S. Embassy in Beijing from 2011 to 2013 and directed the China Strategic Focus Group at U.S. Indo-Pacific Command in Hawaii from 2017 to 2019.
As the Assistant Secretary for EAP, Stilwell was a strong advocate for dealing with the People's Republic of China from a position of strength. In his role as the top U.S. diplomat for Asia, he also actively fostered relationships with traditional allies as well as members of ASEAN—establishing Peace Corps in Vietnam, updating South China Sea policy to support Manila's successful defense of its and other ASEAN claimant's EEZs, and establishing a Mekong downstream water rights conference.
John S. Van Oudenaren is Editor-in-Chief of China Brief and China Program Manager at The Jamestown Foundation. Prior to joining Jamestown, Mr. Van Oudenaren was Assistant Director for Political and Security Affairs at the National Bureau of Asian Research (NBR). He has previously worked at the Center for the National Interest, the Asia Society Policy Institute and the U.S. National Defense University. He has published articles on the international politics and security dynamics of East Asia in Asian Affairs: An American Review, ChinaFile, The Diplomat, The National Interest, Parameters, and other publications. Mr. Van Oudenaren holds a Master's degree in Asian Studies from the George Washington University's Elliott School of International Affairs and a Bachelor's degree in History (minor in Chinese) from St. Mary's College of Maryland. He has lived and worked in Mainland China for several years.
Dr. Michael Vickers is widely recognized as one of the country's top national security professionals, with unprecedented senior tenure across Republican and Democratic administrations. He was a key operational strategist for the two great wars of our time: the operation in the 1980s to drive the Soviets out of Afghanistan, which helped bring an end to the Cold War—the largest and most successful covert action program in the history of the CIA—and the ongoing war with al-Qaeda.  He also played a major policy and planning role in the operation that killed Osama bin Laden.
From January 2011 to May 2015, Vickers served as the Under Secretary of Defense for Intelligence, the Chief Executive Officer of the Defense Intelligence Enterprise, an $80 billion, 180,000-person, global operation that includes the National Security Agency, Defense Intelligence Agency, National Geospatial-Intelligence Agency, National Reconnaissance Office, Defense Security Service, and the intelligence components of the Military Services and Combatant Commands. As the USD(I), he conceived and led a comprehensive transformation of defense intelligence capabilities.
Dr. Miles Yu is a senior fellow at the Hudson Institute. He is also a professor of East Asia and Military/Naval History at the United States Naval Academy in Annapolis, Maryland. Dr. Yu specializes in Chinese military and strategic culture, U.S. and Chinese military and diplomatic history, and U.S. policy toward China.
Dr. Yu joined the Trump administration and served as the China policy adviser to Secretary of State Mike Pompeo. In that capacity, he advised the Secretary on all China-related issues, helped overhaul U.S. policy toward China, and participated in key U.S. government interagency deliberations on major policy and government actions with regard to China and other East Asian countries, including Japan, South Korea and Taiwan. He is a Visiting Fellow at the Hoover Institution as a member of the Military History/Contemporary Conflict Working Group. From 2011-2016, he wrote the weekly column "Inside China" for the Washington Times. Since 1996, he has been an editorial consultant to Radio Free Asia, and a contributor to various media outlets including the Wall Street Journal and PBS News Hour. Dr. Yu received a doctorate in history from the University of California, Berkeley, a master's degree from Swarthmore College, and a bachelor's degree from Nankai University.