Watch the Video: China's External Propaganda and the Ukraine War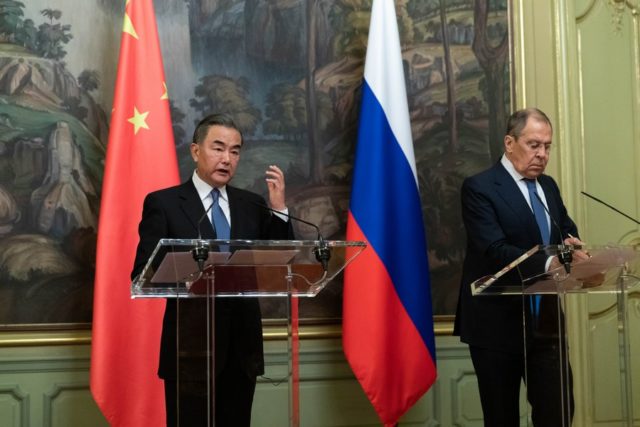 The Jamestown Foundation held a webinar on China's External Propaganda and the Ukraine War on Thursday, May 26.
The People's Republic of China's (PRC) amplification of Russian disinformation during the Ukraine conflict has attracted international attention to the Chinese Communist Party's external propaganda efforts. A key element of the PRC's depiction of the war to both internal and external audiences is that it is largely driven by the "Cold War mentality" of the U.S., which fueled NATO's eastward expansion and contributed to the division of Europe into rival security blocs. PRC propaganda organs have also recycled and promulgated conspiracy theories originating in Russia, including the narrative that the U.S. funded biological weapons in laboratories in Ukraine.
The Jamestown Foundation has invited several leading analysts to examine the PRC's amplification of key themes in Russian disinformation and propaganda messaging regarding the war in Ukraine.
---
Featuring
John Dotson
Deputy Director, Global Taiwan Institute
Kseniya Kirillova
Investigative Journalist and Analyst
Matej Šimalčík
Executive Director, Central European Institute of Asian Studies
Moderator
John S. Van Oudenaren
Editor-in-Chief, China Brief; China Program Manager, The Jamestown Foundation
---
Participant Biographies 
John Dotson is Deputy Director at the Global Taiwan Institute (GTI). Previously, he was editor of the Jamestown Foundation's China Brief. Mr. Dotson has performed extensive writing and research on a range of political and national security issues related to U.S. policy in East Asia, including Chinese propaganda and influence efforts, military-civil fusion efforts within the People's Liberation Army, and patterns in military coercion efforts directed against Taiwan. Mr. Dotson holds an M.A. in National Security Studies from the U.S. Naval War College, and a Master of International Public Policy from Johns Hopkins-SAIS.
Kseniya Kirillova is an investigative journalist and analyst focused on analyzing Russian society and mechanisms of action of Russian propaganda (including in the U.S.) along with Russian "soft power," "active measures," and foreign policy. Ms. Kirillova is the author of several hundred articles, including research on Russian propaganda and soft power for the Atlantic Council, the British Institute for Statecraft (The Integrity Initiative project), Homeland Security Today (US), EU Today, the British-Canadian security project Defense Report, Ukrainian English-language media Kyiv Post and Euromaidan Press, Stop Fake project, Radio Free Europe/Radio Liberty (RFE/RL), and others. While living in Russia, she worked as a journalist for the largest Ural media holding Ural Worker (2008-2010) and the Ural branch of Novaya Gazeta (2011-2013).
Matej Šimalčík is the Executive Director of the Central European Institute of Asian Studies, a think tank that focuses on foreign and security policy issues related to East Asia. Mr. Šimalčík's research looks at China's economic and political presence and influence in Central Europe, elite relations as well as the role of European legal instruments in dealing with China. He has a background in law (Masaryk University) and International Relations (University of Groningen).