Video Now Available – A Ceasefire Is Not Peace: Defining Defeat and Victory in Ukraine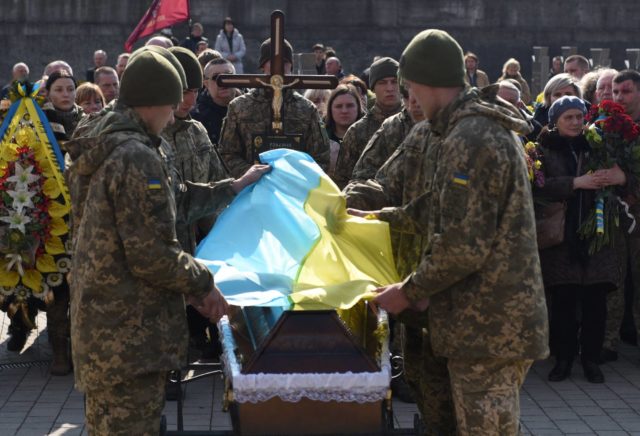 On present trends, Ukraine is losing the war against the invader Russia, notwithstanding the Ukrainian nation's and army's  inspiring heroism. Every passing day of the war inflicts more losses on Ukraine's economy, its civilian and military infrastructure, and its population.  Russian forces have seized additional, large chunks of Ukrainian territories. Nevertheless, the Ukrainian army can still roll back the enemy and win the war with adequate levels of Western support, including heavy offensive weaponry and training of Ukrainian personnel. Unless such support is delivered without further delay, an exhausted Ukraine would be forced to accept an armistice on Russian-imposed terms. The ongoing "peace" negotiations with Russia already point in that direction.
Even if Ukraine holds the now-existing front lines, the outward impression of a military stalemate is misleading because the front lines cut across Ukraine's own territory.  A ceasefire-in-place would allow Russian forces to entrench in the newly occupied territories, and Russia could use that military fait accompli to extort far-reaching political concessions from Ukraine. In this situation, military stalemate does not spell a balanced political compromise but means Ukraine's defeat and even de facto partition along existing front lines. An armistice in present conditions could amount  to a Minsk Three, but on a grand scale. This would, moreover, signify a triumph of Putin's Russia over the West writ large.
The United States and NATO allies can turn the situation around by enabling Ukraine to fight the West's and Ukraine's battle, which is one and the same battle. Ukraine's resolve offers the West this one-time chance to defeat Putin's Russia.
Key Takeaways
Victory for Ukraine is synonymous with victory for NATO and the West. A defeat for Ukraine, means defeat for NATO and the West.
Ukrainian victory requires complete non-interference by Russia in Ukraine's domestic and foreign affairs. To achieve this or any other political victory, Ukraine must first achieve military victory, for the former can only follow the latter. It is, thus, crucial for the West to sufficiently arm and support Ukraine to allow its Armed Forces to win on the battlefield.
Military success for Ukraine must mean pushing all Russian forces off of its territory, at first back to the pre-February 24 positions, but ultimately all the way to the other side of the state border.
For Ukraine, there can only be victory; the alternative is failure to exist any longer as a sovereign, independent state. In this sense, the greatest short-term threats are a ceasefire or armistice with Russian forces still in control of Ukrainian territory and a line of control bisecting the country. Russian-controlled territory will be a dangerous bargaining chip for Moscow. And even if Russia agrees to ultimately withdraw, it will first establish new breakaway governments and paramilitary formations in those seized areas, setting a longer-term trap for Ukraine.
Ukrainian offers of accepting military neutrality but "guaranteed" by a group of treaty-obligated countries, including Russia, is a naive delusion.
A perilous contradiction exists between what satisfactory short- and medium-term results look like for Ukraine and what many Western leaders might be tempted to tolerate for the sake of stopping the violence, including first and foremost de facto permitting Russia to hold on to the territory it gained.
History demonstrates (eg., Poland in 1920, and Finland in 1940/1944) that a sound repulsion of Russian military aggression prevents further attempts of encroachment by Moscow for at least a generation.
Russian aims are to force Ukraine into signing a treaty that effectively and asymmetrically limits Ukraine's sovereignty. It wants and expects President Volodymyr Zelenskyy, who has acquired enormous admiration and respect at home and abroad, to accept these unfavorable treaty terms and sell them domestically and internationally. This would effectively be a "Minsk, Three" but on a much grander scale.
Any prospects of the United States resuming its "pivot to Asia" focus requires that Russia first be defeated, even if the war is helping undermine China-Russia relations.
---
Featuring
Vladimir Socor
Senior Fellow, The Jamestown Foundation
Andrei Illarionov
Russian economist and former advisor (2000-2005) to President Vladimir Putin
Moderator
Margarita Assenova
Senior Fellow, The Jamestown Foundation
---
Participant Biographies
Margarita Assenova is a Senior Fellow at The Jamestown Foundation. She is a regular contributor to the Jamestown publication Eurasia Daily Monitor on political and energy security developments in Europe and Eurasia. She is also  Course Chair (contractor) for Eastern European and Caucasus Advanced Area Studies at the Foreign Service Institute, U.S. Department of State. Assenova is a recipient of the John Knight Professional Journalism Fellowship at Stanford University for her reporting on nationalism in the Balkans. Her latest books include Eurasian Disunion: Russia's Vulnerable Flanks (The Jamestown Foundation, 2016), a critical study on Russian subversion in Europe, Eurasia and Central Asia, co-authored with Janusz Bugajski, and the edited volume Azerbaijan and the New Energy Geopolitics of Southeastern Europe  (The Jamestown Foundation, 2015). She also authored the reports "Nord Stream 2: Myths, Reality, and the Way Forward" (CEPA, 2018) and "Bulgaria's Ambitions for a Balkan Gas Hub" (Jamestown Foundation, 2018).
Andrei Illarionov is Senior Fellow of the Center for Security Policy (Washington), President of the Institute of Economic Analysis (Moscow), and Head of the Program at the Ukrainian Institute for the Future (Kyiv). Dr. Illarionov was Chief Economic Advisor to Russia's President Vladimir Putin as well as advisor to Russia's Prime Ministers Yegor Gaidar and Victor Chernomyrdin. Dr. Illarionov was a leading author of the economic strategy that brought Russia 7% annual average economic growth that doubled Russia's GDP and more than doubled the income of the population within a decade. Under his leadership as a Russian Sherpa in the G-8, Russia became a full-fledged member of the G-8 club.
Vladimir Socor is a Senior Fellow of the Washington-based Jamestown Foundation and its flagship publication, Eurasia Daily Monitor (1995 to present), where he writes analytical articles on a daily basis. An internationally recognized expert on former Soviet-ruled countries in Eastern Europe, the South Caucasus, and Central Asia, he covers Russian and Western policies there, focusing on energy policies, regional security issues, secessionist conflicts, and NATO policies and programs.
Mr. Socor is a frequent speaker at U.S. and European policy conferences and think-tank institutions. He is a regular guest lecturer at the NATO Defense College and at Harvard University's National Security Program's Black Sea Program (Kennedy School of Government). He is also a frequent contributor to edited volumes. Mr. Socor was previously an analyst with the Radio Free Europe/Radio Liberty Research Institute (1983–1994). He is a Romanian-born citizen of the United States based in Munich, Germany.