Watch the Video: China, Europe and Ukraine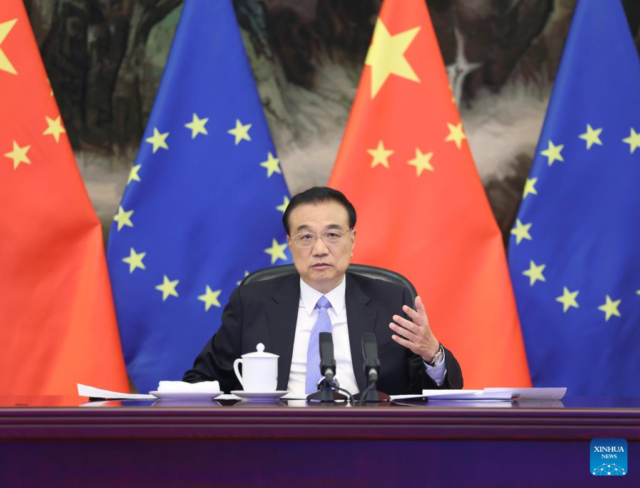 On Thursday, April 7 , the Jamestown Foundation hosted a webinar on China, Europe and Ukraine.
The continuing war in Ukraine was the main focus of last Friday's China-European Union virtual summit. Neither party is directly involved in the conflict, but both have enormous interests at stake. At the summit, European leaders pressed China to remain neutral and to desist from actively assisting Russia. They also warned Beijing, which has sought to sustain normal economic relations with Moscow, not to interfere with international sanctions targeting Russia. Nevertheless, some in Europe continue to express guarded optimism that China can play a role in mediating the conflict akin to Turkey or Israel.
In his summit remarks, Premier Li Keqiang told EU leaders that China would seek to advance peace in "its own way," which is consistent with past statements by Chinese leaders that stress the need for peaceful resolution of the conflict. At the same time, Beijing has reaffirmed its commitment to its strategic partnership with Moscow. In an early March press conference, Foreign Minister Wang Yi stated that Russia is China's "most important close neighbor and strategic partner." In his March 30 meeting with Russian Foreign Minister Sergei Lavrov, Wang hailed efforts to advance bilateral cooperation to "higher levels." Chinese official pronouncements have also echoed the Kremlin's claims that NATO and the U.S. bear much of the responsibility for the current situation.
In light of these developments, the Jamestown Foundation invited several leading analysts to examine how the Russia-Ukraine war will continue to impact relations between China and Europe, and to discuss whether Beijing will play a constructive or destabilizing role in European affairs moving forward.
---
Featuring
Helena Legarda
Lead Analyst, Mercator Institute for China Studies (MERICS)
Otto Tabuns
Director, Baltic Security Foundation; Lecturer, Riga Graduate School of Law
Alicia García-Herrero
Senior Research Fellow, Bruegel; Chief Economist for Asia Pacific, NATIXIS
Moderator
John S. Van Oudenaren
Editor-in-Chief, China Brief; China Program Manager, The Jamestown Foundation
---
Participant Biographies 
Helena Legarda coordinates research in the Foreign Relations team at the Mercator Institute for China Studies (MERICS) in Berlin, Germany. She is also a joint lead on the China Security Project, in collaboration with the International Institute for Strategic Studies. Prior to joining MERICS, Ms. Legarda held positions at the Delegation of the European Union to China and at China Policy, a Beijing research and advisory firm. She holds a Master in Public Policy the Harvard Kennedy School of Government and a BA in Chinese Studies from the University of Oxford. She also studied Chinese language at Peking University.
Otto Tabuns is the founding director of the Baltic Security Foundation. He is the co-editor of two books including Baltic Sea Security: Regional and Security Perspectives (Jamestown Foundation, 2019). He is also the author of several publications on national and regional security, and is a lecturer of international security and policy debate at the Riga Graduate School of Law. Additionally, Mr. Tabuns is the permanent co-host of the Latvia Weekly broadcast in English on current affairs in his country.
Alicia García-Herrero is a Senior Research Fellow at Bruegel and an Adjunct Professor at Hong Kong University of Science and Technology. She is also Chief Economist for Asia Pacific at NATIXIS and a non-resident fellow at the East Asia Institute of the National University of Singapore. Dr. García-Herero previously worked as an economist in the field of emerging markets for several banks. She holds a PhD from George Washington University and has published extensively on economic issues.
---