U.S. Relations with Central Asia after 2014 and the New Silk Road: Regional Integration, Trade and Economic Prospects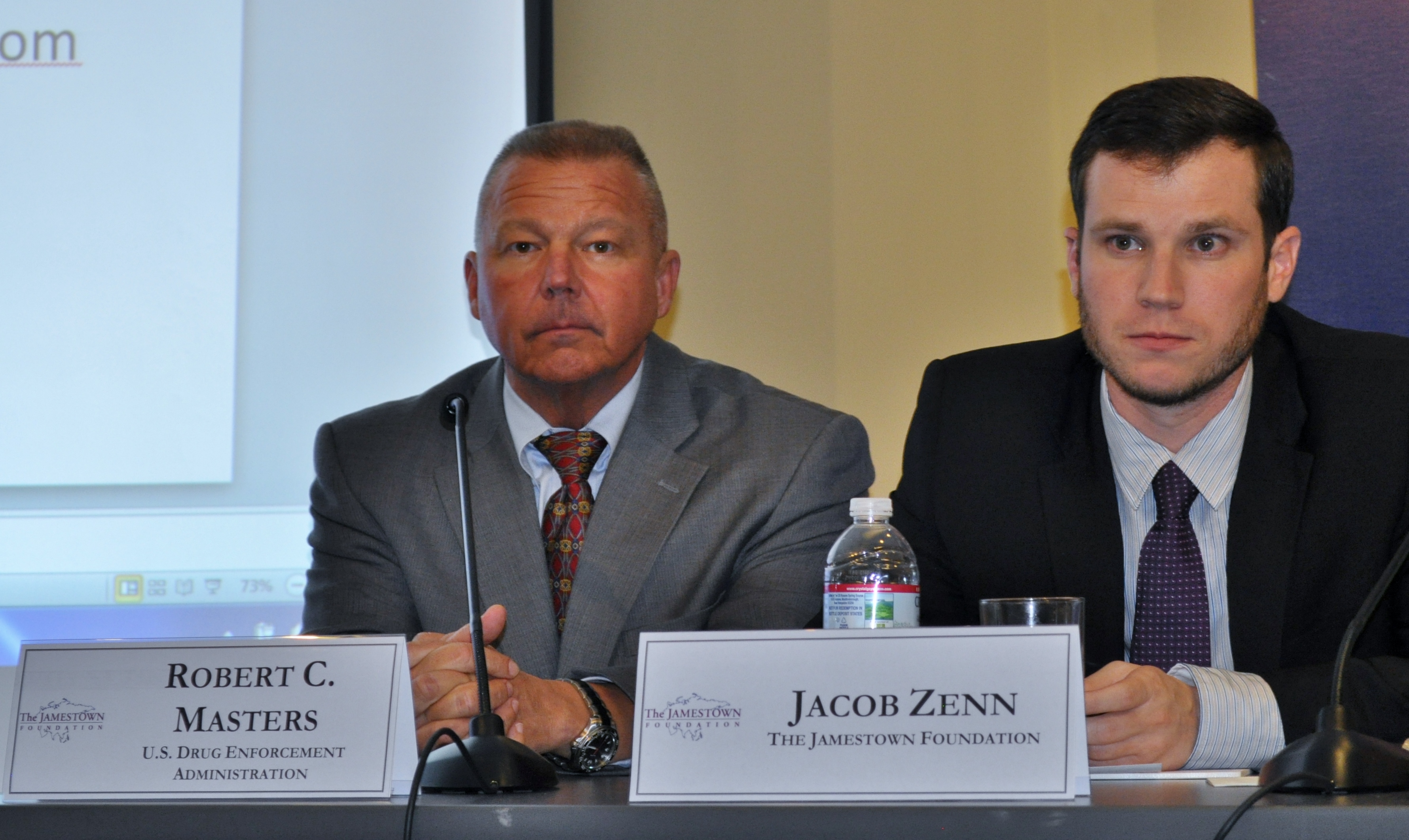 The Jamestown Foundation cordially invites you to attend a conference highlighting the challenges to Central Asia, U.S. strategic interests in the region, the prospects of the New Silk Road, the role of international actors and the need for continuing U.S. engagement in the region.

Friday, October 25, 2013
9:00 A.M.–4:00 P.M.
Root Conference Room
Carnegie Endowment for International Peace
1779 Massachusetts Avenue, N.W.
Washington, D.C. 20036
*Full streaming video of this conference is now available to watch by clicking here.
**Please scroll down to download selected PowerPoint presentation from the conference.
agenda
Breakfast and Registration
8:30 A.M.–9:00 A.M.

* * *

Introduction
9:00 A.M.–9:45 A.M.
Glen E. Howard
President, The Jamestown Foundation
Opening Keynote Address
Ambassador Kairat Umarov
Ambassador of Kazakhstan to the United States

"Cyrano's Retreat: The U.S., Afghanistan and Central Asia"
S. Frederick Starr
Chairman, Central Asia–Caucasus Institute and Silk Road Studies Program

* * *

Panel I – The New Silk Road: Economic Development and Trade
9:45 A.M.–11:15 A.M.
"Economic Development of the Central Asian States"
Sergei Gretsky
Professorial Lecturer, The George Washington University

"Energy Corridors and Energy Security"
Vladimir Socor
Senior Fellow, The Jamestown Foundation

"Transportation Corridors in Central Asia and ADB's Role"
Craig Steffensen
Representative, North American Office, Asian Development Bank (invited)
"Tax Systems and Investment Climate"
Daniel Witt
President, International Tax and Investment Center

Moderator: William C. Veale
First Executive Director, U.S.-Kazakhstan Business Association

Q & A

* * *

Break
11:15 A.M.–11:30 A.M.
* * *

Panel II – The Role of International Actors and Institutions
11:30 A.M.–1:00 P.M.

"Water Security and Regional Cooperation"
Ranjit Lamech
Sector Manager for Energy in the Europe and Central Asia Region, The World Bank
"Russia, China and U.S. Policy in Central Asia"
Stephen Blank
Senior Fellow, American Foreign Policy Council
"China's Inadvertent Empire"
Alexandros Petersen
Co-Editor, ChinainCentralAsia.com

"Balancing the East and the West: Kazakhstan's Multi-Vector Foreign Policy"
Richard Weitz
Director, Center for Political-Military Analysis, Hudson Institute

Moderator: Ambassador William Courtney (TBC)
Former U.S. Ambassador to Kazakhstan

Q & A

* * *
Luncheon Keynote Address and Discussion
1:00 P.M.–2:15 P.M.
Lynne M. Tracy
Deputy Assistant Secretary of State for South and Central Asian Affairs
Q & A


* * *
Panel III – Regional Security After NATO's Withdrawal from Afghanistan
2:15 P.M.–3:45 P.M.

"Afghanistan and U.S. Policy on Central Asia"
David Sedney
Former Deputy Assistant Secretary of Defense for Afghanistan, Pakistan,
and Central Asia

"Practical Aspects of U.S.–Central Asian Security Cooperation"
Lieutenant Colonel Robert Schaefer
U.S. Army Special Forces,
Chief, Central and South Asia Branch, Army Central Command


"Political and Social Challenges to Central Asia after 2014"
Margarita Assenova
Director of Programs for the Balkans, Caucasus & Central Asia,
The Jamestown Foundation
"Terrorism and Islamic Extremism"
Jacob Zenn
Analyst, The Jamestown Foundation
"International Anti-Drug Cooperation"
Robert C. Masters
Incoming DEA Country Attache at the U.S. Embassy in Tajikistan,
U.S. Drug Enforcement Agency
Q & A

* * *

Closing Comments
3:45 P.M
PARTICIPANT BIOGRAPHIES

Margarita Assenova
Margarita Assenova is Director of Programs for the Balkans, the Caucasus and Central Asia at The Jamestown Foundation. She is a regular contributor to the Jamestown publication Eurasia Daily Monitor on political and energy security developments in the Balkans and Central Asia. She is also the Chair (contract) of Southeast Central Europe Area Studies at the Foreign Service Institute, U.S. Department of State. Assenova is a recipient of the John Knight Professional Journalism Fellowship at Stanford University for her reporting on nationalism in the Balkans. Her articles appeared in U.S. and European newspapers, magazines, and online publications. Assenova authored book chapters and journal articles on security, energy, and democracy published by CSIS Press, Brassey's, Freedom House, Bertelsmann Foundation Publishers, and University of New Haven. She has delivered presentations and papers to conferences and panels in the U.S., UK, Bulgaria, Romania, Serbia, Croatia, Albania, Israel, Germany, Uzbekistan, and Kazakhstan.
Stephen Blank
Stephen Blank is a Senior Fellow at the American Foreign Policy Council in Washington. From 1989–2013 he was a Professor of Russian National Security Studies at the Strategic Studies Institute of the U.S. Army War College in Pennsylvania. Dr. Blank has been Professor of National Security Affairs at the Strategic Studies Institute since 1989. In 1998-2001 he was Douglas MacArthur Professor of Research at the War College.
He has published over 900 articles and monographs on Soviet/Russian, U.S., Asian, and European military and foreign policies, testified frequently before Congress on Russia, China, and Central Asia, consulted for the CIA, major think tanks and foundations, chaired major international conferences in the USA and abroad In Florence, Prague, and London, and has been a commentator on foreign affairs in the media in the United States and abroad. He has also advised major corporations on investing in Russia and is a consultant for the Gerson Lehrmann Group
He has published or edited 15 books focusing on Russian foreign, energy, and military policies and on International Security in Eurasia. His most recent book is Russo-Chinese Energy Relations: Politics in Command, London: Global Markets Briefing, 2006. He has also published Natural Allies?: Regional Security in Asia and Prospects for Indo-American Strategic Cooperation, Carlisle Barracks, PA: Strategic Studies Institute, US Army War College, 2005.
Dr. Blank is also the author of a study of the Soviet Commissariat of Nationalities, The Sorcerer as Apprentice: Stalin's Commissariat of Nationalities, Greenwood Publishing Group, 1994 and the co-editor of The Soviet Military and the Future, Greenwood Publishing Group, 1992.
Prior to this appointment Dr. Blank was Associate Professor for Soviet Studies at the Center for Aerospace Doctrine, Research, and Education of Air University at Maxwell AFB. He also held the position of 1980-86: Assistant Professor of Russian History, University of Texas, San Antonio, 1980-86, and Visiting Assistant Professor of Russian history, University of California, Riverside, 1979-80.
Dr. Blank's M.A. and Ph.D. are in Russian History from the University of Chicago. His B.A is in History from the University of Pennsylvania.
Ambassador William Courtney
William Courtney is director of strategy and development for Computer Sciences Corporation (CSC). He was senior vice president for national security programs at DynCorp from 2000 until CSC acquired it in 2003. Prior to retiring from the Foreign Service, he was co-chair of the US delegation to the review conference of the Organization for Security and Cooperation in Europe which prepared for its 1999 summit in Istanbul. He was an adviser on the 1999 reorganization of foreign affairs agencies, special assistant to the president for Russia, Ukraine, and Eurasia, and ambassador to Kazakhstan and Georgia. He led negotiations to eliminate strategic nuclear weapons in Kazakhstan, and to remove a large cache there of highly enriched uranium (project sapphire). Earlier he headed the US delegation to the implementation commission of the Threshold Test Ban Treaty, and co-chaired the US delegation in initial talks with the USSR and Russia on nuclear weapons safety, security, and dismantlement. It helped pave the way for the Nunn-Lugar cooperative threat reduction program. He graduated from West Virginia University with a B.A. and Brown University with a Ph.D. in economics, and was an international affairs fellow at the Council on Foreign Relations. He is a member of the Council, the American Academy of Diplomacy, and the board of directors of the World Affairs Council of Washington, DC.
Sergei Gretsky
Dr. Sergei Gretsky is a Professorial Lecturer at the Elliott School of International Affairs and Member of the Central Asia Program, George Washington University. He is also the Chair (contract) of Central Asian Area Studies at the Foreign Service Institute, U.S. Department of State. Dr. Gretsky is the author of Russia's Policy Toward Central Asia and of a number of book chapters and articles in English, Russian, and Tajik on economic development, Islam, domestic and foreign policy issues of Central Asian states. He is a member of the advisory board of the Central Asia and the Caucasus Journal (Sweden). In 1994-97, he participated as an advisor at the U.N.-mediated intra-Tajik peace talks.
Ranjit Lamech
Ranjit Lamech is the Sector Manager for Energy in the Europe and Central Asia Region. Before taking on his current position, he was a Sector Leader in the World Bank's East Asia and Pacific Region's Energy and Transport Operations Unit. He has held varied operational and corporate positions in the energy and infrastructure sectors since he joined the World Bank in 1992. Ranjit began his professional career in the energy sector in 1985 with the Tata Electric Companies in Bombay, India. He has an MS in mechanical engineering from Stanford University and an MPA from the Kennedy School of Government at Harvard University.
Robert C. Masters
SC Robert Masters served as a police officer in Savannah, Georgia, for eight years, where his primary duties were in drug investigations. SC Masters was a Certified Police Instructor, Field Training Officer and Training Coordinator for fellow drug agents, and possessed an Advanced Law Enforcement Certification from the State of Georgia. In 1988, SC Masters obtained a Bachelor of Science degree in Criminal Justice from Armstrong State College. SC Masters has served in the Miami Division Office, the Islamabad Country Office, the Panama City Resident Office, the Fort Lauderdale District Office and the West Palm Beach Resident Office during which time he has been involved in a variety of investigations and programs. SC Masters has participated in several foreign undercover operations, including numerous international controlled deliveries and has overseen a variety of investigations which targeted high level significant violators. SC Masters has consistently maintained a large number of collateral duties, including Seized and Recovered Monies Custodian, High Value Evidence Custodian, Security Officer, Clandestine Lab Coordinator, Technical Agent, and Drug Evidence Custodian which serves him well in his current position. SC Masters has served as a DEA Field Training Agent, Clandestine Lab Certified and Clandestine Lab Site Safety Officer. Through his experiences in these areas, SC Masters has become competent and knowledgeable about DEA policies and procedures. He is highly versed in both administrative and enforcement procedures that are required in performing the duties of a GS-1811-14. SC Masters has served on numerous occasions as a Headquarters Guest Inspector for Divisional, District and Resident Offices. SC Masters was recently selected to serve as DEA's Country Attaché for the U.S. Embassy Dushanbe, Tajikistan.
Alexandros Petersen
Dr. Alexandros Petersen is Co-Editor of ChinainCentralAsia.com and an Advisor at the Woodrow Wilson International Center for Scholars. He just concluded a multi-year on-the-ground study of Chinese influence across the Eurasian continent. Dr. Petersen is the author of The World Island: Eurasian Geopolitics and the Fate of the West. He has been a Senior Fellow for Eurasia and Fellow for Transatlantic Energy Security at the Atlantic Council, a Visiting Fellow with the Russia and Eurasia Program at the Center for Strategic and International Studies (CSIS), and has provided research for the National Petroleum Council's Geopolitics and Policy Task Group.
Dr. Petersen regularly provides analysis to publications such as The Economist, New York Times, Wall Street Journal, Foreign Affairs, Foreign Policy, National Interest and The Atlantic. He has appeared on the BBC, Sky News, CTV and NPR, and has taught classes on energy geopolitics at the U.S. Foreign Service Institute, the U.S. National War College and the American University of Central Asia, amongst many others. He received a B.A. in War Studies with First Class Honors from King's College London and an M.Sc. and Ph.D. in International Relations from the London School of Economics.
Robert W. Schaefer
Lieutenant Colonel Robert W. Schaefer manages a team of military and civilian specialists covering Afghanistan, Kazakhstan, Kyrgyzstan, Pakistan, Turkmenistan, Tajikistan, Uzbekistan, and the Northern Arabian Sea. He is responsible for developing, coordinating and implementing CENTCOM's Land Forces Theater Security Cooperation plans for the region in order to build partner capacity and improve the regional security environment. LTC Schaefer oversees the development of country plans, policies, training and exercises designed to further U.S. strategic goals, and he is responsible for establishing and maintaining relationships with senior-level government and military leaders in each country. He serves as a principal advisor to the Commanding General on regional issues such as the CSTO, Russia and Russian military developments, as well as key defense, land forces, border security, and special operations for all countries in the region. He regularly serves as a consultant to major media outlets, industry, universities, and government agencies.
LTC Schaefer is an Army Special Forces officer (Green Beret) and senior international defense expert with over 27 years of experience working with foreign defense and military officials. He is a contributor to several edited volumes and author of The Insurgency in Chechnya and the North Caucasus, From Gazavat to Jihad, named to the "Top 150 Books on Terrorism and Counterterrorism" and Kirkus Review's "Best of 2011," and winner of three national awards for current events. He is a Russian Security Consultant / Commentator for the 2014 Winter Olympics in Sochi, Russia, as part of the NBCUniversal coverage team; and he regularly consults for major media organizations (BBC, CNN, NPR, others), private industry, universities, and government agencies. He serves on the Editorial Board for the Caucasus Survey (a peer-reviewed professional journal).
David Sedney
David Sedney was Deputy Assistant Secretary of Defense for Afghanistan, Pakistan and Central Asia in the Office of the Assistant Secretary of Defense for Asian and Pacific Security Affairs from 2009-2013 and Deputy Assistant Secretary of Defense for East Asia from 2007-2009. He served as Deputy Chief of Mission at the U.S. Embassy in Beijing from 2004-2007. From 2003-2004 Sedney was Deputy Chief of Mission at the U.S. Embassy in Kabul, where he was Charge d'Affaires from August-November 2003. Sedney was also Deputy Chief of Mission in Kabul in 2002, after the re-opening of the embassy. He is a graduate of Princeton University and Suffolk University School of Law. He has received the Secretary of Defense Medal for Meritorious Civilian Service, the Department of State's Superior Honor Award six times, and Department of State's Meritorious Honor Award twice. He attended Louisiana State University's School of Law where he studied Law of the Sea and International Law. Sedney is a distinguished graduate of the National War College.
Vladimir Socor
Vladimir Socor is a Senior Fellow of the Washington-based Jamestown Foundation and its flagship publication, Eurasia Daily Monitor (1995 to present), where he writes analytical articles on a daily basis. An internationally recognized expert on former Soviet-ruled countries in Eastern Europe, the South Caucasus, and Central Asia, he covers Russian and Western policies there, focusing on energy policies, regional security issues, secessionist conflicts, and NATO policies and programs.
Mr. Socor is a frequent speaker at U.S. and European policy conferences and think-tank institutions. He is a regular guest lecturer at the NATO Defense College and at Harvard University's National Security Program's Black Sea Program (Kennedy School of Government). He is also a frequent contributor to edited volumes. Mr. Socor was previously an analyst with the Radio Free Europe/Radio Liberty Research Institute (1983–1994). He is a Romanian-born citizen of the United States based in Munich, Germany.
S. Frederick Starr
Dr. S. Frederick Starr is Chairman of the Central Asia-Caucasus Institute and Silk Road Studies Program. He is a Research Professor at the Paul H. Nitze School of Advanced International Studies, Johns Hopkins University. Dr. Starr for several years served as Rector Pro Tem of the University of Central Asia, and is a Trustee of the Eurasia Foundation. Prior to founding the Central Asia-Caucasus Institute, he served as founding Director of the Kennan Institute for Advanced Russian Studies 1974–79; as Vice-President for Academic Affairs at Tulane University in 1979–1982; as Scholar-in-Residence of the Historical New Orleans Foundation in 1982–83. He was appointed President of Oberlin College in 1983, a position he held for eleven years. In 1994–96, he served as President of the Aspen Institute. Dr. Starr served as an advisor on Soviet Affairs to President Reagan in 1985–86 and to President George H.W. Bush in 1990–92. Starr holds a Ph.D. in History from Princeton University, an M.A. from King's College, Cambridge University, and a BA from Yale University.
Craig Steffensen
Craig Steffensen has served as Representative to the Asian Development Bank's North American Representative Office (NARO) in Washington, DC since May 2013. He leads NARO's efforts to strengthen collaboration between ADB and leading policymakers, academic, public and private sector partners, think tanks, capacity-building institutions, and multilateral and bilateral development partners, and to raise public awareness of ADB in the US and Canada.
Mr. Steffensen was assigned as Country Director to ADB's Thailand Resident Mission from 2010 to 2013. During this time, he supported ADB's re-engagement with Myanmar. Prior to this, he was ADB's Country Director and Team Leader for Afghanistan (from 2001 to 2004 and again from 2008 to 2010), serving at the forefront of efforts by the international community to assist in Afghanistan's recovery and reconstruction. He was also assigned as Head, Central Asia Regional Economic Cooperation Unit, based in Almaty, Kazakhstan from 2005 to 2007, and prepared a comprehensive action plan for regional cooperation in transport, energy and trade in collaboration with eight Central Asian countries and five development partners. He has worked for the World Bank in Lao PDR and Washington DC; The Asia Foundation in Thailand and Cambodia; USAID in Thailand and Washington DC; and the US Peace Corps in the rural Philippines.
Mr. Steffensen holds a Master's degree in Development Economics from the University of Wisconsin-Madison, and a Bachelor's degree in Economics from Purdue University.
Lynne M. Tracy
Lynne Tracy is a career member of the Senior Foreign Service. She is currently the Deputy Assistant Secretary for Central Asia in the Bureau of South and Central Asian Affairs. Her last assignment was Director for Central Asia at the White House National Security Council. Since joining the State Department in 1994, Ms. Tracy's overseas assignments have been concentrated in Central and South Asia, with postings in Ashgabat as Deputy Chief of Mission (2010–2011), Peshawar as Principal Officer (2006–2009), Astana as Principal Officer (2004–2006), Kabul (2002–2003), Bishkek (1997–2000), and an earlier tour in Peshawar (1995–1997). Her Washington assignments include Kazakhstan Desk Officer (2003–2004), Georgia Desk Officer (2001–2002), and the Office of the Special Ambassador to the Newly Independent States (2000–2001). She is the recipient of the Secretary's Award for Heroism (2009) for her service in Peshawar and several Superior Honor Awards.
Ms. Tracy was born in Barberton, Ohio. She received a B.A. in Soviet Studies from the University of Georgia in 1986, and a law degree in 1994 from the University of Akron.

Ambassador Kairat Umarov
Dr. Kairat Umarov was appointed as the Ambassador by the President of Kazakhstan on January 4, 2013. Over his distinguished career in the foreign service, he has held various important posts at the Foreign Ministry and Presidential Administration, including Minister Counselor at the Kazakh Embassy in Washington D.C., Ambassador-at-Large at the Foreign Ministry, and Chief Inspector at the Foreign Policy Center of the Presidential Administration. From 2004 to 2009, he served as the Ambassador to India.
From 2009 to January 2013 he was a Deputy Foreign Minister overlooking bilateral relations with the United States, as well as Kazakhstan's engagement with international organizations, and he was responsible for raising international awareness about Kazakhstan. He co-chaired the Kazakhstan–United States Strategic Partnership Commission, the main bilateral cooperation mechanism, and served as a Sherpa for Kazakhstan at the Nuclear Security Summits in Washington, DC, and Seoul.
William C. Veale
William Veale is the first Executive Director of the U.S. Kazakhstan Business Association, formed in April 1999. Over the past 14 years he has more than tripled corporate membership and established the Association as a premier business organization for promoting interest and investment in Kazakhstan. He has spoken in Kazakhstan at World Economic Forum, Astana Economic Forum, Asia Society, and U.S.-Kazakhstan events, as well as at Kazakhstan-focused investment conferences, in London, New York, Washington, San Diego, Omaha, and Kansas City. A retired American diplomat and Army officer, Mr. Veale served as a Foreign Service Officer with the Department of State from 1971-1998, and had assignments covering counter-proliferation assistance, international space cooperation, Burma, Cold War-era Berlin, economic-commercial work in France, arms control, and political-military, Soviet, and African affairs. He also taught political science at the U.S. Air Force Academy. His earlier military service from 1964 to 1969 included Germany, and Vietnam during the war there. Born in Washington, DC, Mr. Veale holds MSFS and BSFS degrees from Georgetown University. He is married and has four adult children.
Daniel A. Witt
Daniel A. Witt has been working to promote free markets and helping to lower the barriers to tax, trade, and investment in transition economies for nearly 30 years. Being among the first foreigners to discuss international tax and investment issues with the Russian Federation (1991), Kazakhstan (1993), Vietnam (1996), Iraq (2004), Libya (2006), and Myanmar (2012), Mr. Witt is a recognized expert in newly opened-up frontier markets. He is the President of the International Tax and Investment Center (ITIC), which he helped found in September 1993. ITIC has offices in Washington, DC, Russia, Kazakhstan, Azerbaijan, Ukraine, the Philippines, United Arab Emirates, Iraq, Thailand, Myanmar, and the United Kingdom.
Mr. Witt is the co-founder of the Asia-Pacific Tax Forum, Eurasia Fiscal Experts' Seminar, Middle East/North Africa (MENA) Tax Forum, and the Africa Tax Forum that annually bring together hundreds of government officials and legislators with industry representatives, academics, and other experts to propose tax and investment climate reforms.
Previously, Mr. Witt was Executive Director of the Tax Foundation, the oldest tax and budget research organization in the United States. Earlier, Mr. Witt was Vice President and Director of Membership with Citizens for a Sound Economy, a 250,000-member Washington-based public interest group. He also served as a consultant to President Reagan's Commission on Privatization.
Mr. Witt currently serves as Vice Chairman of the Board of Trustees of the Eurasia Foundation. He also serves on the Council Executive Board of the Boy Scouts of America in Washington, DC and used to be the District Chairman of the organization. He is a Director of the Hermitage Museum Foundation. Mr. Witt received a BBA (magna cum laude) in public administration and an MBA in finance from Western Michigan University.
Richard Weitz
Richard Weitz is Senior Fellow and Director of the Center for Political-Military Analysis at Hudson Institute. His current research includes regional security developments relating to Europe, Eurasia, and East Asia. Dr. Weitz is also an Expert at Wikistrat and a non-resident Senior Fellow at the Center for a New American Security (CNAS). He has published or edited several books and monographs, including Global Security Watch-China (2013), two volumes of National Security Case Studies (2012 and 2008); War and Governance: International Security in a Changing World Order (2011); The Russian Military Today and Tomorrow (2010); Global Security Watch-Russia (2009); China-Russia Security Relations (2008); Kazakhstan and the New International Politics of Eurasia (2008); Mismanaging Mayhem: How Washington Responds to Crisis (2008); The Reserve Policies of Nations: A Comparative Analysis (2007); and Revitalising U.S.–Russian Security Cooperation: Practical Measures (2005).
Jacob Zenn
Jacob Zenn is an analyst of Eurasia for the Jamestown Foundation, a consultant on countering violent extremism, and a legal adviser with specialization in international law on freedom of association. Mr. Zenn provided Congressional Testimony in February 2013 on Islamist Militant Threats to Eurasia.
Mr. Zenn earned a J.D. from Georgetown Law, where he was a Global Law Scholar, and a graduate degree in International Affairs from the Johns Hopkins School of Advanced International Studies Center for Chinese-American Studies in Nanjing, China. He has also studied at Korea University in Seoul, Korea, Samarkand State University in Samarkand, Uzbekistan, and the London School in Bishkek, Kyrgyzstan, and speaks Mandarin Chinese, Uighur, Russian, Arabic and Persian.
His research focuses on militant movements in Central Asia, including the Uighur-led Turkistan Islamic Party; the Islamic Movement of Uzbekistan (IMU) and its internationalist offshoot, the Islamic Jihad Union; Salafist groups in Western Kazakhstan and their connections to the North Caucasus, Tatarstan and the Afghanistan-Pakistan border region; and Hizb ut-Tahrir in Central Asia, with a focus on its activities in Kyrgyzstan.