Azerbaijan and the Southern Gas Corridor to Europe: Implications for U.S. and European Energy Security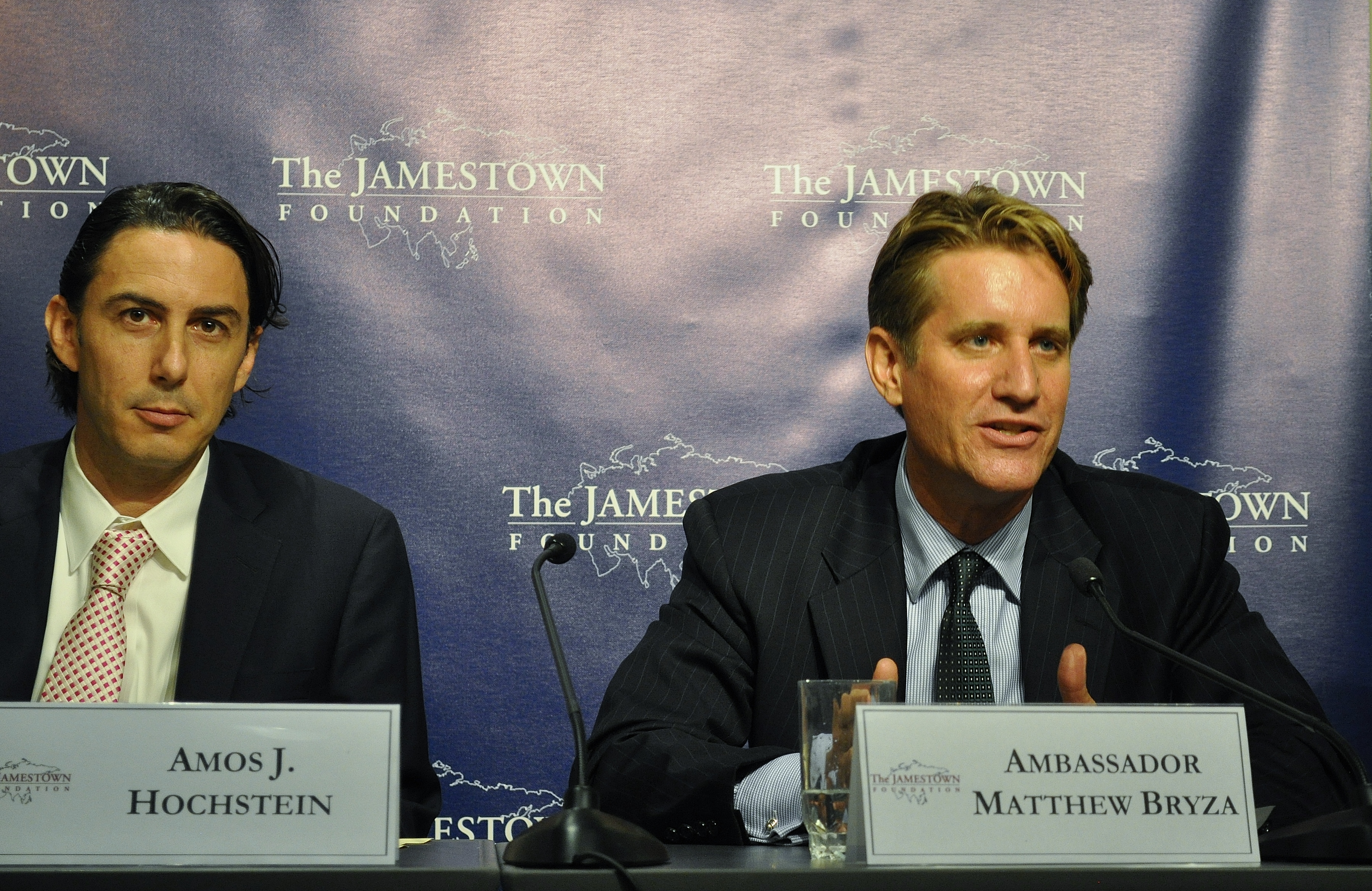 Friday, September 13, 2013
9:00 A.M.–12:30 P.M.
Carnegie Endowment for International Peace
Root Room
1779 Massachusetts Ave. N.W.
Washington, D.C. 20036
*To watch full video of this event, please click here.
**To download the free report of this conference, please click here.
AGENDA
Registration
8:30 A.M. to 9:00 A.M.
* * *
Opening Remarks
9:00 A.M.
Glen E. Howard
President, The Jamestown Foundation
* * *
Panel One
Azerbaijan, the EU and the Gas Corridor to Europe
9:10 A.M. to 10:30 A.M.
"Azerbaijan's TANAP Project:
Foundation of the Southern Corridor & New Developments"
Vladimir Socor
Senior Fellow, The Jamestown Foundation
"Southern Gas Corridor from SOCAR's Perspective"
Rauf Mammadov
Director, U.S. Representative Office of State Oil Company of Azerbaijan (SOCAR)
"Azerbaijan's Expanding Role in the Southern Gas Corridor"
Gulmira Rzayeva
Principal Research Fellow, Center for Strategic Studies
under the President of the Republic of Azerbaijan
Moderator: Alexandros Petersen
Advisor, European Energy Security Initiative (EESI) at the Woodrow Wilson Center
Q & A
* * *
Coffee Break
10:30 A.M. to 10:45 A.M.
* * *
Panel Two
The Trans-Adriatic Pipeline: Implications for Southeastern Europe
and the Eastern Mediterranean
10:45 A.M. to 11:45 P.M.
"Shah Deniz and the Southern Corridor: New Developments and Timelines"
Greg Saunders
Senior Director, International Affairs, BP
"The Southern Gas Corridor After the Trans-Adriatic Pipeline:
Implications for the Eastern Mediterranean"
Anthony Livanios
CEO, Energy Stream CMG GmbH
"Bulgaria's Political Upheaval and the Energy Politics in Southeastern Europe"
Margarita Assenova
Director of Programs for the Balkans, Caucasus & Central Asia, The Jamestown Foundation
Q & A
* * *
Closing Remarks
11:45 A.M. to 12:30 P.M.
"EU Energy Security and the Southern Gas Corridor"
Christian Burgsmüller
Head of the Energy, Transport and Environment Section,
European Union Delegation to the United States
"U.S. Perspectives on the Southern Corridor"
Amos Hochstein
Deputy Assistant Secretary for Energy Diplomacy,
US State Department, Bureau of Energy Resources
"TAP and the Southern Corridor: A Passive U.S. Policy Victory?"
Ambassador Matthew Bryza
Former U.S. Ambassador to Azerbaijan
Director, International Centre for Defense Studies,
Tallinn, Estonia
* * *

Conclusion and Lunch Served
12:30 P.M.
PARTICIPANT BIOGRAPHIES
Margarita Assenova
Margarita Assenova is Director of Programs for the Balkans, the Caucasus and Central Asia at The Jamestown Foundation. She is a regular contributor to the Jamestown publication Eurasia Daily Monitor on political and energy security developments in the Balkans. Ms. Assenova is a professional journalist with over 25 years of experience in print and broadcast media. She is a prominent expert on Central Asia and Kazakhstan and has spoken at numerous events on Central Asian integration. After working as a reporter and editor in Bulgaria from 1987 to 1997, she was awarded a John Knight Professional Journalism Fellowship at Stanford University for her reporting on nationalism in the Balkans. Her articles appeared in U.S. and European newspapers, magazines, and online publications, including RFE/RL's Newsline and Balkan Report, The Washington Times, The Moscow Times, The World and I, Transitions Online, Balkan Times, The Capital Weekly and Reason Magazine (Bulgaria), Internationale Politik (Germany), Essays in Arts & Sciences, World Finance Review Magazine (UK), and Future Prospects (UAE). Assenova authored book chapters on security, energy, and democracy published by CSIS Press, Brassey's, Freedom House, and Bertelsmann Foundation Publishers. She has delivered presentations and papers to conferences and panels in the U.S., U.K., Bulgaria, Romania, Serbia, Croatia, Albania, Israel, Germany, Uzbekistan, and Kazakhstan.
Matthew Bryza
Matthew Bryza is the Director of the International Center for Defence studies in Tallinn, Estonia, and a member of the Board of Directors of The Jamestown Foundation. He is also a Non-Resident Senior Fellow at the Atlantic Council of the United States. He resides in Istanbul, Turkey, where he also works as a consultant on business and democratic development and as a board member of several private companies.
Bryza just completed a 23-year career as a U.S. diplomat, over half of which he spent at the center of policy-making and international negotiations on major energy infrastructure projects and regional conflicts in Eurasia. His most recent assignment was as U.S. Ambassador to Azerbaijan from February 2011 to January 2012.
During 2005 to 2009, Ambassador Bryza served as Deputy Assistant Secretary of State for Europe and Eurasia, with responsibility for Eurasian Energy, the South Caucasus, Turkey, Greece and Cyprus. Ambassador Bryza simultaneously served as the U.S. Co-Chair of the OSCE's Minsk Group mediating the Nagorno-Karabakh conflict, and as U.S. mediator of the Cyprus, South Ossetia and Abkhazia conflicts.
During 2001 to 2005, Ambassador Bryza served in the White House as Director for European and European Affairs on the National Security Council Staff. His responsibilities included Eurasian energy, the South Caucasus, Central Asia, and political Islam in Eurasia.
Previous assignments include Deputy to the Special Advisor to the President and Secretary of State on Caspian Energy, Advisor on Economic Reform in the South Caucasus and Central Asia and Russia Desk Officer at the State Department; and Political Officer at the U.S. Missions to Russia (1995–97) and Poland (1989–91).
Christian Burgsmüller
Christian Burgsmüller is a career EU diplomat with the European External Action Service (EEAS). Since 2010, he has been serving as Counselor at the EU Delegation to the U.S. in Washington, DC, where he heads the Energy, Transport and Environment section.
Mr. Burgsmüller is a lawyer by training and joined the European Commission in Brussels in 2000. Over the following six years, he held posts both in the Commission's Directorate-General for Enterprise and Industry as well as in the Directorate-General for Trade. He finished his Brussels years as coordinator for EU-U.S. trade and investment relations. Continuing his career overseas, Mr. Burgsmüller headed the Political, Economic and Public Affairs section of the EU Delegation to Brazil in Brasilia from 2006 to 2010. He studied law in Freiburg im Breisgau, Geneva and Cologne, and holds a Ph.D. in constitutional law from the University of Cologne. He has been a visiting lecturer on EU and German politics at Sciences Po in Paris and the University of Sao Paulo.
Amos J. Hochstein
Amos J. Hochstein currently serves as the Deputy Assistant Secretary for Energy Diplomacy at the U.S. Department of State in the Bureau of Energy Resources (ENR). In this capacity, Mr. Hochstein oversees the Office of Middle East & Asia and the Office of Europe, the Western Hemisphere & Africa where he leads the bureau's energy diplomacy efforts. He oversees U.S. foreign policy engagement in the critical intersection of energy and national security. In this role, he focuses on promoting U.S. interests to ensure energy resources are used to increase economic opportunity, stability and prosperity around the world.
Prior to joining the State Department, Mr. Hochstein spent more than 15 years advising U.S. elected officials, candidates for public office and thought leaders on domestic and global energy policy initiatives. He began his career in Washington, D.C., on Capitol Hill where he served in a variety of senior level positions, ultimately serving as the Senior Policy Advisor to the Foreign Affairs Committee of the U.S. House of Representatives.
Mr. Hochstein first served as the principal Democratic staff person on the Economic Policy, Trade & Environment Subcommittee where he oversaw work authorizing Ex-Im Bank, OPIC and USTDA, as well as drafting legislation on export controls and trade-related multilateral organizations and regimes.
Mr. Hochstein served as Policy Director to Senator Chris Dodd (D-CT). Prior to his work with Sen. Dodd, he worked as a Senior Policy Advisor to Senator (then Governor) Mark Warner (D-VA).
Harnessing his experience in the policy, campaign and public sector, Mr. Hochstein moved to the private sector as Executive Vice President of International Operations at Cassidy & Associates. Throughout his career, he has been a sought-after counselor for both domestic and international oil and gas companies, as well as companies focusing on renewable energy. In this capacity, he assisted corporations in assessing potential new markets and the development of alternative sources of power and best strategies to bring them to market. Amos also serves on the board of several non-profit organizations.
Anthony Livanios
Anthony Livanios is the CEO of Energy Stream CMG GmbH, an international advisory firm in the oil and gas industry based in Frankfurt, Germany. He has over 20 years of experience in structuring, negotiating, and implementing oil and gas projects, intergovernmental agreements, pipeline negotiations, geopolitical risk assessments, and market intelligence. His experience includes providing advice on oil and gas project development agreements, shareholders and project sharing agreements. He has been advising oil majors, national oil companies, and oil independents on concessions, pipelines and LNG projects on investment strategies, establishment of joint ventures, privatization, and oil and gas infrastructure development. He has implemented energy projects in Eurasia and the Caspian region, the Persian Gulf and the Arab world, Europe and the United States.
He was Managing Director for LNG Trading at M&M Gas S.A. of the Motor Oil group, (2010–2011), President of Poseidon S.A., Offshore Natural Gas Greek-Italian Pipeline (2009–2010) achieving the agreement for the construction of the Greek-Bulgarian Natural Gas Pipeline (IGB). From 2000 to 2009, he was the CEO and founder of Alpha Metrics S.A., a company specializing on market intelligence, geopolitical risk analysis, media relations, and organization of exclusive international business and energy conferences. In 1994 he established American Research Inc., specializing in political risk analysis, public opinion research, and business to government relations.
From 1994 to date he has been appearing as a commentator on the geopolitics of oil and gas in Eurasia and the Eastern Mediterranean, on international media networks such as CNN, Reuters, Associated Press, Al Jazeera, and the Middle East News Agency, and newspapers such as The New York Times, Wall Street Journal, and Al Ahram.
Anthony Livanios holds a Master's Degree in International Political Economy from Columbia University, New York, N.Y. (1991), and a B.A. in Economics from the American University, Washington, D.C. (1988). He is fluent in German and Greek. He served as a Navy SEAL in the Hellenic Navy (1992–1994).
Rauf Mammadov
Rauf Mammadov spent six years working as a senior assistant to the CEO of SOCAR when the company launched the process of transforming from a national to an international oil company. After finishing high school in South Bend, Indiana, Mr. Mammadov graduated from Baku State University and completed an MBA at the State Economic University. Rauf Mammadov has been director of the SOCAR USA Office since its establishment in August, 2012. He is fluent in English and Russian, and studied Arabic for five years.
Alexandros Petersen
Dr. Alexandros Petersen serves as Advisor to the European Energy Security Initiative (EESI) at the Woodrow Wilson International Center for Scholars. A scholar of energy geopolitics, he has a decade's experience conducting research across Europe and Eurasia. Dr. Petersen is the author of The World Island: Eurasian Geopolitics and the Fate of the West and co-runs chinaincentralasia.com. He has been a Senior Fellow for Eurasia and Fellow for Transatlantic Energy Security at the Atlantic Council, a Visiting Fellow with the Russia and Eurasia Program at the Center for Strategic and International Studies (CSIS) and has provided research for the National Petroleum Council's Geopolitics and Policy Task Group.
Dr. Petersen regularly provides analysis to publications such as the Economist, New York Times, Wall Street Journal, Foreign Affairs, Foreign Policy, National Interest and the Atlantic. He has appeared on the BBC, Sky News, CTV and NPR and has taught classes on energy geopolitics at the U.S. Foreign Service Institute, the U.S. National War College and the American University of Central Asia, amongst many others. He received a B.A. in War Studies with First Class Honors from King's College London and an M.Sc. and Ph.D. in International Relations from the London School of Economics.
Gulmira Rzayeva
Ms. Gulmira Rzayeva is a principal research fellow at the Center for Strategic Studies (CSS) under the President of the Republic of Azerbaijan, visiting research fellow at the Oxford Institute of Energy Studies (OIES), and a non-resident scholar at Hazar Enstitutu (HASEN) based in Istanbul. Her area of expertise includes energy security, covering issues such as the energy policy of Azerbaijan, the Black Sea/Caspian region energy security, as well as the Turkish domestic natural gas market. As part of her engagements in the field of energy security, she has worked at the Moscow Carnegie Center as a visiting research fellow and Finish Aleksanteri Institute of the Helsinki University and lectured on the topic at the Universities of Helsinki, Jouensuu and Tampere. Her other engagements in this field include a fellowship awarded by the Central Asia–Caucasus Institute Silk Road Studies Program, a joint program of the Paul H. Nitze School of Advanced International Studies of Johns Hopkins University and the Stockholm-based Institute for Security and Development Policy, financed by the U.S.-based Rumsfeld Foundation. Over time she has participated as an invited speaker at a number of international conferences on energy security issues in Europe, the U.S. and Asia. Having a B.A. in international relations from the Baku Slavic University and an M.A. in Global Affairs from the University of Buckingham, U.K., Ms. Rzayeva has published several scholarly publications focusing on her area of expertise. She is a co-author of the report entitled "Strategic Imperative: Azerbaijani Gas Strategy and the EU's Southern Corridor" published at the SAM Review Journal of CSS and "Natural Gas in the Turkish Domestic Energy Market: Policies and Challenges" to be published at OIES in October.
Greg Saunders
Greg Saunders is the Senior Director, International Affairs, responsible for U.S. political and government relations in support of BP's global portfolio of commercial operations. He joined BP's Washington office in 2004.
Mr. Saunders was previously posted to BP's corporate headquarters in London and then to Algeria. Resident in Algiers, he served as the Director for Communications and External Affairs and was responsible for corporate responsibility, reputation/branding and relationship management programs for BP's extensive oil and gas operations in Algeria as well as its entry strategy in Libya.
Prior to joining BP, he culminated a career with the U.S. government with assignments in Asia, Africa, the Middle East and Europe. Mr. Saunders graduated from West Point with a Bachelor's Degree in Engineering. He has an MBA from George Washington University and an M.A. in International Relations from the Naval Postgraduate School. He is also a graduate of the French Ecole de Guerre in Paris. He speaks French and Portuguese.
Vladimir Socor

Vladimir Socor is a Senior Fellow of the Washington-based Jamestown Foundation and its flagship publication, Eurasia Daily Monitor (1995 to present), where he writes analytical articles on a daily basis. An internationally recognized expert on former Soviet-ruled countries in Eastern Europe, the South Caucasus, and Central Asia, he covers Russian and Western policies there, focusing on energy policies, regional security issues, secessionist conflicts, and NATO policies and programs.
Mr. Socor is a frequent speaker at U.S. and European policy conferences and think-tank institutions. He is a regular guest lecturer at the NATO Defense College and at Harvard University's National Security Program's Black Sea Program (Kennedy School of Government). He is also a frequent contributor to edited volumes. Mr. Socor was previously an analyst with the Radio Free Europe/Radio Liberty Research Institute (1983–1994). He is a Romanian-born citizen of the United States based in Munich, Germany.