The War for Northern Mali: Military Intervention and the Salafi-Jihadist State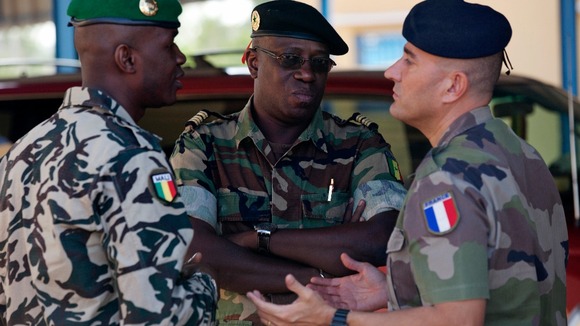 When what began as the latest in a string of Tuareg uprisings in northern Mali was usurped by radical Islamist movements last year, the international community witnessed what it had feared for many years – the creation of a Salafi-Jihadist state that could serve as a safe haven and operational base for al-Qaeda-connected terrorists and narco-traffickers. As the world watched, Islamist gunmen imposed their own version of Shari'a on those who were unable to flee to neighboring countries, destroyed much of the region's important Islamic heritage and carried out brutal punishments on those who defied their new order. As the Islamists began to push south in January, Paris decided it was time to launch a military intervention to eliminate this threat to a former colony with long-standing ties to France. This intervention quickly evolved into a multi-national operation to provide the French forces in northern Mali with military, logistical and surveillance assistance.
As combat operations continue, the Jamestown Foundation is pleased to present a discussion of three important aspects of the French-led military intervention. Jamestown's Dr. Andrew McGregor will discuss the tribal aspects of the war in Mali, Colonel Patrick de Vathaire will turn his considerable military experience to an examination of the response of the French forces to the crisis in Mali and M. Jean-François Pactet will analyze the political dimensions of the intervention. This event comes at a critical time as the struggle for northern Mali begins to present important implications for energy security, international military cooperation, regional security structures and counter-terrorism efforts.
* * *
Wednesday, April 10, 2013
3:30 PM – 5:30 PM
The Jamestown Foundation
1111 Sixteenth Street, N.W.
Seventh Floor Conference Room
*To view the full streaming video of the event, please click here.
Agenda
* * *
Welcome
Glen E. Howard
President, The Jamestown Foundation
* * *
Opening Remarks
Jean-Luc Marret
Senior Fellow, Fondation pour la Recherche Strategique (Paris)
& Center for Transatlantic Relations (SAIS)
***
"The Divided Land: The Tribal Element of the War in Mali"
Andrew McGregor
Senior Editor, Global Terrorism Analysis
Jamestown Foundation
"French Forces in West Africa and the Malian Crisis"
Colonel Patrick de Vathaire
Africa Center for Strategic Studies (ACSS)
National Defense University
"Coalition Building: The Lessons of the Mali Intervention"
Jean-François Pactet
Visiting Fellow, Europe Program
Center for Strategic and International Studies (CSIS)
* * *
Q & A
Participant Biographies
Jean-Luc Marret
Jean-Luc Marret is a Senior Fellow at Fondation pour la Recherche Strategique (Paris) and senior fellow in residence at the Center for Transatlantic relations (SAIS-Johns Hopkins University). He works on terrorism and political violence since the mid-1990s and has published several books and articles on these issues.
Andrew McGregor
Dr. Andrew McGregor is a Senior Editor for Jamestown's Global Terrorism Analysis program. He is also the Director of Aberfoyle International Security, a Toronto-based agency specializing in security issues related to the Islamic world. He received a Ph.D. from the University of Toronto's Department of Near and Middle Eastern Civilizations in 2000 and is a former Research Associate of the Canadian Institute of International Affairs. In October 2007, McGregor took over as managing editor of the Jamestown Foundation's Global Terrorism Analysis publications. He is the author of an archaeological history of Darfur published by Cambridge University in 2001 and publishes frequently on international security issues. His latest book is A Military History of Modern Egypt, published by Praeger Security International in 2006. McGregor provides commentary on military and security issues for newspapers (including the New York Times, USA Today, and The Financial Times), as well as making frequent appearances on radio (BBC, CBC Radio, VOA, Radio Canada International) and television (CBC Newsworld, CTV Newsnet, Foxnews and others).
Jean-François Pactet
Jean-François Pactet is a visiting fellow with the Europe Program at the Center for Strategic and International Studies (CSIS). An experienced French diplomat, he served previously in Brussels as counselor in charge of defense issues in the French permanent mission to NATO from 2009 to 2012. His areas of research include European affairs and transatlantic security issues, particularly nuclear deterrence, missile defense, nonproliferation and defense capabilities issues. Prior to his work in Brussels, he served as deputy spokesperson in the French Foreign Ministry, with responsibilities for public diplomacy, media outreach for North Africa and Middle East issues, as well as Schengen, consular, and immigration issues. He is an alumnus of the French Ecole Nationale d'Administration and of the French Institute of Higher National Defense Studies.
Colonel Patrick de Vathaire
Colonel Patrick de Vathaire is the Senior French Representative at National Defense University's Africa Center for Strategic Studies and has been in this position since August 2011. Following his graduation from the "Officer Candidate School", promotion of 1983, Colonel de Vathaire joined the «Troupes de Marine». He subsequently gained an impressive depth of operational knowledge of Africa during his numerous visits to the Continent. In addition to participating in operations in Chad, the Ivory Coast, Rwanda, Gabon and Togo, he has also spent time at the heart of various African armed forces as both an instructor and military advisor. He commanded the 43rd Infantry Battalion from 2005 until 2006, based in the Ivory Coast.
In between his African commitments, Colonel de Vathaire also served in Afghanistan in 2002 when he was the Operations Officer for the French Army Special Forces Regiment. Following 18 months at the Army War College and the Joint Advanced Staff College, he was firstly posted to the Joint Staff as Chief J3 Land from 2003 – 2005 then again as Chief J5 Africa in the Joint Operational Planning Centre (Centre de Planification et Conduite des Opérations) from 2008 to 2011. It is in this last role where his African expertise has come to the fore: he has been responsible for the strategic oversight and anticipation of potential crisis within Sub-Saharan Africa. He has had oversight of the French participation in the European EUFOR mission, the deployment of the UN mission to Chad, the crisis in the Ivory Coast, piracy off the Somalia coast and he has been actively involved in the study to reshape French participation in Africa. He holds the rank of Chevalier of the Legion of Honour, is an officer of the National Order of Merit, holds "la croix de la valeur militaire" with 2 stars and is an Officer of the Rwandan National Order of Peace.