The United Nations and the Armenia-Azerbaijan Conflict: Back to the Basics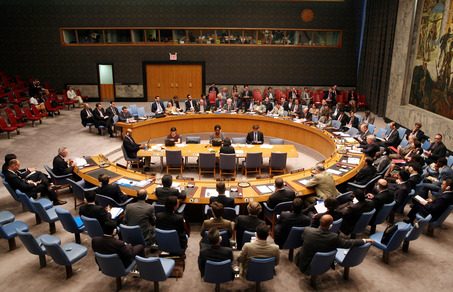 This April marks the 20th anniversary of the first UN Security Council resolution on the Armenia-Azerbaijan conflict—UNSC Resolution 822. This resolution called for a cessation of hostilities and the withdrawal of occupying forces from the Kelbajar district of Azerbaijan following its occupation on April 3, 1993. In memory of this and the following three UNSC resolutions pertaining to the conflict, The Jamestown Foundation is organizing an event to highlight the continuing importance of UN involvement and the need to resolve this dispute due to the lack of progress over many years by the OSCE and other multilateral organizations.
Friday, April 5, 2013
12:30 P.M.– 2:00 P.M.

The Jamestown Foundation
11111 Sixteenth Street, N.W.
Seventh Floor Conference Room
Washington, D.C. 20036
AGENDA
Opening Remarks
12:45 P.M.

Glen E. Howard
President, The Jamestown Foundation
* * *
"International Legal Relevance and Significance of the UN Security Council Resolutions"
Tofig F. Musayev
Azerbaijan's Deputy Permanent Representative to the United Nations
"International Factors Affecting Armenia-Azerbaijan Conflict Resolution"
Ariel Cohen
Senior Research Fellow
Russian and Eurasian Studies and International Energy Policy
Heritage Foundation
Commentator:
S. Frederick Starr
Chairman, Central Asia-Caucasus Institute
Q & A
* * *
Conclusion
2:00 P.M.
PARTICIPANT BIOGRAPHIES
Ariel Cohen
Ariel Cohen, L.L.B., Ph.D., is a recognized authority on international energy and security policy. Dr. Cohen serves as Senior Research Fellow in Russian and Eurasian Studies and International Energy Policy at the Davis Institute for International Studies of the Heritage Foundation and heads the Heritage Global Energy Competitiveness Project. He directed Heritage's energy simulation exercises (war gaming) on oil supply crises. Cohen works closely with Congressmen, Congressional staff members, and cabinet- and sub-cabinet level domestic and foreign decision-makers on energy and other critical foreign policy and national security issues. He also directs high-level conferences on international security, terrorism and energy, the rule of law, crime and corruption, and a variety of other issues.
Dr. Cohen conducts White House briefings and lectures at the Central Intelligence Agency, the Foreign Service Institute of the U.S. Department of State, the Joint Chiefs of Staff, and the Training and Doctrine and Special Forces Commands of the U.S. armed services. He also regularly participates in CIA/Department of State conferences. Dr. Cohen frequently testifies before committees of the U.S. Congress, including the House Foreign Relations, House Armed Services, and House Judiciary Committees.
Dr. Cohen has been involved in journalism since 1981, and has published over 500 articles in professional and popular media. He appears on CNN, NBC, CBS, FOX, C-SPAN, BBC-TV, Al Jazeera, and all of the Russian and Ukrainian national TV networks. He is a commentator and blogger for the Voice of America and Radio Liberty. He also served as a commentator for UPI and a columnist for the Middle East Times and has written extensively for the International Herald Tribune, The Washington Post, The Wall Street Journal, Christian Science Monitor, National Review Online, Washington Times and the National Interest. His articles and op-eds often appear in journals published in Italy, Poland, Russia and Ukraine, as well as in the Gulf, Azerbaijan and Kazakhstan.

Dr. Cohen consults for Fortune 500 companies and international law firms. He served as a Senior Consultant for Burson Marsteller's Emerging Markets practice, a global public affairs firm, and for Emerging Markets Communications, a boutique strategic communications consultancy. He also was a Policy Adviser with the National Institute for Public Policy's Center for Deterrence Analysis. In addition, Dr. Cohen has consulted for U.S. AID, The World Bank, the Pentagon, the U.S. Senate, and Radio Liberty-Radio Free Europe.
Dr. Cohen serves on the Board of Advisors of the Institute for Analysis of Global Security and the Jerusalem Center for Public Affairs, as well as on the Editorial Board of Central Asia and the Caucasus (Stockholm) and of Caspian Crossroads. He authored five books and monographs and thirty book chapters. His books include Russian Imperialism: Development and Crisis (Praeger /Greenwood Publishers, 1996 and 1998), Eurasia in Balance (Ashgate 2005), Kazakhstan: The Road to Independence. Energy Policy and the Birth of a Nation (SAIS Johns Hopkins, 2008), and The Russian Military and the Georgian War: Lessons and Implications (US Army War College, 2011). He is a Member of the Council on Foreign Relations, the International Institute for Strategic Studies (London), and the American Council on Germany.
Tofig F. Musayev
Tofig F. Musayev is serving as Azerbaijan's Deputy Permanent Representative to the United Nations since September 1, 2008. Prior to his current posting, he served as Director of the Foreign Policy Planning and Strategic Studies Department in the Ministry of Foreign Affairs of Azerbaijan. When he joined the Ministry in 1993, he served as Desk Officer in the Legal Department's Human Rights Division. Between 1997 and 2001, he held various positions in the Permanent Mission of Azerbaijan to the United Nations Office and other international organizations at Geneva. On return to Baku, Mr. Musayev served as Deputy Director of the International Law and Treaties Department and Head of the Human Rights and International Humanitarian Law Division in the Ministry of Foreign Affairs of Azerbaijan between 2001 and 2004.
In the course of his career, Mr. Musayev was elected as Vice President of the World Conference against Racism, Racial Discrimination, Xenophobia and Related Intolerance (Durban, 2001), Vice-Chair of the Twenty-Eighth Meeting of States Parties to the International Covenant on Civil and Political Rights (New York, 2009) and Vice-Chair of the Special Committee on the Charter of the United Nations and on the Strengthening of the Role of the Organization (New York, 2011).
Mr. Musayev holds a Bachelor's degree in law from Baku State University (1993) and a Master's degree in international human rights law from the University of Essex (2004), both received with distinction. He is the author of many books, publications and articles, with the focus on the legal aspects of the ongoing conflict between Armenia and Azerbaijan. For his distinguished service, Mr. Musayev was officially commended on a number of occasions by the Government and the Ministry of Foreign Affairs of Azerbaijan; he received a medal on the occasion of the 90th anniversary of Azerbaijan's diplomatic service (2009) and the Foreign Ministry's Honor award (2011).
Dr. S. Frederick Starr
Dr. S. Frederick Starr is Chairman of the Central Asia–Caucasus Institute and Silk Road Studies Program. He is a Research Professor at the Paul H. Nitze School of Advanced International Studies, Johns Hopkins University. Dr. Starr for several years served as Rector Pro Tem of the University of Central Asia, and is a Trustee of the Eurasia Foundation. Prior to founding the Central Asia–Caucasus Institute, he served as founding Director of the Kennan Institute for Advanced Russian Studies 1974–79; as Vice President for Academic Affairs at Tulane University in 1979–1982; and as Scholar-in-Residence of the Historical New Orleans Foundation in 1982–83. He was appointed President of Oberlin College in 1983, a position he held for eleven years. In 1994–96, he served as President of the Aspen Institute. Dr. Starr served as an advisor on Soviet Affairs to President Reagan in 1985–86 and to President George H.W. Bush in 1990–92. Starr holds a Ph.D. in History from Princeton University, an M.A. from King's College, Cambridge University, and a B.A. from Yale University.