The Political Turmoil in Belarus: Current Realities and Foreseeable Prospects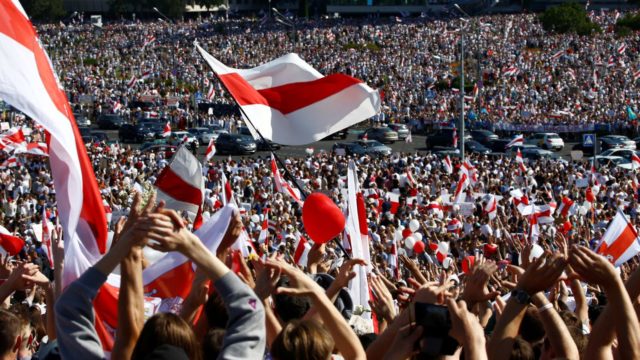 The Jamestown Foundation was proud to present an online webinar event, "The Political Turmoil in Belarus: Current Realities and Foreseeable Prospects," which took place on Thursday, September 10, at 11:00 AM.
The outbreak of widespread civil discontent in Belarus over the official results of the August 9 presidential election raised persistent questions about the continued viability of Alyaksandr Lukashenka's 26-year-old regime. In turn, early perceptions of Lukashenka's political vulnerability have magnified opportunities for the Kremlin to become the new kingmaker in Minsk. Even as the protest movement continues, its prospects of ousting Lukashenka appear to be diminishing, thanks in part to Moscow's heretofore discreet support. And yet, the threat of deeper Russian involvement remains, undermining the long-term sovereignty of a country strategically located on NATO's eastern frontier.
To provide a clear-eyed perspective from Minsk, The Jamestown Foundation has gathered Artyom Shraibman, a Political Analyst at Sense Analytics, and Yauheni Preiherman, the Founder and Director of the Minsk Dialogue Council on International Relations. The two will discuss the ongoing political turmoil in Belarus as well as its likely implications for the future of this country and the wider region.
---
Featuring
Yauheni Preiherman
Founder and Director, Minsk Dialogue Council on International Relations
Artyom Shraibman
Political Analyst, Sense Analytics 
Moderator
Glen Howard
President, The Jamestown Foundation
---
Participant Biographies
Yauheni Preiherman is the head of the Minsk Dialogue Track-II Initiative, which is an expert platform with a focus on international affairs and security in Eastern Europe. He is also chairman of Board at the Discussion and Analytical Society Liberal Club. He holds a BA in International Relations from the Belarusian State University, an MA in European Politics from Sussex University (UK) and is currently pursuing a PhD in Politics and International Studies at Warwick University (UK). He is a regular contributor to the Eurasia Daily Monitor by The Jamestown Foundation.
***
Artyom Shraibman is a Belarusian political analyst and a contributor for TUT.BY and Carnegie.ru. Artyom is a founder of Sense Analytics, a consultancy agency that provides comprehensive political analysis on Belarus. Previously, he worked in political journalism in Belarus for more than five years. Artyom holds an LLb in International Law (Belarusian State University) and MSc in Politics and Communications (London School of Economics).
***
Glen Howard is the President of the Jamestown Foundation, one of the world's leading research and analysis organizations on Eurasia. Based in Washington, D.C., Mr. Howard has overseen the research and analysis activities of Jamestown for the past 16 years and extensively dealt with Russia and Eurasia in his capacity as Jamestown President, working with the regional leaders and national strategists across Eurasia from the Baltic to Central Asia.
An expert on Eurasia and Russia, Mr. Howard is the co-author with Matt Czekaj of the new book Russia's Military Strategy and Doctrine, a collection of writings on Russian military strategy and doctrine by some of the world's leading defense experts. Mr. Howard is also the editor of the book Volatile Borderland: Russia and the North Caucasus, and other works. He has published articles in the Wall Street Journal, Real Clear Defense, the Hill, and other prominent publications.
Mr. Howard is privileged to have worked for the late Dr. Zbigniew Brzezinski from 2002 to 2008 as the executive director of an advocacy organization seeking a peaceful resolution of the second Russo-Chechen war.  Mr. Howard worked at the U.S. Embassy Moscow from 1984-1986 and is fluent in Russian and proficient in French, Turkish and Azerbaijani.
Mr. Howard received a Master's degree in Soviet and East European Studies from the University of Kansas (1988) and has an undergraduate degree from Oklahoma State University in Business Management (1984).
***