Eastern Approaches: Total Defense – A View From Finland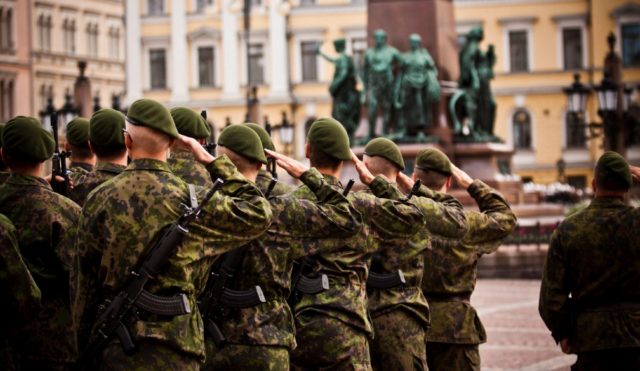 In the third episode of Eastern Approaches, Jamestown President Glen Howard interviews Jyri Raitasalo, a docent at the Finnish National Defence University, to discuss Finland's military concept of "total defense" against possible foreign aggression. Finland occupies a geostrategic location between the Baltic and Arctic Seas, and has a remarkable history of resisting the Soviet Union in the Winter War of 1939. As Raitasalo expertly explains, Finland today continues this tradition of resisting its eastern neighbor by organizing an all-of-society approach to deter Russian aggression.
The Eastern Approaches video series is named after the book by British diplomat, spy and adventurer, Fitzroy Maclean, and features conversations with renowned experts on the most important geostrategic issues the United States faces in Eurasia, with an eye toward detail typically absent in foreign policy discussions today.
---
Featuring 
Jyri Raitasalo
Docent, Finnish National Defence University
Interviewed By
Glen Howard
President, The Jamestown Foundation
---
Participant Biographies
Jyri Raitasalo
Colonel, Dr.Pol.Sc. Jyri Raitasalo holds the title of Docent of strategy and security policy at the Finnish National Defence University.
During his latest assignments, Jyri Raitasalo has served as Military Professor of War Studies at the Finnish National Defence University, Senior Staff Officer (strategic planning) at the Finnish Defence Ministry, Commanding Officer of the Helsinki Air Defence Regiment (Armoured Brigade), Head Lecturer of Strategy at the Finnish National Defence University, Aide-de-Camp to the Chief of Defence and Staff Officer (strategic planning) in the Finnish Defence Command (J5). Jyri Raitasalo is a called member of the Royal Swedish Academy of War Sciences.
Jyri Raitasalo has published several academic monographs and articles, focusing mainly on post-Cold War era Western security and defence policy and the changing character of war.
Glen Howard
Glen Howard is the President of the Jamestown Foundation, one of the world's leading research and analysis organizations on Eurasia. Based in Washington, D.C., Mr. Howard has overseen the research and analysis activities of Jamestown for the past 16 years and extensively dealt with Russia and Eurasia in his capacity as Jamestown President, working with the regional leaders and national strategists across Eurasia from the Baltic to Central Asia.