Fighting in Karabakh: An Update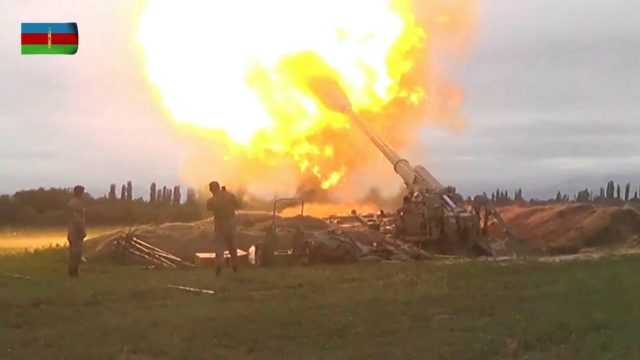 The Jamestown Foundation is proud to present an online webinar event, "The Fighting in Karabakh: An Update," to take place on Thursday, October 1, at 11:00 AM.
Fierce fighting and shelling erupted again between Armenia and Azerbaijan on September 27, for the second time in three months. The latest clashes, occurring in the Armenia-occupied Azerbaijani region of Nagorno-Karabakh, represent the most serious bout of violence in this internationally recognized Azerbaijani territory since 2016. The three-decades-old conflict has grown more explosive in recent years due to growing frustration with the deadlocked international mediation process as well as both sides' increasing willingness to resort to military options for breaking the status quo. At the same time, the two rivals are each bolstered by regional allies, with Turkey supporting Azerbaijan and Russia maintaining a mutual defense pact with Armenia, though frequently showing a willingness to play both sides of the conflict. Continued fighting could pull in these outside powers and further destabilize the South Caucasus, which serves as a strategic transit corridor between Europe, the energy-rich Caspian basin and eastern Asia.
To provide a clear-eyed perspective on the ongoing fighting, The Jamestown Foundation has gathered Amb. Farid Shafiyev, Chairman of the Baku-based Center of Analysis of International Relations, Caucasus expert and prolific writer Thomas Goltz, with commentary by Amb. Matthew Bryza, the former Deputy Assistant Secretary of State for Europe and Eurasia and Jamestown Board Member, and moderated by Jamestown President Glen Howard.
---
Featuring
Farid Shafiyev
Chairman, Center of Analysis of International Relations
Thomas Goltz
Independent Researcher
Commentary By
Matthew Bryza
Fmr. Deputy Assistant Secretary of State for Europe and Eurasia
Board Member, The Jamestown Foundation
Moderator
Glen Howard
President, The Jamestown Foundation
---
Participant Biographies
Farid Shafiyev was educated at Baku State University where he studied history and law. Amidst his professional career, he went on to Harvard University Kennedy School of Government where he obtained a Master Degree in Public Administration. Further, Dr. Shafiyev acquired a PhD  in History from Carleton University in Ottawa.
Farid Shafiyev served in Armed Forces in 1987-1989. His professional career began at the Azerbaijani National Academy of Sciences in the Institute Ethnography and Archeology in 1994.
In 1996 Farid Shafiyev joined the Foreign Service. Within the Azerbaijani Foreign Ministry in Baku, he worked in the Political-Military Issues Division and in the United Nations Affairs Division.
His assignments include postings to the Permanent Mission of Azerbaijan to the United Nations in New York in 1998-2001 and the Embassy of Azerbaijan in Canada in 2005-2009.
In 2009 Farid Shafiyev was appointed Ambassador of Azerbaijan to Canada where he served until July 2014. From July 2014 to February 2019 Dr. Shafiyev was Ambassador of Azerbaijan to the Czech Republic.
On 19 February 2019 he was appointed the Chairman of the Center of Analysis of International Relations.
Dr. Shafiyev is the author of numerous op-eds, articles and several academic publications, including "Resettling the Borderlands: State Relocations and Ethnic Conflict in the South Caucasus" by McGill-Queen's University Press (2018).
Farid Shafiyev has been lecturing in the field of International Relations and Foreign Policy in Baku. Currently, he is an Adjunct Lecturer at ADA University, teaching courses on Diplomacy and Foreign Policy and Nagorno-Karabakh in Comparative Perspective.
***
Thomas Goltz is an author, academic and adventurer who specializes on Turkey, the Middle East and the Caucasus region of the former Soviet Union, especially Azerbaijan.
Over a career of nearly 40 years of international information-sharing, Goltz has written news, features and OpEds for most leading US publications, produced award-winning documentaries and lectured widely at universities, think-tanks and government institutions to disseminate his knowledge about this ill-understood part of the world.
Born in Japan in 1954, raised in Fargo, North Dakota and resident in rural Montana since 1990, Goltz holds an MA in Middle Eastern Studies from New York University (1985) and recently (2020) received an Honorary Doctorate from ADA University in Baku for his "research and outstanding publications on Azerbaijan and wider Caspian region, and significant contribution to mutual understanding between the people of Azerbaijan and the United States."
His 1998 book Azerbaijan Diary (M.E. Sharpe, now Routledge) has been hailed as 'essential reading for all post-Sovietologists.' His second book on the Caucasus, Chechnya Diary (St. Martin's/Tom Dunne), appeared in 2003, and was the subject of a searing PhD dissertation entitled 'Blood Sport.' The third book in the unanticipated Caucasus Triptych is Georgia Diary (M.E. Sharpe, now Routledge) was first published in hard-cover in 2006, and re-issued with an extended update as paperback following the Russian invasion of Georgia in 2008. All the above titles have been translated and published into multiple local languages—Azerbaijani, Georgian and Turkish—with excerpts/chapters also translated and published in Farsi (Persian), French, German, Norwegian and Russian.
He is currently on the cusp of completing Türkiye Diary ('The Bridge') about 40 years of intimate association with Turkey.
***
Matthew Bryza served for 23 years as a U.S. diplomat, over half of which was spent at the center of policy-making and international negotiations on major energy infrastructure projects and regional conflicts in Eurasia. His most recent assignment was as U.S. Ambassador to Azerbaijan from February 2011 to January 2012. Between 2005 and 2009, Bryza served as Deputy Assistant Secretary of State for Europe and Eurasia, with responsibility for Eurasian Energy, the South Caucasus, Turkey, Greece and Cyprus. Bryza simultaneously served as the U.S. Co-Chair of the OSCE's Minsk Group mediating the Karabakh conflict, and as U.S. mediator of the Cyprus, South Ossetia and Abkhazia conflicts. From 2001 to 2005, Bryza served in the White House as Director for European and Eurasian Affairs on the National Security Council Staff. His responsibilities included Eurasian energy, the South Caucasus, Central Asia and political Islam in Eurasia. Previous assignments include Deputy to the Special Advisor to the President and Secretary of State on Caspian Energy, Advisor on Economic Reform in the South Caucasus and Central Asia, and Russia Desk Officer at the State Department, as well as Political Officer at the U.S. Missions to Russia (1995-97) and Poland (1989-91). Currently Ambassador Bryza resides in Istanbul, Turkey, where he also works as a consultant on business and democratic development and is a board member of several private companies.
***
Glen Howard is the President of the Jamestown Foundation, one of the world's leading research and analysis organizations on Eurasia. Based in Washington, D.C., Mr. Howard has overseen the research and analysis activities of Jamestown for the past 16 years and extensively dealt with Russia and Eurasia in his capacity as Jamestown President, working with the regional leaders and national strategists across Eurasia from the Baltic to Central Asia.
An expert on Eurasia and Russia, Mr. Howard is the co-author with Matt Czekaj of the new book Russia's Military Strategy and Doctrine, a collection of writings on Russian military strategy and doctrine by some of the world's leading defense experts. Mr. Howard is also the editor of the book Volatile Borderland: Russia and the North Caucasus, and other works. He has published articles in the Wall Street Journal, Real Clear Defense, the Hill, and other prominent publications.
Mr. Howard is privileged to have worked for the late Dr. Zbigniew Brzezinski from 2002 to 2008 as the executive director of an advocacy organization seeking a peaceful resolution of the second Russo-Chechen war.  Mr. Howard worked at the U.S. Embassy Moscow from 1984-1986 and is fluent in Russian and proficient in French, Turkish and Azerbaijani.
Mr. Howard received a Master's degree in Soviet and East European Studies from the University of Kansas (1988) and has an undergraduate degree from Oklahoma State University in Business Management (1984).