Eastern Approaches – Journey to Karabakh and Beyond: The Life and Times of Thomas Goltz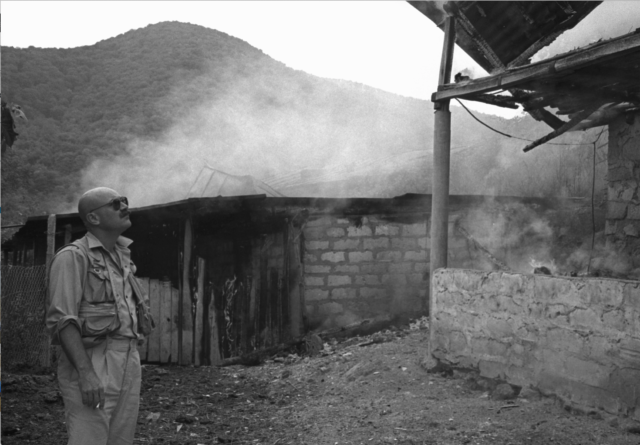 In this preview of the upcoming fourth episode of Eastern Approaches, Jamestown President Glen Howard speaks with author, academic, and adventurer Thomas Goltz. Goltz is a renowned war correspondent who specializes in Turkey, the Middle East and the Caucasus region of the former Soviet Union, with a focus on Azerbaijan. In this interview, Goltz describes his travels around the world, and how he found himself reporting on the war in Nagorno Karabakh in the 1990s, where he documented the notorious Khojaly Massacre. His career has brought him to all corners of the Caucasus, and he brings his unique insight to a fascinating interview that touches on the future of a volatile region that is still at war today.
The Eastern Approaches video series is named after the book by British diplomat, spy and adventurer, Fitzroy Maclean, and features conversations with renowned experts on the most important geostrategic issues the United States faces in Eurasia, with an eye toward detail typically absent in foreign policy discussions today.
The Full Interview
The Interview In Brief
---
Featuring 
Thomas Goltz
Author, Academic, Adventurer
Interviewed By
Glen Howard
President, The Jamestown Foundation
---
Thomas Goltz is an author, academic and adventurer who specializes on Turkey, the Middle East and the Caucasus region of the former Soviet Union, especially Azerbaijan.
Over a career of nearly 40 years of international information-sharing, Goltz has written news, features and OpEds for most leading US publications, produced award-winning documentaries and lectured widely at universities, think-tanks and government institutions to disseminate his knowledge about this ill-understood part of the world.
Born in Japan in 1954, raised in Fargo, North Dakota and resident in rural Montana since 1990, Goltz holds an MA in Middle Eastern Studies from New York University (1985) and recently (2020) received an Honorary Doctorate from ADA University in Baku for his "research and outstanding publications on Azerbaijan and wider Caspian region, and significant contribution to mutual understanding between the people of Azerbaijan and the United States."
His 1998 book Azerbaijan Diary (M.E. Sharpe, now Routledge) has been hailed as 'essential reading for all post-Sovietologists.' His second book on the Caucasus, Chechnya Diary (St. Martin's/Tom Dunne), appeared in 2003, and was the subject of a searing PhD dissertation entitled 'Blood Sport.' The third book in the unanticipated Caucasus Triptych is Georgia Diary (M.E. Sharpe, now Routledge) was first published in hard-cover in 2006, and re-issued with an extended update as paperback following the Russian invasion of Georgia in 2008. All the above titles have been translated and published into multiple local languages—Azerbaijani, Georgian and Turkish—with excerpts/chapters also translated and published in Farsi (Persian), French, German, Norwegian and Russian.
He is currently on the cusp of completing Türkiye Diary ('The Bridge') about 40 years of intimate association with Turkey.
***
Glen Howard is the President of the Jamestown Foundation, one of the world's leading research and analysis organizations on Eurasia. Based in Washington, D.C., Mr. Howard has overseen the research and analysis activities of Jamestown for the past 16 years and extensively dealt with Russia and Eurasia in his capacity as Jamestown President, working with the regional leaders and national strategists across Eurasia from the Baltic to Central Asia.
An expert on Eurasia and Russia, Mr. Howard is the co-author with Matt Czekaj of the new book Russia's Military Strategy and Doctrine, a collection of writings on Russian military strategy and doctrine by some of the world's leading defense experts. Mr. Howard is also the editor of the book Volatile Borderland: Russia and the North Caucasus, and other works. He has published articles in the Wall Street Journal, Real Clear Defense, the Hill, and other prominent publications.
Mr. Howard is privileged to have worked for the late Dr. Zbigniew Brzezinski from 2002 to 2008 as the executive director of an advocacy organization seeking a peaceful resolution of the second Russo-Chechen war.  Mr. Howard worked at the U.S. Embassy Moscow from 1984-1986 and is fluent in Russian and proficient in French, Turkish and Azerbaijani.
Mr. Howard received a Master's degree in Soviet and East European Studies from the University of Kansas (1988) and has an undergraduate degree from Oklahoma State University in Business Management (1984).