Book Launch for Striking Back: Overt and Covert Options to Combat Russian Disinformation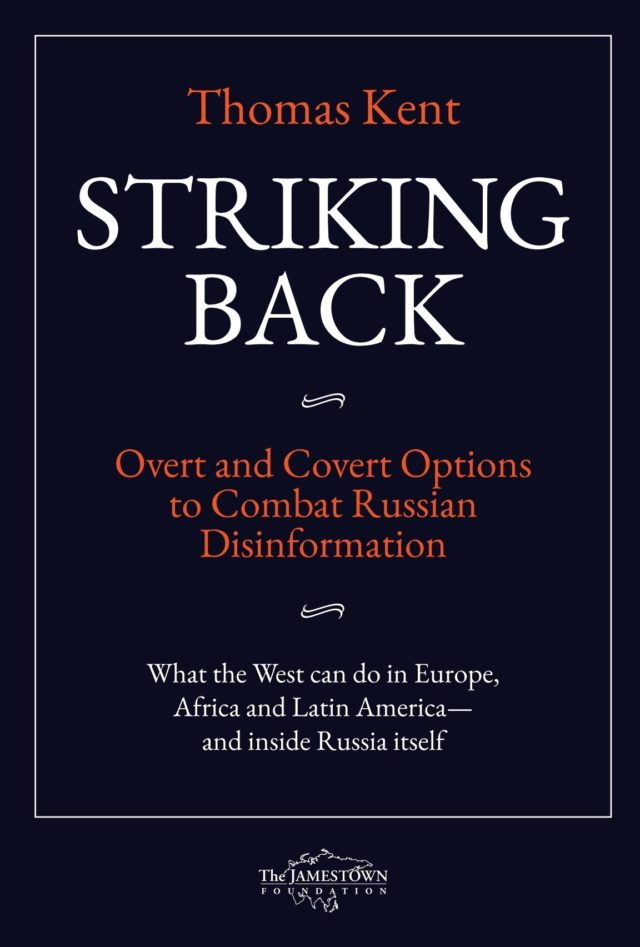 The Jamestown Foundation is proud to present a virtual event to mark the release of a new book, Striking Back: Overt and Covert Options to Combat Russian Disinformation, by Thomas Kent.
Significant attention has been given to Russian disinformation operations and their corrosive effect on the United States and other democratic governments. The Western responses have thus far been weak and uncoordinated, according to Thomas Kent, former president of Radio Free Europe/Radio Liberty who is currently a Jamestown Senior Fellow and adjunct associate professor at Columbia University. He proposes an energetic new strategy to confront this threat: aggressive messaging to combat Russian information operations, while promoting the values of democracy that too many in the West have lost faith in.
One form of messaging Kent advocates is more Western communication with Russia's own citizens. What would this messaging to Russia look like? What could it accomplish, what would the messages be, which Russian population segments should be targeted, and what is the best method to get content into the country and ensure its visibility?
To answer these questions, The Jamestown Foundation has invited Thomas Kent, along with Peter Pomerantsev, Senior Fellow at the Agora Institute, Johns Hopkins University, with Glen Howard, President of The Jamestown Foundation, moderating.
---
Featuring
Thomas Kent, 
Senior Fellow, The Jamestown Foundation
Adjunct Associate Professor, Columbia University
Peter Pomerantsev
Senior Fellow at the Agora Institute, Johns Hopkins University
Moderator
Glen Howard
President, The Jamestown Foundation
---
Participant Biographies
Thomas Kent is the former president and CEO of Radio Free Europe/Radio Liberty, and a specialist in Russian affairs and international journalism. In a lengthy career at The Associated Press, he led AP operations in Russia and Iran, served as NATO correspondent in Brussels, and was international editor and standards editor of the AP. In 2016-18, Kent served as president and CEO of RFE/RL, based in Prague. Kent has written and spoken extensively on the geopolitics of information, propaganda, journalistic ethics and press freedom. He has addressed, in English, French, Russian and Spanish, professional forums in more than 20 countries and students of nearly 30 universities. He teaches about the information war and international journalism at the Columbia University's Harriman Institute. He has twice been a member of the Pulitzer Prize jury for international reporting. Kent is a native of Shaker Heights, Ohio and holds a degree in Russian and East European Studies from Yale University.
***
Peter Pomerantsev is a Senior Fellow at the SNF Agora Institute at Johns Hopkins University where he co-directs the Arena Initiative.Between 2017-2020, he was a Senior Fellow at the London School of Economics and Political Science where he was the director of the Arena Initiative, a research project dedicated to overcoming the challenges of digital era disinformation and polarisation. His book on Russian propaganda, Nothing is True and Everything is Possible, won the 2016 Royal Society of Literature Ondaatje Prize and was nominated for the Samuel Johnson, Guardian First Book, Pushkin House and Gordon Burns Prizes. It is translated into over a dozen languages and was dramatized on BBC Radio 4. His new book, This is Not Propaganda, was released in August 2019 and has been shortlisted for the Gordon Burns Prize and was a Times Book of the Year.Peter has testified on the challenges of information war and media development to the U.S. House Foreign Affairs Committee, U.S. Senate Foreign Relations Committee and the UK Parliament Defense Select Committee. He was a specialist advisor on the 'UK Parliamentary Committee on Fake News', and was a member of USC Annenberg's 'Transatlantic Working Group on Internet Content Moderation and Freedom of Expression. He writes for publications including the NY Times, Granta and The Atlantic. Between 2002 and 2014 he was a television producer on documentaries and factual entertainment programs for major networks including the Discovery Channel and the BBC. He continues to present and write radio documentaries for the BBC Radio 4, most recently on disinformation about climate change.
***
Glen Howard is the President of the Jamestown Foundation, one of the world's leading research and analysis organizations on Eurasia. Based in Washington, D.C., Mr. Howard has overseen the research and analysis activities of Jamestown for the past 16 years and extensively dealt with Russia and Eurasia in his capacity as Jamestown President, working with the regional leaders and national strategists across Eurasia from the Baltic to Central Asia.An expert on Eurasia and Russia, Mr. Howard is the co-author with Matt Czekaj of the new book Russia's Military Strategy and Doctrine, a collection of writings on Russian military strategy and doctrine by some of the world's leading defense experts. Mr. Howard is also the editor of the book Volatile Borderland: Russia and the North Caucasus, and other works. He has published articles in the Wall Street Journal, Real Clear Defense, the Hill, and other prominent publications.Mr. Howard is privileged to have worked for the late Dr. Zbigniew Brzezinski from 2002 to 2008 as the executive director of an advocacy organization seeking a peaceful resolution of the second Russo-Chechen war.  Mr. Howard worked at the U.S. Embassy Moscow from 1984-1986 and is fluent in Russian and proficient in French, Turkish and Azerbaijani.Mr. Howard received a Master's degree in Soviet and East European Studies from the University of Kansas (1988) and has an undergraduate degree from Oklahoma State University in Business Management (1984).